The arduous and drawn-out methods for making overseas payments are a thing of the past. SALT.PE is streamlining and simplifying cross-border transactions, revolutionizing the industry.
In this post, we'll explore the platform's unique benefits and features, as well as its user-friendly design and strong security features.
Salt.Pe's platform is the perfect answer for all your needs related to cross-border payments, whether you are a person or a business trying to increase your reach.
Overview of Salt.Pe and its services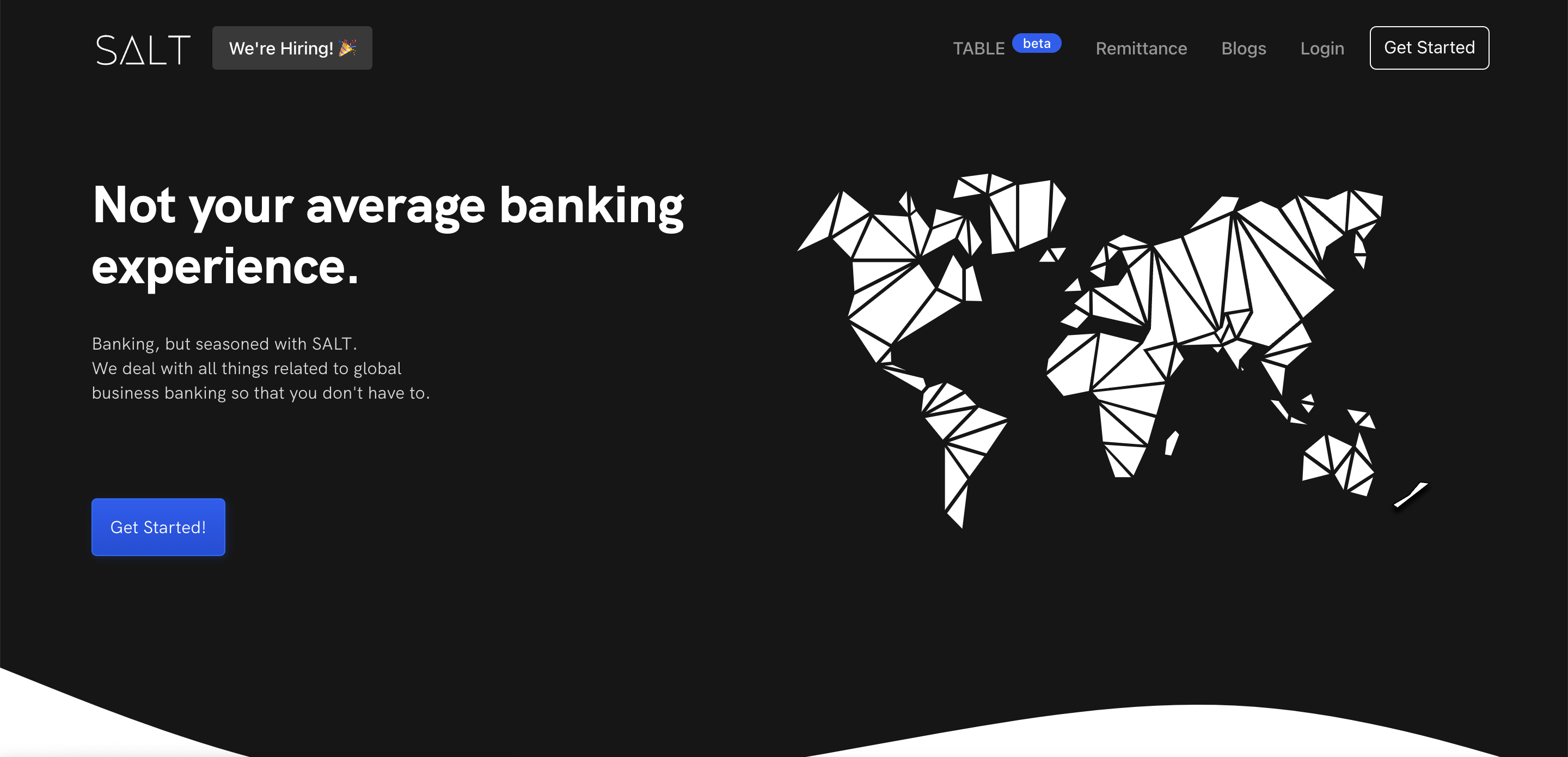 Salt.Pe is an Indian fintech startup that was founded on January 13th, 2020 by Udita Pal and Ankit Parashar. The company is based out of Bengaluru, Karnataka in India, and offers a neo-banking solution to ease payments and documentation for small and medium enterprises.
The platform aims to provide a one-stop solution for all international banking needs, particularly for cross-border payments and compliance. It is an innovative solution that helps businesses navigate the complex world of international payments and compliance requirements with ease.
With salt.pe, businesses can focus on growing their operations without worrying about the hassles of international banking. The company's goal is to make international banking accessible to everyone and to empower businesses of all sizes to expand their reach globally.
But what exactly are Cross-Border Payments? Do we even require that?
Cross-border payments are financial transactions that take place between entities located in different countries. They are crucial in supporting international commerce and corporate operations in the global economy.
Cross-border payments are becoming increasingly crucial in India as the country expands its worldwide reach. In particular, small and medium-sized firms (SMEs) in India have a high need for cross-border payment solutions to support their international trade activities.
However, India's present cross-border payment systems face a number of obstacles, including expensive costs, lengthy processing times, and complicated regulatory requirements. These obstacles frequently stifle the growth of Indian SMEs and limit their capacity to engage in the global economy.
Cross-border payments are important in India because they may assist Indian SMEs to overcome these barriers and enter new markets, allowing them to compete worldwide and enhance the country's economic progress.
As a result, an efficient and cost-effective cross-border payment solution like Salt.Pe has the potential to significantly assist India's small and medium-sized enterprises while also contributing to the growth of the Indian economy.
Common Challenges faced in this Industry
Yes, there are some common obstacles and limits that organizations in the cross-border payment sector encounter, such as:
Regulatory barriers: Cross-border payments can include many nations and their individual restrictions, making the procedure difficult and time-consuming. Companies must guarantee that all regulatory obligations, such as anti-money laundering (AML) and know-your-customer (KYC), are met.
Currency conversion rates: Currency exchange rate fluctuations can affect the cost of cross-border transactions as well as the ultimate amount received by the recipient.
Transfer Fees: High transfer costs can make cross-border payments prohibitively expensive for both the sender and the recipient.
Transfer speed: Cross-border payments might take several days to reach their destination, causing discomfort and time loss.
Security: Because cross-border transactions involve huge sums of money, they are prone to fraud and cyber-attacks. Companies in this area must guarantee that they have adequate security measures in place to secure the cash of their consumers.
Let's see how Salt.Pe deals with these challenges!
How to get started?
Getting started with Salt.Pe is a straightforward process that can be completed in just a few simple steps. To help bring a firsthand experience of the platform, I personally took the time to sign up on the Salt.Pe website.
The first step in the process is to select your business type, whether you are a company, a partnership, a proprietorship, or a freelancer. Next, you will be asked to provide basic details such as your name, country, email address, business description, and turnover.
After agreeing to the terms and conditions, you can select the countries from which you expect to receive payments. Please note that there may be additional charges for countries other than the US, UK, Canada, and EU.
Once all the formalities have been completed, you can log in to your account immediately.
Ease of use and customer experience 
One of Salt.Pe's primary selling factors is its simplicity of use and client experience. The organization is aware of the two major issues associated with foreign payments: time-consuming processes and difficult regulations.
To address these challenges, Salt.Pe has created its platform to minimize transaction time and assist clients in navigating the legalities required. As a consequence, the firm has processed over $15 million in transactions and simplified and stress-free foreign payments.
Customers no longer have to suffer with long and laborious processing delays, costly transaction fees, or a lack of digital assistance with Salt.Pe. The platform's user-friendly layout and straightforward navigation make it an excellent alternative for anybody wishing to streamline their international payment process.
Security and safety of user's personal and financial information
Salt.Pe takes its responsibility for protecting its users' personal and financial information extremely seriously. The organization has taken all essential precautions to safeguard the safety of its clients. It has collaborated with banks supervised by the Reserve Bank of India (RBI), as well as the respective regulators of each firm with which it works, to guarantee that all transactions are completely compliant with industry standards.
In addition to its partnerships with regulated banks, Salt.Pe also uses cutting-edge technology to safeguard users' information. From end-to-end encryption of data to multi-layer security protocols, the company is committed to providing its users with peace of mind.
With Salt.Pe, you can be confident that your personal and financial information is 100% safe. Whether you're making a cross-border payment or simply storing your information, Salt.Pe has you covered.
Quality of customer support
Despite being a relatively young company, Salt.Pe takes customer support seriously. While there may not be a wide range of options to connect with the company, they have made it a priority to be available to address any grievances their customers may have.
Customers can reach out to Salt.Pe team by emailing [email protected], where a dedicated redressal team will respond to their inquiries promptly. As the company continues to grow, it may expand its customer support offerings, but for now, they have made it a priority to be available and responsive to its customers' needs.
Transparency and fees
In terms of transparency and fees, Salt.Pe offers a clear and straightforward approach. There is no signup fee and the platform charges only 1.75% on each transaction. This fee covers everything, with no hidden charges, subscriptions, or annual fees.
Additionally, Salt.Pe doesn't impose any markup fees on conversion, instead, following the rate offered by Google for INR conversion. This makes it easy for customers to understand the costs involved and helps to avoid any unexpected charges.
With this level of transparency, users can be confident that their costs will remain predictable and manageable, even for high-volume cross-border transactions.
Innovations and unique features offered by the company
Salt.Pe has two main features- (1) Inward Remittance, and (2) Table Salt. Let's look at them individually.
(i) Inward Remittance
Salt.Pe has a unique function called "Inward Remittance" that aims to assist small companies in receiving funds from overseas sources. This feature allows small companies to open local bank accounts in six major currencies, including GBP, AUD, USD, EUR, HKD, and SGD, without the need for an overseas branch.
To begin, just register on the Salt.Pe website, complete the KYC and KYB processes, and get local bank accounts to receive foreign currency. Customers can pay locally and transfer monies to their local accounts via Inward Remittance, and the money will be transferred to their Indian account within 24 hours.
This unique feature not only minimizes the time and effort associated with international payments but also provides a quick and effective way for small businesses to receive money from outside sources.
(ii) Table Salt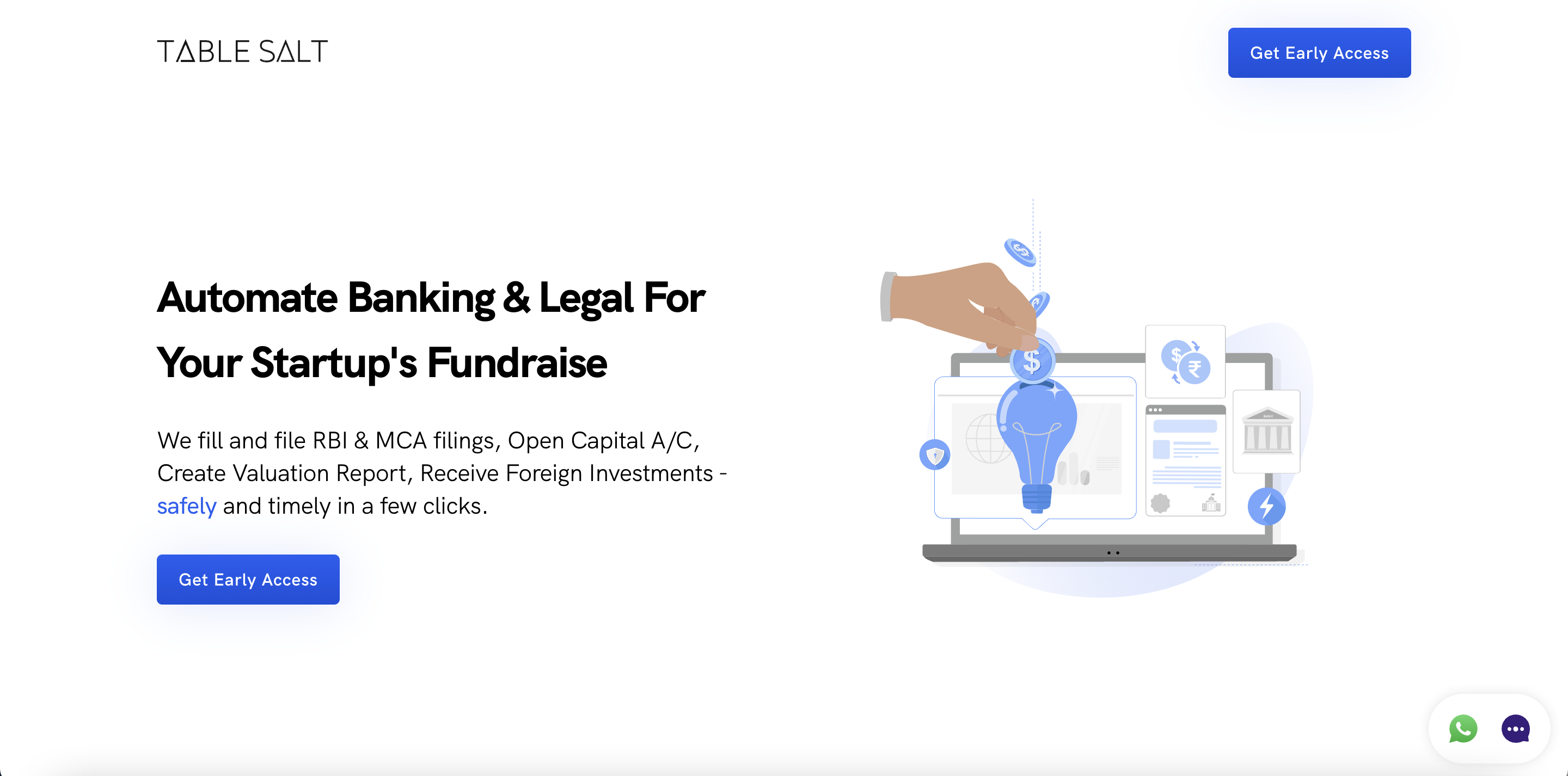 However, transactions around the world are not always as simple as they may seem. They involve plenty of complexities and formalities that need to be followed. This is where the upcoming feature of Salt.Pe, 'Table Salt' comes into play.
This tool, still in its beta stage, is specifically developed for young startups to automate the fundraising process.
With the help of 'Table Salt', you can open a capital account in just 48 hours and receive funds in 24 hours. The tool also manages pre-funding compliance, and post-funding compliance under RBI, MCA, and FEMA for foreign investments, and provides absolute visibility into the investment process.
Additionally, it aims to make foreign transactions feasible through UPI by 2025. With faster filing of FIRC and FCGPRS forms, lower costs on forex charges, and hassle-free exits with fully compliant documents, 'Table Salt' is set to revolutionize the way young startups carry out their foreign transactions.
What is FIRC Certification
FIRC (Foreign Inward Remittance Certificate) certification is a document that acts as proof of inward remittance of foreign currency into India. It is issued by banks in India to customers who have received foreign currency payments.
The FIRC certificate is an important document required by the Reserve Bank of India (RBI) to regulate foreign investments and remittances in India.
The certificate confirms that the foreign currency payment has been received through legal and legitimate means. By obtaining the FIRC certificate, businesses can demonstrate the authenticity of their foreign transactions, making it easier to manage post-funding compliance and other formalities related to foreign investments.
Salt.Pe's upcoming feature 'Table Salt' aims to make the process of obtaining FIRC certification faster and more convenient for startups.
Payoneer VS Salt.Pe
What is Payoneer
Payoneer is a cutting-edge payment processing service from Merchant Stronghold located in Clearwater, Florida. It offers a convenient and complete solution for businesses of all types to manage their payment collections.
With the availability of advanced payment processing tools, such as POS machines, virtual terminals, and effortless website integration, Payoneer makes it easy for businesses to process payments and receive money from customers with ease.
Payoneer's focus on providing high-risk and offshore merchant accounts empowers businesses to expand their reach and pursue growth without encountering obstacles typically associated with traditional payment processing methods.
Which one is better?
Payoneer is a well-established platform that provides a digital FIRC free of cost and a dedicated store manager to manage your multiple stores across marketplaces. Their escrow service is a popular feature that ensures fair transactions among its users.
However, despite being a giant in the industry, Payoneer has struggled to establish a responsive and approachable customer support system, which can be a significant drawback.
On the other hand, Salt.Pe is a relatively new platform that aims to offer a seamless experience for businesses looking to manage their transactions with ease. Salt.Pe is unique in the sense that it offers a comprehensive solution to manage pre- and post-funding compliances, providing absolute visibility of the investment process.
The platform also provides a hassle-free exit with fully compliant documents and faster filing of FIRC and FCGPRS forms. These features, combined with Salt.Pe's emphasis on excellent customer service makes it a preferred choice for businesses looking for a reliable and efficient platform to manage their transactions.
Conclusion and overall rating
In conclusion, Salt.Pe is a platform that offers a unique approach to cross-border payments and is well-designed. Businesses may receive payments from several nations more easily due to the platform's streamlining of the payment procedure.
The intuitive user interface and the really helpful customer assistance are advantages.
The platform is a powerful competitor in the cross-border payments market due to a variety of features. It may take some time, given its immaturity, before we can confidently predict that it will transform the cross-border payments sector.
But the platform has a lot of promise, so it's absolutely worth paying attention to.
Overall, Salt.Pe receives an 8 out of 10!