The coronavirus pandemic has affected Sri Lanka not just in terms of human lives and job statuses but as a tremendous fall in the economic condition of the country.
Sri Lanka's reserves have dropped to nearly $1.6 billion as of November 2021, which has alarmed the entire nation.
With rapid foreign reserves draining and swindling into a debt trap, the country is facing its worst crisis of all time.
Sri Lanka is on the verge of bankruptcy, with over half a million citizens sinking into poverty since 2020.
Our article will cover everything about the Sri Lankan crisis, where it emerged from, and where it is headed.
The Sri Lankan crisis: A brief introduction
Sri Lanka witnessed a soar in debts long before the coronavirus pandemic since 2014.
However, debt reached around 43% of the nation's GDP in 2019 and has worsened ever since. By 2021, their foreign debt had increased to 101% of the country's GDP, causing a significant economic breakdown.
The country has around $3.5 billion in loans from China alone and a little over $62 billion to the US. The country is also seeking $500 million from India to pay for crude oil purchases amid the crisis.
Sri Lanka's inflation hit 11.1%, a record high, in November, and escalated commodity prices to a level never witnessed before.
This has led to most Sri Lankans struggling to feed their families even with the basic and necessary items.
The president, Gotabaya Rajapaksa, has declared an economic emergency, and the military has been assigned to take care of essential items like rice and sugar, which are being sold at set government prices.
However, this has not helped people much after all.
The disproportionate impact of the coronavirus pandemic
The pandemic did not hit all Sri Lankan economic sectors equally. Industries were more affected when compared to agriculture and services. Since there was low eternal demand, export-oriented sub-sectors were negatively impacted.
Construction, textile manufacturing, and similar sectors that are more sensitive to demand shocks suffered the most.
Moody's, Fitch, and S&P have downgraded their Sri Lankan sovereign ratings due to the negative impact of credit on the country.
The three greatest reasons behind the rating's fall were heightened external vulnerabilities, weak fiscal balances, and limited financing options.
Since people living below the poverty line have also substantially increased, it has largely affected people working in urban sectors like Western provinces because of the industrial impacts.
Nothern, Uva, Eastern, and Sabaragamuwa provinces have also been drastically impacted due to the already poor population in the area, as per the World Bank update.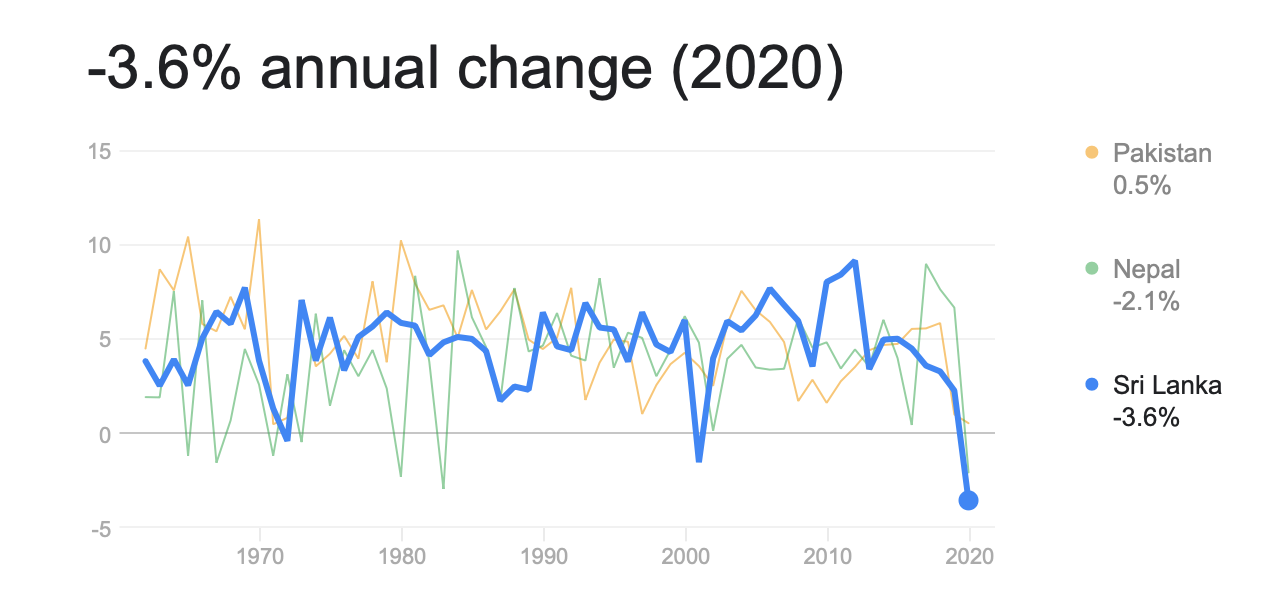 How hard has the economic crisis hit Sri Lanka's citizens?
"We now buy 100 grams of beans when we used to buy one kg for the entire week' said a Sri Lankan while also disclosing how the grocery shops have started opening milk powder packets and dividing them into packs of 100 grams each because hardly anyone is able to afford the whole packet.
The country's primary source of revenue is tourism, which has tumbled substantially over the last few months.
Over 200,000 people have lost their jobs in the travel and tourism sector, and the situation is only getting worse.
Most young and educated citizens of the country are now queuing in the passport office to leave the country as soon as possible and start a new life elsewhere since they are afraid of getting trapped in the crisis and not surviving.
Sri Lanka's loan repayment schedule
The country is required to repay the loan of $7.3 billion in foreign and domestic loans, with $500 million being an international sovereign bond repayment due by the end of January.
The country is approaching repaying their past oil debts to Iran by paying them through tea, by sending them $5 million worth of tea each month.
However, this seems easier said than done. Opposition MP Harsha de Silva has said that total foreign debt to service is expected to be $4.8 billion by 2022, leaving the country in a complete bankruptcy situation.
Sri Lanka's food shortage
The sudden decision by the president to ban all fertilizer and pesticides in the coming months in order to force farmers to start farming organically without any warning has tumbled down the agriculture industry as well.
This is because the industry was very used for producing produce by using fertilizers and pesticides to combat weeds and insects, and most farmers are now fearing immense loss and retaliating from cultivating any crops at all.
This has led to more enormous food shortages in the country, resulting in less supply and more demand leading to even more hikes in prices.
However, the decision to ban the import of fertilizer was lifted in October 2021 to restart the historical farming functioning.
Though, the lifting of the ban did not make much of a difference since the government was not able to subsidize the fertilizers due to a lack of funds.
Farmers have been struggling to even cover the costs of the fertilizer they have already imported, let alone buy them at a non-subsidized price. Moreover, they are reluctant to invest money in producing crops because they are not sure if they are even going to make a profit out of it.
Temporary relief measures like credit lines to import medicines, fuel, and food from neighbors like India are being taken.
Currency swaps are also taking place with India, Bangladesh, and China, with loans to purchase petrol from Oman underway.
All these measures are only made to provide short-term relief in this crisis and will have to be paid back quickly. If not paid on time, it will only result in a more significant problem of falling into the debt trap and sinking eventually.
People have been standing in line for hours just to buy 1/4th of the required essential goods because nobody is able to afford what they used to buy earlier.
Rice, pulses, fruits, fish, vegetables, bread, and everything else has seen a tremendous spike in prices, and most low-income families with daily wage workers are unable to afford even basic food for one time. Even the wealthiest section of the country is trying to ration off their daily food intake.
Tea production is expected to drop by 50%, worsening the food crisis even more.
What led to the Sri Lankan economic crisis?
While the pandemic had a major role in accentuating the economic crisis of Sri Lanka due to the lockdowns and cuts in travel and tourism, there is much more to the Sri Lankan economy collapsing.
High spending by the ruling government
Tax cuts that hit state revenues
Foreign exchange revenues tumbling down
Massive loans from China over the last few years
The Sri Lankan rupee has been crashing in the forex market.
The government's response
The response from the government has been mixed. Some government officials believe that the country will be able to repay most of its loans, whereas some believe that the country is going to get bankrupt by the end of 2022.
MP de Silva mentioned how the only solution to fight this crisis is to seek help from the International Monetary Fund.
Homegrown solutions will only be temporary, and to find a permanent solution, the IMF is the only organization that can help the country come out of its debt trap.
Officials are also mentioning how they think the country will now need to borrow gains like corn from countries Sri Lanka is friends with to feed its citizens.
The central bank has been asking citizens for loose change and foreign currency to strengthen the Sri Lankan rupee as much as possible. Other temporary relief methods are being undertaken, as discussed earlier.
The assistance of around $1.9 billion is being discussed with India, along with a 400-million-dollar swap and a 500-million-dollar fuel credit.
Similar assistance has been discussed with Bangladesh and China also. International Sovereign Bondholders are being called upon to renegotiate.
The country needs to repay $1,000 million in July, and investors are being asked if they would be willing to reinvest so that the country can ward off the problem as much as possible.
The president has assured that the relief packages are not going to increase inflation further, and there will be no new tax introductions to make sure that people are not put under more financial burden.
No decision on a bailout package from the IMF has been taken as of now.
What can Sri Lanka do to overcome the crisis?
Labor-income growth should be focused on, even in the non-farm sectors to ensure that people living at the edge are uplifted first.
Work towards increasing agricultural productivity in the country and its earnings through structural transformations
Farmers should be supported to work with export-oriented and higher-value crops.
Climate-smart technologies, value-chain access and agro-logistics should be improved.
Strategic investments in travel and tourism can help support people in rural areas.
Remunerative non-farm jobs should also be highlighted in order to help people choose productive sources of livelihood.
Broader reforms should be supported to create more jobs and enhance labour productivity.
Consequences and causes of informality should be addressed.
Spatial transformation must be promoted with strengthened inclusion across the country.
Greater investments should be made in education, social protection and health.
The most vulnerable sections of the country should be given priority aid as they are the worst hit by the crisis, both socially and financially.
The impact of the crisis on the labor market and firms should be regularly monitored.
Sri Lanka should diversify to commercially profitable crops and invest more in food security.
Public sector institutions must realise that it is their job to create a framework for the private sector to enhance the country's financials at the moment.
Sri Lanka's taxation and policy regimes need to strengthen and become more business-friendly.
Red tape affecting businesses should be cut down as much as possible.
Supply chain dynamics need to get improvised with the help of the U.S. and China.
All five forms of capital, human, physical, financial, social and natural capital need equal assistance at this point from the Sri Lankan authorities.
Service outreach in rural areas should be expanded to support financial inclusion everywhere.
Once the situation gets better, more and more focus should be laid on digital technology and all government services should also be digitalized.
.An export-oriented growth model coupled with private investment-led growth should be adapted.
The IMF should be approached for as much help as possible to tackle the problem.
Sri Lanka should also collaborate with economic experts to create an economic blueprint for the nation to fight the crisis.
What more could go wrong in the Sri Lankan economy?
If not taken care of immediately, the Sri Lankan economy can get trapped into a situation of hyperinflation, much like that of Venezuela's.
After that, there is hardly any possibility of it returning back to its original state, as the South-American country has also witnessed in the past few years.
There is also a fear of the education system and future employability of the Sri Lankan students get hampered due to the non-affordability of internet services in the country.
If not fixed in time, there is a possibility that the future of Sri Lankans involves a skill mismatch where students won't be fit for jobs anymore.
This would lead to a demographic issue since the working population of the country would find it tough to get paid leading to a much deeper financial crisis later.
Since the Sri Lankan rupee has already depreciated more than 20% against the U.S. dollar, not taking immediate initiatives can lead to the Sri Lankan currency collapsing even further. This could lead to an even more severe forex crisis which would be non-curable.
Lastly, if the EU decides to cancel Sri Lanka's preferential trade status worth $360 million every year, it'd result in an even worse economic blow altogether.
Conclusion
The country is definitely in one of its worst zones ever, with the government not being able to pay even for basic IT services like Google Maps.
The government is ensuring citizens that they are working towards formulating a plan that helps the country come out of this debt trap, but nothing is clear as of now.
There are several markets and sectors that Sri Lanka owes money to, and with the current situation in mind, where inflation is skyrocketing and the entire economy is collapsing, it is tough to believe either side of the story.
There is a new $1.2 billion economic relief package that also includes a monthly allowance of Rs. 5000 to 1.5 million prisoners, government employees, and differently-abled soldiers – but how it helps bring the economy back to its feet will only be possible when results are seen for real.