Robo-advisory services are becoming increasingly popular in India as people look for ways to invest without having to put in the time and effort to manage their investments themselves.
There are a number of different Robo-advisory services available in India, each with its own strengths and weaknesses. In this blog post, we will take a look at 8 of the best Robo-advisory services in India and see what makes them stand out from the rest.
What is A Robo-Advisory Service?
A robo-advisory service is an online investment management service that provides automated, algorithm-based portfolio management advice without the need for human financial advisors.
Robo-advisors use technology to provide personalized investment advice and portfolio management services with little to no human interaction. They are typically much cheaper than traditional financial advisors and can be a good option for investors who are comfortable making their own investment decisions.
How to Choose the Best Robo-Advisory Services?
There are a few things to consider when choosing the best robo-advisory services. The first is the fees charged by the service. Many robo-advisory services charge a percentage of the assets under management, so it is important to compare the fees charged by different services. 
The second thing to consider is the investment strategy of the service. Some robo-advisory services use a passive investment strategy, while others use a more active investment strategy. It is important to choose a service that aligns with your investment goals. 
The third thing to consider is customer service of service. It is important to choose a service that is responsive to your questions and concerns.
Top 8 Robo-Advisory Services in India
In recent times, Indians have started showing a lot of interest in the stock markets. Similarly, people also want a platform where they can simply invest and earn their returns without worrying about strategies or emotions. 
This is the reason that there have been many Robo-Advisory services introduced in India. So, let's have a look at the top 9 Robo-Advisory services.
Angel Broking has always been a technology-driven firm. They were one of the first few brokers to offer an online trading platform. And now, they have come up with ARQ – a unique AI-based trade order placement and execution tool.
ARQ is an intelligent order placement system that uses machine learning algorithms to study your trading behavior and then places trades on your behalf. It is a completely automated system that does not require any input from the trader. All you need to do is set your desired parameters and ARQ will take care of the rest.
ARQ has been designed keeping in mind the needs of active traders. It places trades in real-time and has the ability to execute large orders in a short period of time. Moreover, it is highly accurate and has a very low occurrence of errors.
Angel Broking has always been at the forefront of innovation and ARQ is a testimony to that. It is a game-changing tool that is sure to revolutionize the way traders operate.
Top Features
Track all your investments and portfolios.
Use SmartAPI to make personalized trading and investing platform.
Automated trades are based on your historic behavior without any human emotions.
Exits minus positions early to minimize losses
Free trial without any auto-renewal
5Paisa Auto Investor lets you analyze the top-performing stocks based on various metrics determined by the platform. It also gives you daily and weekly market analyses from top professionals. 
Another notable feature is the Model Portfolio which is a list of stocks hand-picked by a team of researchers and analysts.
This list named Growth 50 is tested on various metrics fundamentally and technically. So, you can save your time and invest directly in any of the stocks from this list.
Top Features
Get smart tools and features.
Get a personalized list of the hot stocks.
Regular insights for your portfolio.
Compare your portfolio with various sectors, benchmark indices, and more.
Live market updates.
Scripbox is a robo advisor that helps people invest their money in a simple and automated way. It offers a wide range of investment products and services, including investment advice, portfolio management, and investment research. 
Scripbox has a team of financial experts who work together to provide the best possible investment experience for its clients.
Top Features
Scripbox charges no commission or fees on your investments.
You can choose from a wide range of mutual fund schemes from leading fund houses.
Scripbox offers a goal-based investing approach that helps you invest in the right mutual fund schemes for your specific financial goals.
You can track all your investments and performance in one place.
You can also withdraw your money at any time without any penalties.
FundsIndia Robo Advisory uses cutting-edge technology and data analytics to provide personalized investment plans to its users. 
It takes into account the user's goals, risk appetite, and investment horizon to create a portfolio of ETFs (Exchange Traded Funds) and mutual funds that are in line with the user's investment objectives.
The platform also offers a unique feature called ' goal-based investing ', which allows users to invest in a basket of ETFs and mutual funds that are specifically chosen to help them achieve their financial goals.
Top Features
No commissions or hidden fees
Personalized investment plans based on the user's risk appetite and goals.
Wide range of ETFs and mutual funds.
Good track record outperforming the markets
Calculates and presents the risk exposure of different investments
Sharekhan NEO is a robo advisor that helps investors plan and invest in their future. NEO is different from other robo advisors because it offers a human touch. It has a team of investment professionals who work with clients to understand their goals and provide personalized advice. 
NEO also offers a mobile app that makes it easy to track one's investments and monitor the performance of one's portfolio.
NEO is a great solution for investors who want a simple, efficient, and cost-effective way to invest. It is a great way to get started with investing and to build a solid foundation for one's future.
Top Features
Various portfolio management options, including risk tolerance, goals, and time horizon.
Rebalances your portfolio to keep it aligned with your investment goals.
Real-time market data
Simple and user-friendly interface
Wide range of investment products and services, including stocks, mutual funds, ETFs, and more.
If you're looking for a simple and easy way to invest your money, then you should definitely check out ET Money's Robo Advisor. With this app, you can automatically invest your money into a diversified portfolio of ETFs (exchange-traded funds) and mutual funds. And best of all, it's absolutely free to use!
With the ET Money Robo Advisor, you don't have to worry about picking individual stocks or timing the market. Instead, you can just set up a monthly budget and the app will automatically invest your money for you. The app will also automatically rebalance your portfolio to keep it diversified.
Top Features
You can start investing with as little as $5.
Small annual fee of 0.50% on your account balance.
Tax-efficient investing
Set up goals and ET Money will automatically invest your money to help you reach them.
Handles all the investment-based decisions on your behalf.
Orowealth is a leading provider of online investment management services in India. It offers a unique, technology-driven platform that helps investors make better investment decisions.
Orowealth's technology platform enables investors to make informed investment decisions with ease and confidence. It is backed by leading investors including Sequoia India, Saif Partners, and Blume Ventures.
Top Features
Automated investment management
No minimum investment amount
Free trial
A flat annual fee of 0.50%
Get access to a professional financial advisor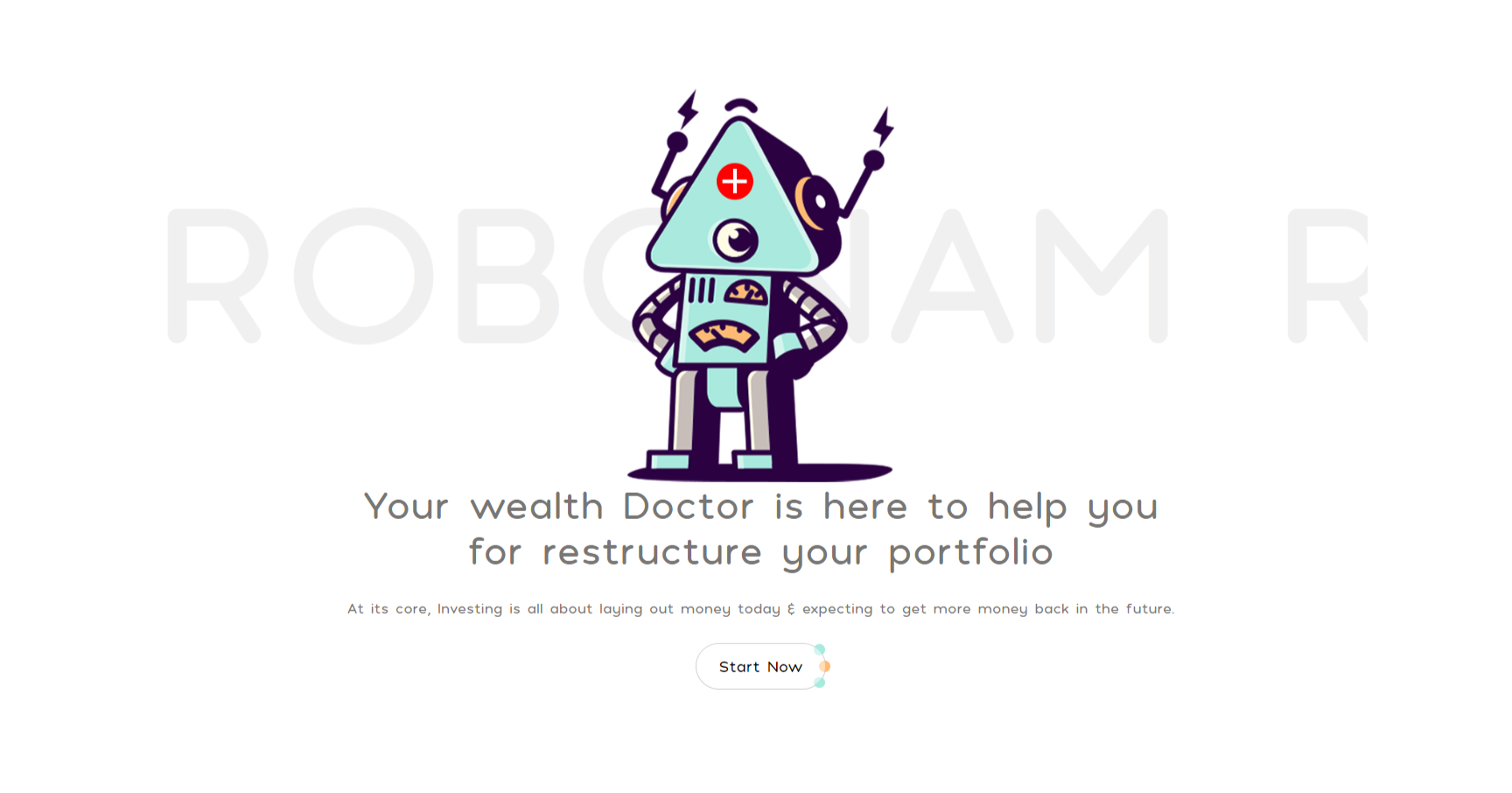 Robonam is a robotic advisor that provides automated investment advice. It uses artificial intelligence to provide recommendations based on your investment goals and risk tolerance.
Robonam is a great option for investors who are looking for a hands-off approach to investing. It can provide you with investment recommendations that are tailored to your specific goals and risk tolerance. And, because it is automated, it can provide these recommendations quickly and efficiently.
Top Features
Algorithms to manage different types of risks on your portfolio.
Automatically rebalance your portfolio to keep your investments on track.
Different types of portfolio options are based on your needs.
Get a free trial to use the platform.
My Take
Robo advisory apps are becoming increasingly popular in India, as they offer a convenient and affordable way to invest without the need for a human financial advisor. 
These robo advisory apps in India are all different in terms of features and investment options, but they all share the common goal of helping users grow their wealth in a simple and automated way.
This is why I have listed the best and worst-performing platforms based on a variety of measures.