Interactive Brokers, INDmoney, and Vested are all financial technology companies that offer brokerage and investment services.
Interactive Brokers is a global brokerage firm that offers trading in stocks, options, futures, and currencies. They have a wide array of features and tools for both beginner and experienced investors.
INDmoney is also an investing platform with a robo-advisor that offers investment management services. Their goal is to help you grow your wealth by investing in a diversified portfolio of assets.
Vested is an online investment platform that offers a variety of investment products and services. They have a team of financial experts that can help you make the best investment decisions for your goals.
But which one is right for you? Let's find it out in this blog.
What is Interactive Brokers?
Interactive Brokers is a global electronic brokerage firm offering trading and investment services in more than 120 markets worldwide. The company is headquartered in Greenwich, Connecticut, USA. Interactive Brokers Group, Inc. operates as an investment holding company.
Through its subsidiaries, the company provides electronic brokerage services. It offers trading in various asset classes, including equities, options, futures, forex, and fixed income instruments.
The company also provides clearing, settlement, and custody services. In addition, it offers margin lending and financing services.
What is INDmoney?
INDmoney is a fintech startup that helps Indians to invest in US stocks at zero fees or commissions. You can set your budget, track your expenses, set goals, and do many more things on the app.
The primary goal of the app is to help you manage your finances and make better financial decisions with the help of INDmoney's experts.
INDmoney is a great tool for anyone who wants to get a better handle on their finances. It's easy to use and provides valuable insights that can help you save money.
What is Vested?
Vested is an investment platform where you can invest in US stocks sitting in India at no extra charge. It also allows fraction investing, so you can now keep apple's and tesla's expensive shares for as little as Rs.10 as well.
The app also has a number of features that make it easy to track your spending, set goals, and stay on top of your finances. For example, you can set up notifications to remind you when you need to pay bills or make a transfer. You can also see all of your transactions in one place, so you can easily spot any irregularities.
Features of Interactive Brokers
Let's have a look at the features of Interactive brokers.
1. Various Investment Instruments
Interactive brokers' investment options are, by far, much ahead of INDmoney & Vested. It operates in more than 100 global markets and offers direct investments in stocks, options, ETFs, futures, cryptocurrencies, spot currency pairs, bonds, US spot gold, mutual funds, robo-advisor, hedge funds, and managed portfolios.
2. Professional Trading & Investing Tools
If you are a professional trader or investor, who uses a plethora of tools to analyze your investments, an Interactive broker won't disappoint you. From top-notch indicators to a robo-advisor that gives timely suggestions and handpicked investment options, the Interactive broker's platform does fulfill all the requirements of a professional.
3. Supports Trades Across The Globe & Entertains International Investors
Interactive Brokers supports trades across the globe. This means that you can literally invest in around 150 markets, 24 currencies, and 33 countries through its platform. It offers all these investment opportunities on its platform that makes it easy for investors who wish to invest in different markets.
4. Low Margin Rates & Commissions
Interactive brokers offer one of the lowest margin rates in the industry. It is almost 66% lower than the average of the investment broking industry and if you're willing to take large trades at high volumes, your fees further drop as your investing size increases.
Features of INDmoney
INDmoney comes with many top features. Let's check them out below.
1. Save Money Automatically
INDmoney helps you save money automatically by tracking your income, and expenses and suggesting ways to cut down on your spending. This means that you can easily set your goals on the platform and it will keep guiding you on how you can save and make better investments.
2. Invest Money Wisely
INDmoney helps you invest your money wisely by providing personalized investment recommendations based on your risk profile and financial goals.
It makes personalized plans for your profile and shows you the complete road map that you can follow to reach your desired results. Not to mention, it has a team of experts that keeps checking your portfolio and keeps reminding you of the potential profits and losses.
3. Managing Finances
INDmoney gives you a complete overview of your finances so that you can manage your money better. It also provides features like budgeting, goal setting, and bill payment reminders to help you stay on top of your finances.
4. Saving Rewards
INDmoney rewards you for saving money by giving you cashback and discounts on your expenses. These cashbacks are eligible at tons of merchants and they do give valuable rewards to their users. This means that you can actually make money just by utilizing IndMoney's top features.
Features of Vested
Here are some of the best features of Vested.
1. Automated Saving & Investing
Vested makes it easy to automatically save and invest your money. You can set up recurring transfers from your checking account to your Vested account, and Vested will automatically invest your money in a portfolio of stocks and ETFs.
2. Building Wealth on Vested
Vested helps you grow your money by automatically reinvesting your dividends and capital gains. You can change and adjust this feature manually in the app, or set it to "Auto" if you want Vested to set it up for you. In any case, this is a stand-out feature of the app that helps you in creating wealth.
3. Goal-Oriented Investing
Let's say that you want to go on vacation next summer, and you hope to earn at least 10% returns to make ends meet. Well, you don't have to plan your investments for it. Just enter your goals on Vested, and it will show you the best possible investment instruments that can offer returns as much as you expected.
4. Fractional Investment
Vested lets you invest in expensive stocks in fractions. This means that you can easily buy the stocks of the top companies for as much amount as you want. This helps in diversifying your portfolio as you can buy different stocks instead of blocking your capital in buying expensive stocks wholly.
Products Offered by Interactive Brokers
There are many products and services offered by all three platforms that make them each other's tough competitors. Let's start with the products offered by Interactive Brokers.
1. Investment Options
Interactive brokers offer the most investment options among all three platforms. You can easily invest in Stocks, mutual funds, IPOs, and ETFs directly through the app.
You can also invest in more than 150 different markets globally. This provides diversity to your portfolio and a better chance of saving yourself from timely crashes of the markets.
2. Futures & Options Trading
Interactive Brokers also offers its clients the ability to trade futures contracts online. Clients can trade a variety of futures contracts, including contracts for commodities, currencies, and indexes. Similarly, you can also trade options with stocks, futures, and currencies
3. Forex trading
Interactive Brokers offers its clients the ability to trade forex online. Clients can trade forex pairs, including major pairs, minor pairs, and exotics pairs.
4. Fixed income
Interactive Brokers offers its clients the ability to invest in a variety of fixed-income securities, including bonds, T-bills, and CDs. These securities help you in making genuine and realistic returns. They are among the most stable investments and contain the least amount of risk.
5. Portfolio management
Interactive Brokers offers its clients the ability to manage their portfolios online. Clients can view their portfolios, performance, and risk profile. They can also rebalance their portfolios and make changes to their investment strategy.
Products Offered by IndMoney
Let's have a look at the different types of products offered by INDmoney.
Investment Products
INDmoney offers a range of investment products, such as mutual funds, ETFs, and more. Users can choose from a wide range of investment options and can invest in a variety of asset classes.
Investment Calculator
INDmoney is an investment calculator that allows users to calculate the return on investment (ROI) for their investments. The calculator takes into account the investment amount, the investment time frame, the expected return, and the risk profile of the investment. The calculator then produces a report that shows the ROI for the investment.
Life & Health Insurance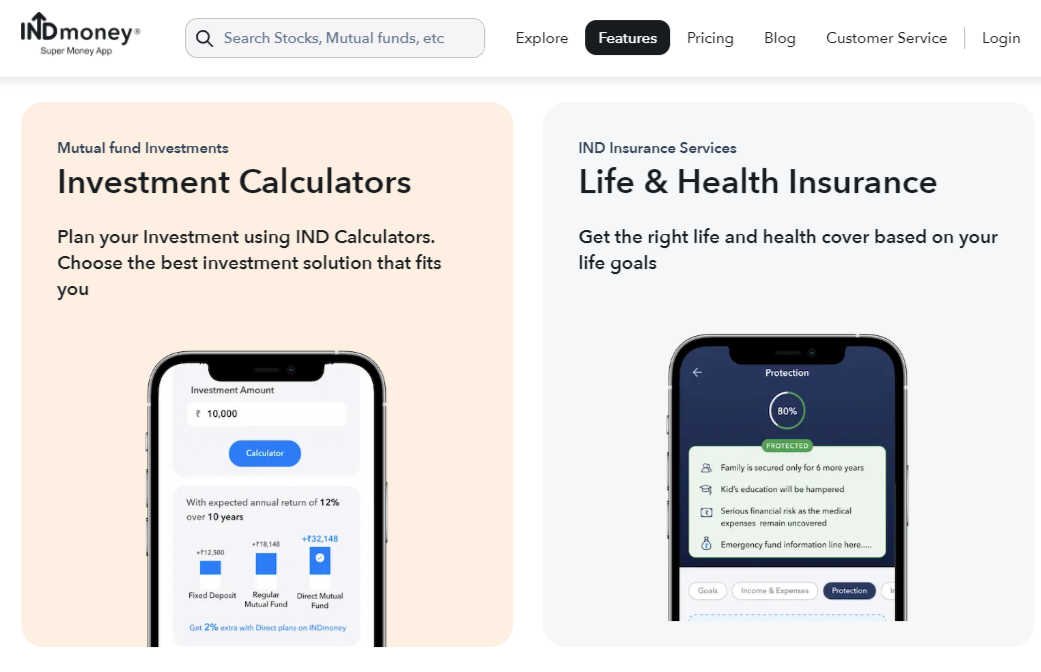 INDmoney, being a fintech platform, expands its product offerings to insurance as well. This means that you can easily avail health insurance, life insurance, car insurance, and even home insurance directly from the platform.
It offers all these services in a paperless process. So, you don't have to take any challenges to enjoy these services from INDmoney.
IPO Center
INDmoney is not just limited to stocks and mutual funds. If you were thinking of applying for an IPO, INDmoney can do that for you as well. You can directly apply for any IPOs directly from the app.
Super Saver a/c
INDmoney offers a saving account with the best features for newbies and seasoned traders and investors. You can transfer your funds and open a new account in INDmoney at zero fees, no minimum balance limit, and have the best exchange rates in the industry from the super saving a/c.
Products Offered by Vested
Vested, also brings some top-notch products worth competing with its peers. Let's discuss them below.
Investment Products
Vested Finance offers a variety of investment options for its clients, including stocks, bonds, mutual funds, and exchange-traded funds (ETFs). Each of these options has different risks and rewards, and Vested Finance can help its clients choose the right investment mix for their needs.
Alphascreener
Alphascreener is a powerful stock research and analysis tool that allows you to find the best stocks to buy and invest in. With Alphascreener, you can screen for stocks using a variety of criteria, including price, market capitalization, and sector.
You can also set up alerts to be notified when certain stocks meet your criteria.
Financial Planner
Vested offers a financial planner to their users that simply makes various investing plans. It analyzes your goals, current portfolio, risk exposure, and other metrics. After analyzing all these measures, it presents various plans that can be beneficial and aligned with your goals in the future.
Portfolio Management
A very popular product of Vested, the portfolio manager does everything on your behalf. Whether it is selling your investments that seem to fall or adjusting your ongoing trades, Vested does everything on your behalf. You can enable or disable this feature in the settings of the app.
Pros of Interactive Broker
Interactive Brokers charge some of the lowest fees in the industry.
Offers a wide range of investment options, including stocks, ETFs, options, futures, and forex.
The Trader Workstation is a powerful trading platform that's suited for active traders. It offers features like advanced charting, real-time market data, and options backtesting.
Available in more than 33 countries
No minimum account balance requirement.
Pros of INDmoney
Helps track expenses and budgeting.
Make customized goals.
No commissions or hidden fees.
User-friendly and simple interface.
Automated investing
Pros of Vested
Invest automatically in high-return investments like 401k and IRA.
Tracking expenses and performance reports of your investments.
Re-invest your dividends and capital gains.
Fast customer support.
User-friendly app and web platform
Cons of Interactive Brokers
Limited customer support.
Not all investment instruments are available on the platform.
Charges high fees.
The platform is quite complex to use.
Many glitches in the mobile application.
Cons of INDmoney
Limited investment opportunities.
The trading platform is very basic and not suited for pro traders.
The budgeting features are not as robust as their peers.
Focuses more on investing and not trading.
Does not list cryptocurrencies
Cons of Vested
Charges higher commissions at times.
Very limited features in the free plan.
The premium yearly plan is costly.
Limited trading tools and features.
My Verdict
After using all three apps personally, I've come up with my decision. Being fintech platforms, all three apps have a ton of features and each of them has its own specialty.
If you are looking for an app that can let you invest in different capital markets, then Interactive Brokers is your go-to platform.
If you want the cheapest option among these three for your investing needs, INDmoney will do the job for you.
And, finally, if you want an app that can help you with good investment advice, Vested turns out to be the best one in the market.
According to my need and requirement, I'm a bit in the favour of INDmoney because of its robust features, low commissions, and user interface.