Tijori Finance is a platform that takes your stock researching to the next level.
From watching the in-depth analysis with unlimited viewpoints to tracking your investments, Tijori seems to be a complete package for the serious investors out there.
I will be covering all the features of this platform and will give my personal opinion as an active investor myself. So, let's kick start this review.
What Is Tijori Finance?
Tijori Finance is a market/stock research tool where you can research, shortlist, and monitor stocks, commodities and the whole market in general.
Besides the financial information about the companies, Tijori brings you the most detailed information, including the market share, location exposure, revenue break-up, shareholdings, and much more.
It is a web-based platform and offers paid services, which we will cover later in this blog. There are a ton of tools that can help you find your ideal stocks for investment. So, let's have a look at them briefly.
Features of Tijori Finance
You get to enjoy a lot of tools in Tijori. Here is a detailed list of all of them.
1. Metrics & Comparison
Tijori brings you a ton of metrics and comparisons of a company with its competitors.
Unlike other research platforms that focus solely on financial information, Tijori focuses more on the practical data that shows a company's true potential. Not to mention, Tijori also has the complete financial data of the companies.
2. Filter
This is undoubtedly what separates Tijori from its competing platforms. Using the "Filter" section, you can search for any stocks or companies per your requirements.
For example, if you are a firm believer that the companies using sulphur with a market share of 25% can perform well in the near future, you can simply enter these keywords and generate the exact stocks.
Here is a step-by-step guide to doing so:
Step-1: Enter a financial query that you want to search, like search for balance sheets, market share, financials, ratios, shareholdings, and much more.
Step-2: In this, you can filter the stocks you are precisely looking for. Enter your Alternate query based on the five available metrics: Product, Location, Market Share, Raw Material, and Operational Metrics.
Step-3: Now, you will be able to see the list of stocks according to your search results. You can then compare every single stock with its competitors.
3. Source of Data
We have seen tons of platforms offering enormous information about a company. What we don't know is the data's relevancy and credibility.
Tijori removes this barrier by offering the exact source of the data. From retrieving it through management meetings, conference calls, and other news releases, Tijori gives an in-depth analysis with 100% credibility.
4. Sector-Wise Comparison
Tijori also offers over 20 different sectors for analysis and study. Some of the most popular sectors include Telecom, Banking, Aviation, Life Insurance, Hotels & Hospitality, and many more.
This gives you an edge in filtering your stocks with the booming sectors in the market.
5. TJI Indexes
Indexes are a great way to analyze the performance of very specific niche sectors.
Tijori lets you compare your shortlisted stocks with these indexes to increase the probability of generating more profits from your investments.
6. Monitoring The Markets
You can easily analyze different markets of the country by watching their performances, trading volumes, previous week's highs and lows, and much more.
This gives you a clear broader image of the market and helps you decide on the trends, which is a critical factor when deciding on your investments.
7. Portfolio
Although you can't invest directly from Tijori, you can still track all of your investments in the portfolio section.
All you need to do is load your investments, and you'll be able to monitor your portfolio's performance live.
It also offers you to track your current exposure and risks in the markets. Overall, it is a great tool for finding your true spot in the market.
8. Timeline
All of us know the importance of news and updates on the price of a stock. Tijori, being an all-rounder for your investments, offers the complete timeline for your ideal investment.
The Timeline section has many different measures for delivering the news and updates to its premium users. Let's look at them briefly.
1. Credit Ratings
Credit Ratings give you a brief idea about how the companies are holding up in their credit section. It also mentions the rating agency and the previous ratings of the company along with the current rating.
As you click on the "+" icon, you can even filter your companies with different criteria of credit rating. Check out the different measures in the above image.
2. Exchange Filings
To keep a close check on the companies and to prevent any scams, the regulatory bodies of the stock market ask for the Exchange Filings of these companies from time to time.
This document contains a vast list of documents proving the company's legitimacy. Tijori brings this entire document to its users.
You will find it all, from reading the company updates, new listings, and corporate action to getting your hands on the company's exclusive Annual reports and board meetings.
3. Insider Trading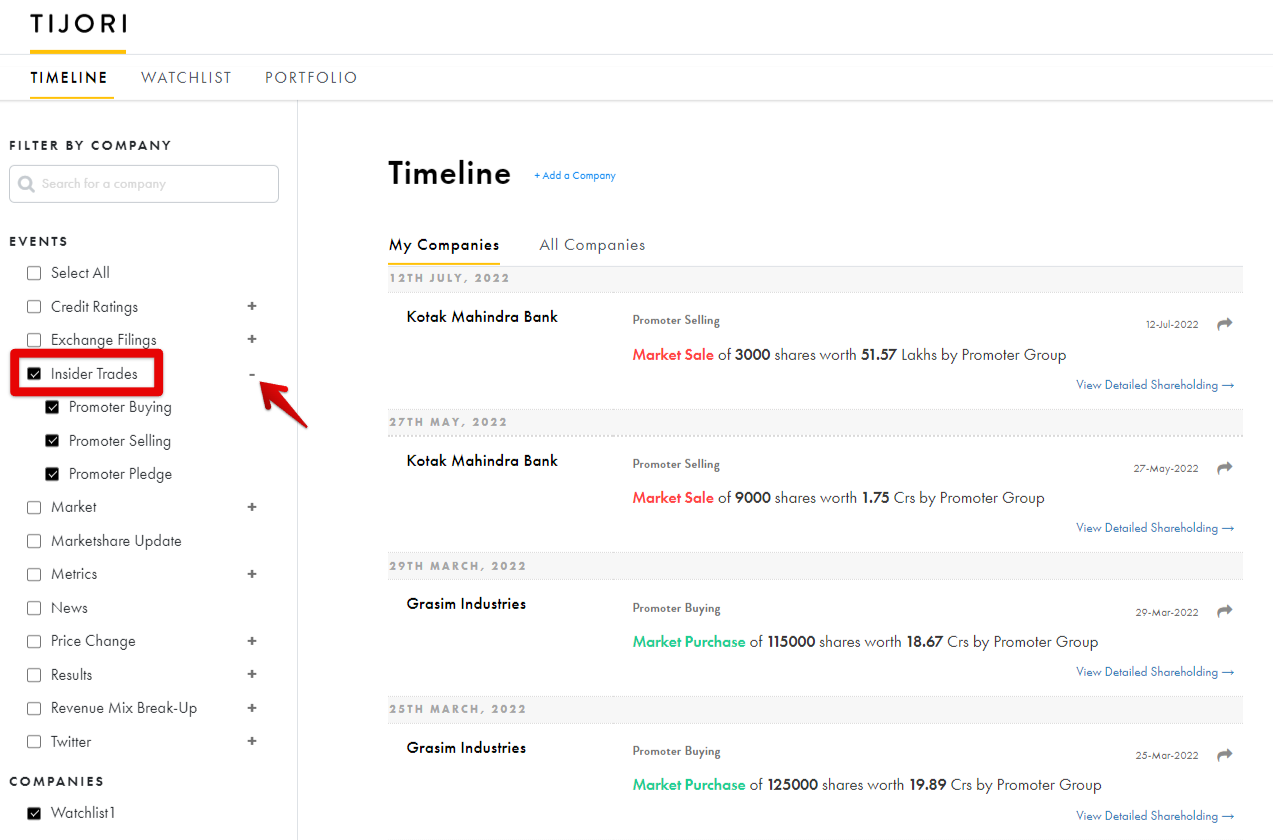 Insider Trading simply means that trades were being taken after acknowledging insider news of the company.
For example, when an employee finds out that his company will be submitting its Annual report soon and it has been a great year in terms of profit, he buys the shares of the company and sells them after the news release.
This is known as Insider Trading, which is completely prohibited in our country.
You can check out which promoter is buying, which one is selling, and so on. This process helps in finding the ideal stock for making profits.
4. Market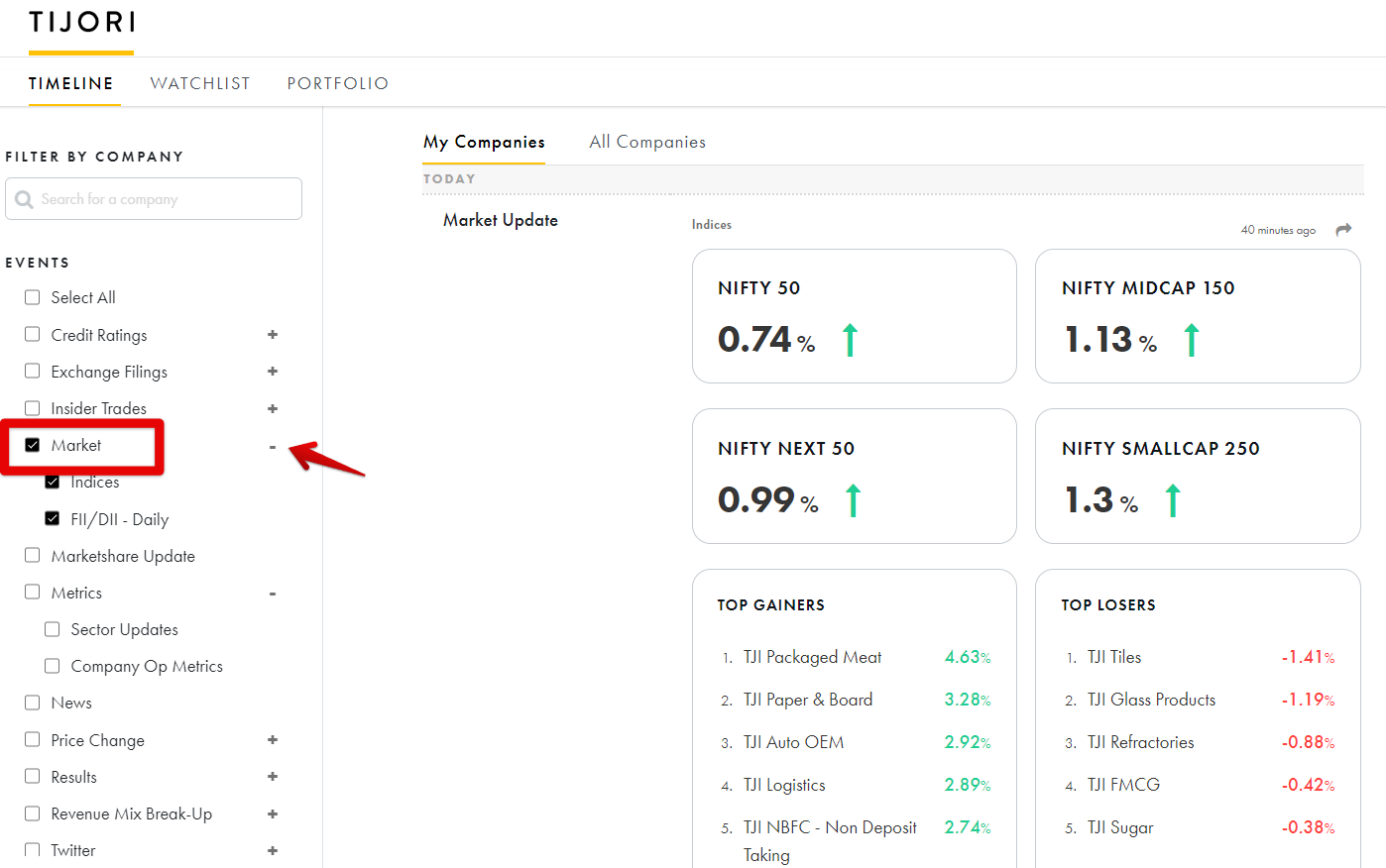 Analyze the current market sentiments in the "Market" segment. Tijori shows the latest updates and the live performance of the popular Indian indices.
Toggle between Indices and FII/DII to get every detail of your investments.
5. Market Share Update
The Market share update feature shows you the ongoing market share of the companies. It shows you the data for the current month and the previous year that lets you compare it and make a better decision.
6. Metrics
The "Metrics" tab shows you an in-depth analysis of a company based on its various Metrics, including sector updates and company Op metrics.
This is used to figure out the sales and the operations done by the company in a particular period of time.
7. News
Under this section, you can easily watch the latest news and updates from different sectors of the market. Tijori extracts this data from various finance websites and channels present on the internet.
Read as much news as you want with Tijori's Premium plan.
8. Price Change
It is very important to analyze your investments' price changes and the stocks on your watchlist. This section of Tijori Finance shows you the changes that were observed in the stocks present on your watchlist.
You can even filter this section with different sections such as Raw material price changes, product price changes, and Share Price changes.
9. Results
The "Results" section gives you an overview of the performance of the different companies. Tijori gives you the exact result of the sales, operating profits, and net profit of the company.
You can choose to toggle this data with quarterly results or with quarterly shareholdings of the companies.
10. Revenue Mix Break-Up
Tijori aims to educate the investors completely. To do so, the business model of their favorite companies should be clear to them. Well, it is no problem anymore as Tijori seems to cover every aspect of the stock research.
The Revenue Mix Break-Up section shows two different segments in a pie-chart format. One is the Product-wise distribution whereas the other one is the Location wise break-up.
This helps in understanding the revenue model of the company on the basis of its product and the location of its operation.
11. Twitter
Twitter is a great source of information.
From the company's CEOs to many different smart professionals from their sector, you get everything on the platform.
With Tijori Finance, you no longer have to look out for stock markets news on Twitter. Simply read the relevant news and updates on the "Twitter" tab.
9. Watchlist
The Watchlist section of Tijori shows all the shortlisted stocks you selected. You can read these stock's fundamentals, past performance, and Reverse DCF, which can help you filter out the companies that have poor results.
You can add multiple watchlists and even make additional edits to them. However, this feature is only limited to the premium plan members. So, after some free trials, you would be asked to pay for this tool.
10. Reverse DCF
Reverse DCF i.e, Reverse Discounted Cash Flow, remove the evergreen problem of guessing the cash flow of a specific company in the future.
Under this, if the Reversed DCF indicates more cash flow than the company can produce, the stock is overvalued and vice-versa.
Now, the best part is that you don't have to go to a particular stock to find its Reverse DCF. Tijori has added this brand-new feature in the watchlist section, where you can easily see the list of stocks along with its Reverse DCF.
11. Con Call
This is the latest and hands-down the most informative feature in Tijori. We all know the importance of Con calls of the companies in their future management and operations. Thus, it is always good to be a part of it.
Tijori brings it directly to us by offering these events on the Timeline tab, wherein you can easily access these calls and make notes for your references in the future.
How To Analyze A Stock On Tijori
Tijori has tons of tools and features to help you figure out your ideal investment plan. Let's have a detailed look at how you can analyze a stock with Tijori's offerings.
1. Overviewing The Stock
As you open stock, you'll come across this "Overview" section that summarizes the stock. From its market share to its operational metrics, you can read and note down all of this from the very first section.
Basically, this section is meant to give you a quick preview of what you can expect and whether it meets all your requirements.
2. Connections of The Stock
While monitoring a company, it is equally important to finding out its connections and competitors.
This section of Tijori seems to be just the perfect match for the requirement. Go through the company's competitors and suppliers thoroughly in this section.
3. Financial Statements
No investment research is complete without analyzing the financial statements of a company. Thus, it is considered the most important part of any stock.
Tijori Finance does seem to deliver in this matter as you can literally go through everything if it concerns the finances.
You will first come across the stock's price chart, where you can see its performance and do technical analysis. Next comes the Growth Table, wherein you will see the growth of the company in the past years. This gives a future prediction of whether the company seems trustworthy or not.
After these sections comes the most important section for all the finance nerds out there – The Balance Sheets.
You will then find the Balance Sheets, Profit & Loss, Cash Flow Statements, and Cash Flow Analysis. This data is the most vital information for any business, and the investor and Tijori present it in the easiest and most user-friendly interface.
Lastly, you can even read the Ratios, Quarterly Results, and the Reverse DCF of the company, which is critical while doing your research.
4. Benchmarking
Another useful tool under the stock analysis section is benchmarking. To determine whether a company is doing well, it is vital to know about its competitors. Tijori's benchmarking feature just does that.
Compare your stocks on various measures with its top competitors. You can watch a detailed comparison of these stocks in both the financial and business aspects.
5. Shareholdings of The Company
The shareholders of the company are the reason that it operates and functions.
Thus, it is mandatory that you analyze the entire shareholding of a stock. Tijori's Shareholding section not only gives you the ideal info but also shows you the trend and charts of the complete equity distribution.
6. Knowledge Base
Tijori has a vast database of stocks and securities for its users. The "Knowledge Base" tab is a dedicated section for this purpose. From Annual Reports, Conference Calls to descriptions to different discussions and analyses, Tijori shows everything in one place.
7. Banking Sector
The Banking Sector is the single most powerful tool that tells you precisely where your stock stands in the market. It shows different graphs stating how various metrics have been holding up in the markets.
The indexes section shows the price movement on a chart along with the stock. Then, the market share shows how your pick and its competitors have been fighting for that share in the markets.
The operational metrics and the segment tab show how bank credit deployment has taken place in recent times.
Overall, you will come to know whether your pick has the potential to grow and mint you some good money in the future or not.
Founder's Mission
Siddharth Hegde & Varun Marda, the two founders of Tijori Finance, surprisingly come from a non-financial background. They completed their Engineering in Bangalore and got into this business in 2016.
With the goal of starting a similar website like Mint, which tracks the expenses of its users and gives them a thorough report, they realized that it is not something that would prosper in the country.
In January 2019, Siddharth and Varun launched Tijori Finance with the aim of taking the research level for the investors to the next level.
The mission behind launching Tijori was to structure the unstructured data for their users. It had been an ever-lasting problem for the investors to retrieve various data of a company while deciding to invest in them. Tijori started with 200 companies and used to give the analytical data to its users free of cost.
Fast forward to the present day, Tijori has over 4000 companies listed on its platform and gives a deep analysis and tons of reports to its users.
That being said, you can easily monitor the key takeaways of a company from their annual reports, competitor analysis, subscriber count, market share, revenue generation, and much more. Not to mention, Tijori also presents all the financial information of a company as well.
So, I believe that the purpose behind launching Tijori Finance is to give the most detailed analysis of a company along with various data and company profiles–something which is very time-taking and complex to find on the internet. If you are an investor and love to research your investments thoroughly, Tijori has everything you need.
How Is Tijori Different From Other Stock Researching Platforms
We have always heard from the finance geeks that the fundamental analysis of a company is very important if you want to invest in long term. However, fundamental analysis is not limited to the company's financial statements only.
You also need to thoroughly analyze the various data that concern the company's management, like the number of units sold, the company's growth rate, market share, competitor study, and much more.
Tijori makes a stand in this segment very easily as it offers all this complex data to its users with its one-stop solution.
All you have to do is search for your favorite company, and Tijori will give the most detailed review about it. So, yes, Tijori gives you an edge in researching part of a stock.
The fun does not end there as well. With Tijori, you can even keep a close check on your portfolio. By analyzing the exposure in the markets and the risk capacity of your investments, Tijori keeps giving you the right signals at the right time.
Pros
The website is very user-friendly and can be used by anyone
It offers many detailed features for stocks
It also lists the US companies
You can sign-up for the platform absolutely free.
Monitor your entire portfolio directly from Tijori
Cons
Very limited features available in the free plan
Some of the features are very complex, and the users can get confused while using them.
The real-time market data seems a bit inaccurate as it has a delayed updation
You cannot make any investments from Tijori.
Does not give any tips or suggestions to the users
Pricing
The pricing of Tijori Finance is divided into different quarterly and yearly plans. Although they have a free plan as well, more or less, it has very minimal features available.
The Quarterly plans include pro and premium plans priced at Rs.950 and Rs.1950 simultaneously. Whereas, the yearly plans of these packs stand at Rs.2950 and Rs.6000. Let's look at all the tools that are offered in these plans.
Pro Plan
Personalized Timeline Feed
5 Watchlists
Portfolio
Unlimited Views/Month
Market Monitor
Macro Indicators
Raw Material Prices
50 Unique Pages/Month*
Premium Plan
Personalized Timeline Feed
10 Watchlists
Portfolio
Unlimited Views/Month
Market Monitor
Macro Indicators
Raw Material Prices
Unlimited Views/Month
Filter
Company & Sector Research
My Take
After closely using Tijori Finance, I was able to read the market data of the stocks present on my watchlist, which was really insightful. We can surely say that Tijori offers a company's complete study if you are looking to make an investment.
From various metrics to the deep company profile and its financial statements, Tijori brings a lot to the table.
However, if we look at the current condition of the country's Stock Market, people have started taking an interest in the markets, but we are still a long way from the participation ratio of the west.
In such times, bringing plans that are priced at such levels is quite risky as it is uncertain whether the users will be comfortable enough to buy these plans or not. Talking about the free plan, Tijori has very limited features available.
We can even say that it is a paid platform that only lets you sign up for the platform.
If you are a serious investor who does not listen to your relatives or colleagues to invest in the stock market, Tijori is a very useful platform for you.
However, I would still recommend you to analyze your requirement before buying any plans as some of the features of Tijori are available for free on the internet.
FAQs
What is Tijori Finance?
Tijori is a stock research and portfolio monitoring platform. You can do deep research on your favorite stocks with tons of tools and features on this platform. However, you cannot make any transactions on Tijori as of now.
What are the alternatives to Tijori Finance?
Tijori shows the latest updates on the stock market along with tools that can help you dig deeper into knowing more about the company. Although some of Tijori's features are unique, most of its competitors have extensive features. These include Moneycontrol, Investing.com, NSE India, and BSE India.
Who is the founder of Tijori Finance?
Siddharth Hegde & Varun Marda are the founders of Tijori.
Can I use all the features of Tijori for free?
No, Tijori has multiple plans for its users without which you can't use any of its features. However, you can redeem their 7-day free trial which is live on the platform.
Can I directly buy stocks from Tijori?
No, you cannot make any transactions on Tijori Finance. However, it does offer complete research material on stocks and other securities on its platform.
Is Tijori Finance free?
You can sign up for the platform absolutely free. After that, you will have to buy any one of the plans to start enjoying its plethora of tools and features.
Are there only Indian companies available in Tijori Finance?
No, you can also track your favorite US Companies from Tijori Finance.