Stock market research is a tricky business.
There are so many tools out there, and so many different ways to go about it—and even more information and data than you can shake a stick at!
Where do you even begin?
That's where I come in!
My first question is, why do you want to use these tools?
Is it to analyze stock movements and predict its future? 
First, let's talk about technical and fundamental analysis.
These are two different ways to think about the trading market, and they're really useful at helping you make decisions.
Technical analysis says that it doesn't matter WHY a stock is going up or down—it only matters how it's doing now.
Fundamental analysis says that it doesn't matter HOW a stock is valued—what matters is what makes it valuable.
Both of these approaches can be helpful, depending on how you want to approach your investing strategy.  
Here I am giving you an insight into the 9 most popular tools for stock market research and analysis in India:
You must be very careful about the investment selections.
A wrong decision can burn your money and you may incur huge losses. To avoid such a situation, you must conduct proper research and analysis of the stock before buying it.
To get the best returns in the stock market, thorough research is a must.
For doing efficient stock research and analysis, the Trade Brains portal can be your best choice.
I recommend the Trade Brains portal for fundamental analysis since it has all the features that a stock market investor needs to do a fundamental analysis of stocks.
Let's have a look at those key features:
Fundamental Analysis: The fundamental analysis module will help you understand the health of the business, its past performance, and prospects.

You can view the financial statements, ratios, graphs, and other tools all on one page.

You can easily add any stock to your watchlist and keep track of it without any hassle.

You can conveniently check the performance of your portfolio and transaction history anytime with accuracy and transparency.
Pricing: Trade Brains Portal's Basic version is free and its Premium version is available at Rs 399/- for a month. Rs. 1999/- for a year, and Rs. 3999/- for 3 years.
Whether you want to invest in stocks, bonds, or gold, it can be very challenging to decide, especially if you're a first-time investor.
You don't have enough information on what you should invest in and where you should invest.
I like Tickertape because it gives you the business intelligence you need to make better investment decisions.
Insights revealed by Tickertape are powered by data coming directly from stock exchanges and include an all-in-one trading experience with market trends, autopilot, customizable charts and a portfolio tracking feature to track all your investments.
Tickertape comes with the following features:
The ability to accurately price stocks. The ability to perform complex calculations at lightning speed, and the ability to store large amounts of data reliably.

The pricing of stocks is an important feature of Tickertape because it allows investors to make wise investment decisions. This is done by taking into account all the factors that affect the stock's value.

The ability to quickly access large amounts of data is another key feature of Tickertape that gives you the tools you need to make wise investment decisions. You can use this information to assess whether a certain stock will increase in value or decrease over time.

Real-time stock quotes. You can view the most up-to-date quotes for any stocks you're interested in by pulling up their ticker pages.

On each ticker page, we've provided a discussion board where investors can ask questions, share thoughts, and get feedback from others about particular stocks.
Pricing: Tickertape's Basic version is free and its Pro version is available at Rs 118/- for a month. Rs. 336 for 3 months. Rs. 637/- for 6 months and Rs. 1133/- for a year.
Have you ever considered investing in the stock market but felt a bit confused?
Let's face it; even if you have done some reading and done your best to research the stock market, it always seems like there is too much information and detail to take in. 
Simply Wall St is an online resource that offers more simplicity than some other sites and gives you a visual representation of the way the stock market is doing.
Simple Wall St is a one-stop solution for finance enthusiasts to get real-time stock, ETF, and mutual fund quotes. Stay up to date on news from 100k+ companies, build custom watchlists, and perform fundamental analysis on at least 25 variables.
Here are some of the best features of Simple Wall St:
Simply Wall St provides a simple and easy-to-use interface to help new investors make confident investment decisions.

The platform offers a fun, interactive way to get started with an investment portfolio and diversify investments across multiple companies.

The platform is also very useful for experienced investors looking to diversify their portfolios and explore new opportunities to earn returns.

Their scoring system gives clear and transparent rankings of stocks based on proprietary algorithms.
Pricing: SimplyWall St's Basic Plan is Free. Premium Plan is available at $10 per month, and Unlimited Plan is available at $20 per month.
Jika is an investment tool created by retail investors for retail investors. Jika excels in the design of infographics, in my opinion.
It truly visualizes and simplifies data for the eyes and brain.
With such a beautiful interface and well-organized tables, I can't imagine ever reading regular text tables again.
Here are the tools provided by Jika for stock market research:
Traffic Tool: This tool displays the amount of website traffic for a specific company. I discovered that this could potentially help you predict future numbers, which it did.
Value Investing Simulator: This tool is like a game with challenges. You can evaluate certain companies to see if your assumptions are correct after analyzing another company.
Stock Screener: Screener allows you to find stock by looking up metrics. For example, if you want to find a stock whose revenue is less than its debt, it will display the companies that meet those criteria.
Peer finder: Peers tool allows you to search for a company and receive a list of different companies that compare.
Pricing: Jika's Basic version is free and its Premium version is available at $5.99 for a month, and its Teams version is available at $14.99 for a month.
Indian financial markets have always been unpredictable, with the stock markets suffering bouts of high volatility and the currency being one of the most traded in the world.
A lay investor who is looking to invest 10,000 rupees or more into stocks might not be thinking twice about going for technology stocks, as they have one of the highest share prices-to-the-money involved ratios because they are usually highly overvalued.
MarketsMojo has created a unique and useful platform offering investors algorithms and data science-based research reports on a wide range of equity markets across the globe.
This platform is the perfect destination for financial professionals, institutions, and individual investors who want to stay ahead of the market.
Its research reports cover sectors like banking & insurance, capital goods, consumer goods, and Auto & Auto Ancillaries, Finance – Microfinance and NBFCs, healthcare, infra & utilities (electricity), etc.
One of the best features I like about MarketsMojo is that its team conducts interviews with management teams to gauge their perspectives.
Here are the best features of MarketsMojo:
The first thing that you will notice about MarketsMojo is its user-friendly interface, which allows users to navigate through it easily. The home page displays all the key information that you need to conduct your analysis without any hassle. You can check out buy or sell calls, Nifty 50 list, market movers, market summary, and much more.

Their screener allows you to find stocks based on different parameters like Sales Growth, EPS Growth, Net Profit Margin, etc. You can also apply filters like sector and market cap to get your list of stocks that fit your requirements.

They also have an interesting feature called Mojo Rank, which ranks all listed companies.
Pricing: MarketsMojo Fundamental Investor Plan (MF) is available at Rs. 9999/- for 13 months, Technical Calls Plan (MT) is available at Rs 4999/- for 13 months, and the Mojo Professional Combo package is available at Rs. 12999/- for 13 months.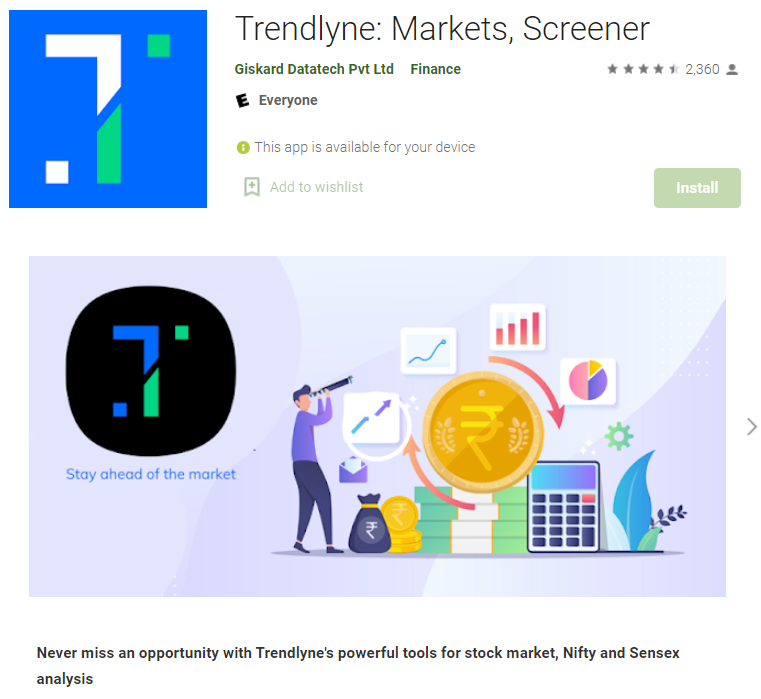 There are many types of software platforms available for stock analysis and idea exploration.
Although some have certain advantages over others, such as information depth, price data, charting clarity, speed, etc.
Trendlyne is the perfect platform for stock screening and analysis. It has advanced customization options, charting, and a design that's simple yet elegant. Its powerful tools allow any trader to be more productive in their investing.
Trendlyne provides quantitative traders with an integrated solution that provides everything they need in one place, at one time.
Described below are some of the best features of Trendlyne:
Powerful Stock Screener with 10 years of data on over 600 metrics

It offers over 30 technical and fundamental indicators which are always available at the click of a button.

Customized Portfolio Analysis with Portfolio Tracker and Portfolio Simulator

Advanced Technical Analysis with advanced charting tools and over 30 highly sophisticated technical indicators

Advanced Fundamental Analysis Data like Margins, Ratios, Profitability and other metrics derived from Financial Statements of companies

Trendlyne gives you portfolio analysis tools, allowing you to keep track of your investments and make sure they are performing optimally in accordance with your objectives.
Pricing: Trendlyne's Basic Plan is available at Rs 119/- per month, and Rs 1190/- per annum. GuruQ Plan is available at Rs 219/- per month, and Rs 2190/- per annum. StratQ Plan is available at Rs 9900/- per annum.
Who doesn't want to better predict stock movement?
Whether you're a huge pension fund, top-tier mutual fund manager, or an independent investor looking to earn that extra edge in your portfolio. 
Finology Ticker provides complete stock analysis in just one place, with powerful screening and customization options, so you can find the best stocks to buy or sell.
Its ticker software platform allows you to assess companies that you are interested in further.
 Let us look at the best features of Finology Ticker :
The 'Trend' feature of the Finology Ticker gives you information about whether the general market/sector trend is bullish or bearish.

The 'Stocks' feature of the Finology Ticker gives you information about whether any particular stock is bullish or bearish based on certain technical parameters like RSI and Bollinger Bands.

The 'Events' feature of the Finology Ticker gives you information about corporate actions like Share Buybacks, Bonus Issues, Dividends, Rights Issues, Mergers, Acquisitions, etc.

Incorporating the latest machine learning technology, Finology Ticker can predict future price movements of stocks and indices based on the current sentiment of news flow.
Pricing: Finology Ticker's Plan (Finology One) is available at Rs 499/- per month.
Backed by high-quality data, Tijori Finance is a FinTech platform that endeavors to enhance the availability of market information to all.
It's a company information platform that provides in-depth data such as market share, revenue, break-up, location exposure, operational metrics shareholding & financials on companies.
I love Tijori Finance because it has enormous data.
The website processes more than 1 billion data points and has more than 300 million facts and figures on Indian companies.
The database includes the latest financials of over 2.5 lakh companies and the historical financials of over 1 lakh companies.
Some of the key features of Tijori Finance are: 
Company Profile

: You can get a detailed company profile of any listed company in India.

Key Financial Data

: You can get 8 years of key financial data (Balance Sheet, P&L)

Operating Metrics

: You can get critical operating metrics such as Revenue by Business Segment/Geography, Revenue Breakdown by Industry/Sector, etc.

Shareholding Pattern

: You can view promoter, FII, DII & public holdings over time.

Financial Ratios

: You can get important financial ratios (ROE, ROA, etc.)
Pricing: Tijori Finance's Quarterly Plan is available at Rs 2000/- and its Yearly Plan is available at Rs.7500/-.
Another amazing tool on this list is StockEdge. It is a one-stop solution for all your stock market needs as it offers a complete analysis of Equity markets and Mutual funds.
StockEdge is one of the best apps for you to make the best investment decisions in the Indian stock market (NSE & BSE).
You can easily analyze any stock with just a few clicks. I like the huge range of features provided by StockEdge.
StockEdge has the following features:
You can monitor stock prices in real-time,

You can get personalized news as per your portfolio and interests.

You can analyze stocks using various technical indicators like Moving Averages, RSI, Bollinger Bands, and much more.

You can compare different stocks using interactive charts,

You can compare a stock with its industry peers and analyze its trends.

You can share Stock data with friends via Email, Twitter, Facebook, etc.,
Pricing: StockEdge's subscription is available at Rs 399/- for a month. Rs. 999/- for 3 months. Rs. 2999/- for a year.
Last but not the least, let me introduce you to the most famous Indian stock market research tool-Moneycontrol.
Controlled by Reliance Industries, Moneycontrol provides financial reports, press releases, stock quotes, and financial news.
Moneycontrol also offers personal finance management tools. Its platform houses a universe of integrated information and analytical tools to make sense of numbers, facts, figures, and market fluctuations.
I love Moneycontrol because most of the data is available for free and even the subscription is quite economical. 
Some of the key features of Moneycontrol are listed below:
Real-time stock quotes and alerts

Live market news and updates

Company financials and valuation data

Investment tools and calculators

Customizable portfolio tracker

Personalized watchlist with email alerts
Pricing: Moneycontrol's Basic version is free and its Pro version is available at Rs 49/- for a month. Rs 399/- for a year, and Rs. 999/- for 3 years.
So, what's the most important stock market research tool you can use to find hot investments?
While it's true that all of these tools will help you uncover investment opportunities, the thing that I think is most valuable is the underlying data.
Ultimately, things like price-to-earnings ratios and beta values are what will make or break your stock pick.
Knowing these nuggets of information early on can help you identify diamonds in the rough, which will score windfall gains for your portfolio.
And as with so much in investing, knowledge really is power!