Are you a small business owner who is constantly keeping track of the expenses and accounts of the company?
If yes, Volopay can help you save a lot of time and effort in managing all of your finances. Browse throughcorporatethe complete review of Volopay in this article.
What is Volopay?
Volopay is a spend management app that lets you track all of your expenses, automate your payments for various SAAS apps, provide virtual credit cards for your use, and much more.
It is specifically designed for corporate brands who are looking for a one-stop solution to meet all their financial needs.
You can use the credit cards of Volopay to make transactions which are later available on its dashboard and is thus, visible to the company owner, management, and the entire ecosystem. This process offers complete spend visibility and complete accountability to its users.
Features of Volopay
A ton of features come along with Volopay's web and mobile applications. From giving an in-depth spend analysis to offering many money-saving features, it is packed with countless features. So, let's have a brief look at them.
1. Complete Control Over Finances
With corporate credit cards, automated accounting, complete expense reimbursements, and money transfers, Volopay offers full access and control to the business owners of companies. You can literally perform any financial practice on its platform and enjoy a seamless experience.
You even get decentralized spend control, defined workflows, and customized budgets for your team.
2. Corporate Physical & Virtual Cards
Volopay offers physical VISA cards to its users, which can be used by the team members to make both online and offline payments.
The users can easily use these cards to pay for their SaaS subscriptions, online shopping, and vendor payments with a single swipe.
3. Transfer Funds Both Domestic & International
With vendor payouts reaching multiple countries for various businesses, Volopay offers its services in more than 130 countries. You can easily make your payments through SWIFT and non-SWIFT options.
Do all this and much more at extremely affordable charges.
4. Automate The Entire Accounting Process
Get rid of the tiring admin work, lacking control, and the limited visibility of your finances.
Volopay is a fully integrated finance tool that offers automated payments to your subscriptions, generates and transacts petty cash, arranges your finances for business travel, and even assists in your online advertisement.
Practice efficient employee reimbursement and vendor payouts in the easiest forms on the app.
5. Business Credit
You don't need to spend your precious funds on the daily expenses of your business anymore. With Volopay, you get to enjoy a credit line that lets you make hassle-free payments.
Unlike other platforms where you have to wait for days to get a credit line, Volopay does that in just two working days. All you need is a valid credit score and the proper business documents to get a credit line.
You can acquire a Visa card and a credit limit for your business needs. This helps in processing the company's payments without dismantling the business owner's funds.
6. Invoice Management
Volopay handles all of your expenses and tracks each and every transaction for you. It later arranges it on the dashboard and gives you all the invoices. This helps get a clear image of your finances and clear all the dues on time.
Products Offered By Volopay
There are many products offered by Volopay that help in the seamless operation of the company. Let's have a look at them briefly.
1. Corporate Cards
One of the key products of Volopay, the VISA cards offered to the teams, is a highlight. With multiple spending options, vendor payouts, and expense reimbursement, Volopay's corporate cards do seem to be very handy for its users.
Volopay offers a live spending tracker, meaning you don't need to wait for the month to end to retrieve the statements. You can watch it instantly on the platform itself. These cards also manage all of your SaaS subscriptions, so you don't have to approve the payment every time.
You can even make direct payments through USD on Volopay. This means that you don't need to pay the hefty FX rates to anyone anymore. Simply use your Volopay card to make international transactions.
Top Features
Hassle-free quick onboarding
Automated payment system
Detect your savings and fraud through Volopay's smart AI
Set a manual budget on every different card
2. Expense Management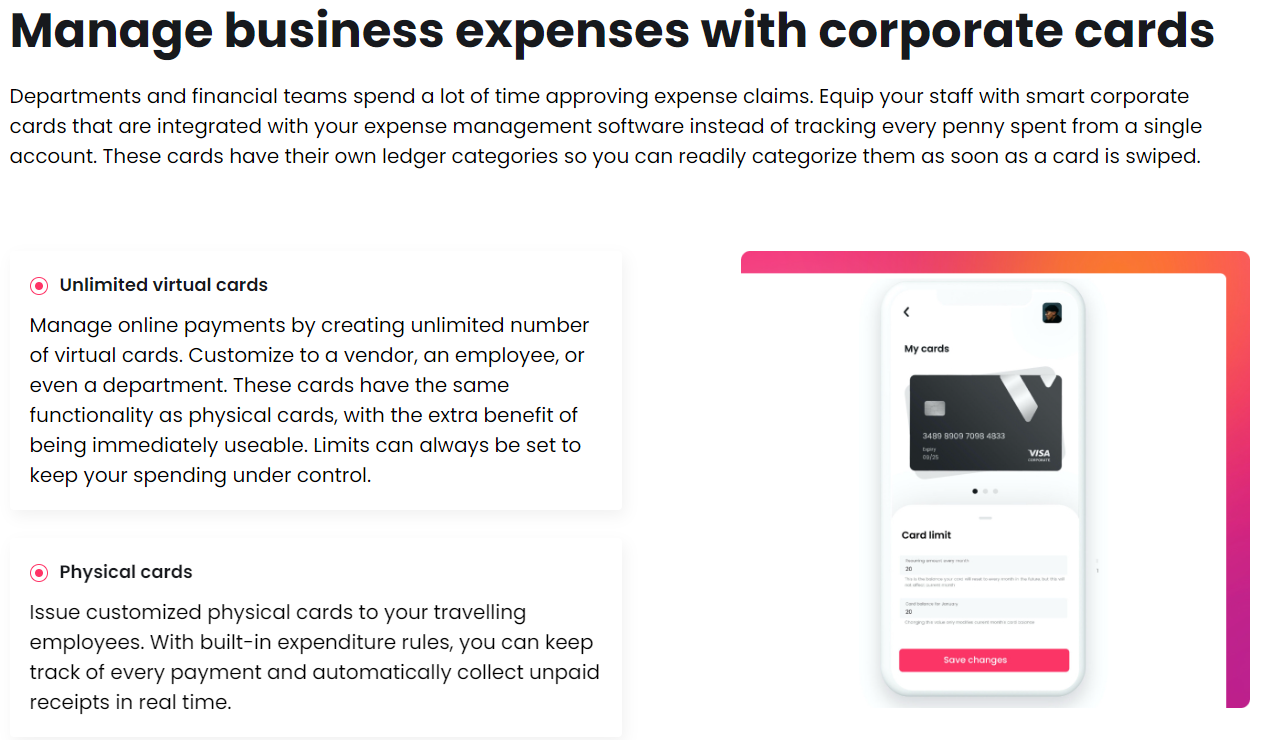 Track all your expenses through Volopay's dynamic expense tracker. Now, you can track real-time expenses, manage your budgets, and approve or put a hold on the pending payments of the company.
This tool is highly recommended for businesses that are involved in making transactions on a daily basis.
Top Features
Automate your expenses
Manage your budget efficiently
Streamline the reimbursement process for the employees
Manage all your software subscriptions
Set manual multi-level workflows
3. Multi-Currency Business Account
You get to use a multi-currency business account for all your business needs. This means that now you can make international transactions from the comfort of a single account.
It also offers a credit line to the businesses, and that too in a matter of two working days. The seamless process and the user-friendly dashboard make it a complete tool for business owners and their teams.
Top Features
Linked transactions to employees
Automate your accounts
Automate your expense reports
Flexible credit lines
Manage cards on your mobile
4. Accounts Payable
In a business, there are unlimited expenses on a daily basis, and for small business owners, it is not feasible to hire an employee for this job. Volopay removes this barrier by offering an accounts payable tool.
This tool allows you to pay your bills, manage your vendor payments, and analyze the complete expense report. You even get to track all the due payments and set up advance payment alerts to avoid any deadlines. Do all this and much more through the Accounts Payable feature of Volopay.
Top Features
Streamline your invoices
Manage all the vendors
Track your expenses in real-time
Lowest charges on FX transactions
Pros
Corporate cards offer great features
One-stop solution for all financial needs of a company
Tracks the expenses in real-time
The easy and quick Credit limit
User-friendly dashboard
Cons
Not available for self-employed individuals
Students and salaried users cannot even try Volopay
USD transactions are not yet available on the platform
Free-version does not hold many features
The budget section and the reports are a bit confusing and complex
My Take
If we analyze Volopay closely, it seems to be a good fit for business owners looking for a platform that can act as their accountant. From spend visibility to complete expense tracking, Volopay gives all the insights of an account to its users.
The VISA cards are available in both virtual and physical forms, giving users more control in navigating everything on their dashboard. You even get to make payments directly through USD, as Volopay promises. However, this feature is yet to go live.
Overall, it is a good premium application for your budget and financial needs. If you are looking for an app that can handle everything literally for you and give you deep insights, Volopay is surely among the favorites on the list.
FAQs
Does Volopay offer credit?
Yes, you can take a credit of up to Rs 500k on the Volopay app, depending on your credit score and the company documents.
Can I use the VISA card by Volopay to shop online?
Yes, you can use the Volopay card to shop anywhere.
Will I need different mobile numbers of my team members to get them on board?
No, once you sign up on Volopay, you will get a personalized invite link. This link can be used by your team members to sign up for the platform directly.
Can I use Volopay to make international payments?
Yes, you can use the Volopay virtual card to make online transactions globally.
Are there any hidden charges on Volopay?
No, there are no hidden charges or additional fees involved in Volopay. However, you might have to pay the relevant service charges while making payments through ATM in any foreign country.