Your company needs regular cash inflow from your clients to manage your monthly expenses successfully. Sadly, this is the part of the job many small business owners find annoyingly challenging.
You sent the invoice but forgot to notify your client of the upcoming payment. You were too busy with other projects to check your account receivable status. You didn't send the invoice on time.
Really, entrepreneurs struggle with payment collection for tons of reasons. Therefore, most accounting software has debt collection software installed to take care of the menial tasks.
CredFlow is one such tool that makes it easy for you to collect your payments on time and improve your company's operations.
In this guide, I will share all about CredFlow and how it can help your business.
What is CredFlow?
CredFlow is an account receivable management tool that automates some of your operations to ease your payment collection job.
Not only that, but it also helps you in forecasting the budget and offers an in-depth insight into future business opportunities.
For instance, you're planning to make an unexpected purchase but aren't sure if you can afford it at the moment. You can find out by reviewing CredFlow's aging report to see if your sales can cover your potential expenses. The data will help you decide whether to go for it.
Credflow offers eight different automation actions, from receipt generation to sharing information. All to facilitate you in successfully managing your cash flow and daily activities.
With Credflow, you can comfortably maintain your bookkeeping without continuously checking up on your receivables or making hasty decisions.
How Can CredFlow Help Your Business
Credflow helps you get your payments 20 times faster, reduce your bad debts, and increase productivity. You merely need to look into its features to realize its incredible benefits.
To elaborate on my statement, let me share Credflow's eight key features to show how they can make your business operations better.
1. Payment Reminders
B2B businesses typically offer different payment terms to their customers. Some clients promise to pay you in full at a certain date, while a few might prefer to break the payment into tranches.
Credflow provides an option to auto-send alerts to your clients when their payments are overdue.
The tool gives you two ways to deliver reminders. You can either place email reminders or send them through SMS. Once you've activated your reminder action, Credflow will dispatch messages based on the frequency you have set.
For example, one of your customer's payments is expected to receive in 60 days. Click on the Set Contact Details button at the top of the Dashboard, and turn on a 7-day reminder. This will command Credflow to send weekly alerts to the client.
There's more.
You can additionally set reminders for clients who verbally promised to pay in the future. Just create a task and Credflow will drop the message when the time comes.
Payment reminders save your time and lower your chances of overlooking overdue invoices.
2. Account Settlement
Long-term customers usually conduct multiple transactions and later periodically pay in tranches. While it is a standard practice in the B2B industry, it does make recording a challenge.
To help you record irregular receipts, Credflow offers two options to settle the account. You can manually reconcile it, or the tool will automatically adjust the balance for you.
Let me explain it this way.
Credflow has a receipt tab that allows you to create a quick slip the moment you have collected payment from your customer. Once the voucher is generated, Credflow displays unpaid invoices right below to let you manually match the receipt with your preferred invoice.
If you have a standing receipt that you've not yet allocated to any invoice, Credflow automatically selects the oldest one and settles the debt.
This auto-allocation feature relieves you of updating your ledger every time you get paid.
3. Aging Summary
This is of the Credflow important features you'd likely use repeatedly.
An aging summary shows a graphical representation of all your activities. Such as a total figure of your overdue payments and future receivables of each company.
You'll find the summary on the main dashboard where you can review your client's outstanding payment, the amount recovered this year, and the average collection period.
The aging summary gives you enough data to determine how much benefit this client is providing your company.
Let me give you an example.
Say, one of your clients' sales trends typically increases in August and December. This implies your customer's business booms in these months.
You can leverage this information to reach out to them with direct promotions during that period.
Credflow offers the tabular version of your aging summary under the Debtor Summary tab, as well, if you want to see the details.
4. Bulk Message and Editing
Whenever a company modifies its terms and conditions, the owner generally would want to update and notify relevant parties in one go.
Credflow makes it easier for you to edit your details on a single sheet and announce it to your clients en masse.
If you look at the top of the main dashboard, the contact details tab will lead you to a page containing a customizable excel sheet of your contacts. You can alter any information you want and Credflow will immediately update it on its system.
On the same page, you'll also find a CTA for bulk messages. This will allow you to share your changes with your clients all at once.
5. Incentives Scheme Management
I mentioned earlier that B2B customers prefer an open account where they can defer payments to a later date.
While typically both parties are all right with the arrangement, there comes a time when you might need an early payment from your clients.
For such cases, CredFlow provides a feature called incentive scheme management. It consists of proposing a certain percentage of discounts to persuade your customer to pay you early.
Suppose you're in urgent need of cash in the next ten days. Under the ISM tab, you can create the incentive for your chosen debtor with Schema CTA. Once your offer is delivered it will summarily state if the debtor pays within ten days, they will get, say,10%, and if they clear their payments in 5 days, they can avail 15% discount.
This action might incite your clients to clear their debts promptly.
Incentives Scheme Management essentially gives you the opportunity to speed up your collection.
6. Team Management
Regulating receivables isn't the only job CredFlow offers. The automation tool also makes it easier for you to manage your team.
For instance, you can add multiple users to your account and customize the volume of information you wish to share with your team—such as limiting approval authority, giving access to the client, or restricting ledger views.
You can also assign targets to your sales representative in the Sales Manager Report section.
Credflow allows you to invite customers and employees individually as well as create entire teams.
If you are a sole proprietor, you'd probably not need the above actions. However, these features will help small companies with projects requiring team collaboration.
7. Credit Control
A smart entrepreneur certainly knows when to stop extending credit lines to a customer. But they still require a system to detect that potential bad debtor in the first place.
Credflow saves you time by automatically identifying bad debtors for you.
In the settings tab, you'll discover a section by the name of Credit Control.
Credit Control will allow you to not only set a limit to the outstanding amount but put an expiratory collection period. So, when a debtor exceeds the mentioned limit, they would automatically be written off as a bad debtor.
Companies ordinarily lose 1.5% of their receivables to bad debts. With the Credit Control option, you can make sure your bad debts don't surpass the limit.
8. Auto-Sharing
Credflow offers tons of automation features, among which one is auto-report sharing.
If you enable the User Reports in the settings, an auto-email will be generated and sent to your team, sharing the aging summary of your customers. It will allow you to share daily and weekly reports with your team members or relevant parties.
Credflow also allows you to share receipts with your customers by enabling the auto-invoice sharing option. Every time you generate a receipt a copy of it will be dispatched to your client.
Both automation features help you keep your team in the loop and stay connected with your clients.
How To Install Credflow?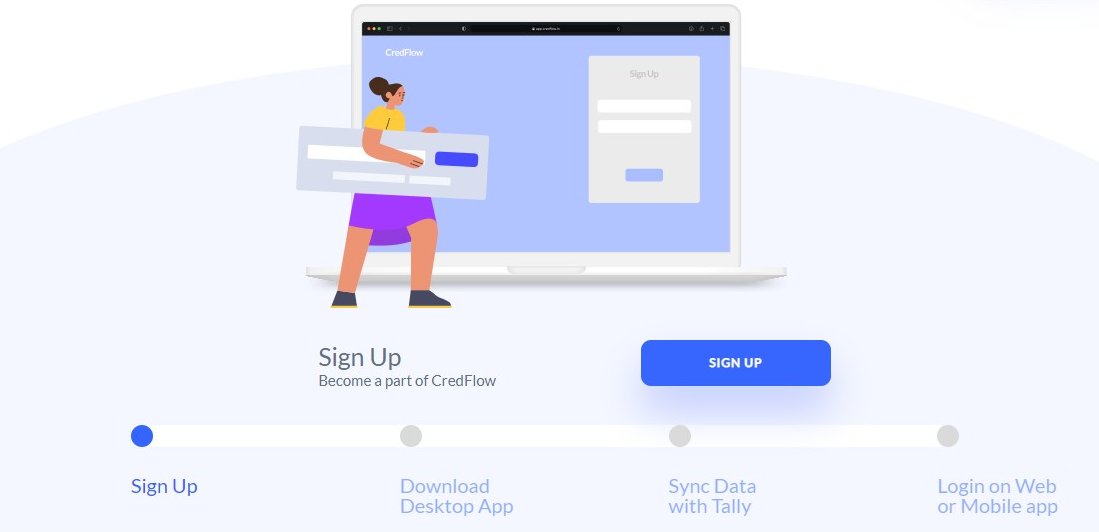 Credflow installation takes merely four simple steps. But before I share the specifics, I do like to mention, Credflow is not compatible with every accounting software.
As Credflow is still in its early stage, it is gradually expanding its reach. Presently, it has integration with Tally accounting software only.
With that covered, let me walk you through the steps to install Credflow.
Create a free account on the site using your email address. The Signup CTA at the top right corner of the Credflow landing page will take you to the signup form.
Once registered, Credflow will ask you to download the app on the desktop.
Install the app, log in to Credflow, and start adding companies to sync data with Tally. You'll need to log in to both Tally and Credflow at the same time to sync the data.
After your data is synchronized, you can successfully operate Credflow on your desktop and mobile. The tool has a responsive screen that will automatically adjust itself to whatever device you are using.
Pricing Structure
Credflow is a freemium tool that offers two affordable solutions besides the free plan. If you are a small to mid-size company, go for a Saver Plan. It is commonly favored and costs $82 per year. If you are a sole proprietor, the Lite Plan will work for you.
I am attaching a screenshot of its current pricing structure to help you make the best decision.
Credflow consists of all the features a good cash management software should have.
The tool might not be the oldest one in the market, but the Mumbai-based startup has already raised $2.1 million in seed funding and acquired over 5000 users.
That should tell you something about the company.
If you've any questions, let me know in the comments.