A while ago I got to know about Dezerv, and I thought it'd be a nice idea to give it a try.
It's an invite-only wealth management platform where your portfolio is created based on your risk appetite, investment horizon, and your current financial attributes.
When you invest via Dezerv, in a nutshell, experts will be handling your money in a custom portfolio built for you. Ensuring you get consistent returns and achieve your investment goals without investing in speculative assets and individual stock selection.
You do not have to pay any charges to Dezerv for managing your money.
But is it truly free, or more importantly, are you really paying nothing to the experts who are managing your money? I've explained this in more detail at the end of this article.
Since Dezerv is not open to everyone by default, it makes it easier for a small team of highly competent investment experts to deliver better results and user experience.
Here's how the whole onboarding process went:
I applied for Dezerv, and in a week or so I got my invite.
Once you get the invite, you need to log in to Dezerv using your phone number, and that's what I did.
When you log in for the first time, the first thing you will see is your Personalized Integrated Portfolio (PIP) details.
I'll talk about PIP in detail when I review Dezerv, but it's simply their property investment approach called Integrated Portfolio Approach (IPA), that defines their diversification and asset picking approach.
In their own words, the IPA is:
Integrated Portfolio Approach™ aims at constructing a unique multi-asset class portfolio, where complementary, best-in-class securities are selected to deliver superior portfolio returns as per the risk profile. It is a comprehensive solution for all your investing needs.
You need to click the SetUp My Account Button to make an initial investment with Dezerv.
Before that, let me talk about several sections on the Personalized Integrated Portfolio page above. Dezerv allows you to customize your portfolio before you make an investment.
For instance, you can edit the "Investment Approach" and determine from five different approaches:
You can choose between:
Careful
Conservative
Balanced
Growth
Aggressive
Now, based on your answers to the questions Dezerv asks when you apply, they recommend the right investment approach for you. I'm a long-term investor, and so should be you being an AayushBhaskar.com reader 😉.
So, based on my answers (long term, high-risk tolerance) Dezerv recommended a high-risk-high-reward portfolio to grow my wealth over the long term. Still, I can choose another investment approach if I wish.
If you want to know the funds your money is going to be invested in, click on "See Portfolio Details".
You can see how my portfolio is well-diversified with mutual funds in Indian Equity, Fixed Income assets and Gold.
This is a very well-diversified portfolio – prepared to protect my returns from the downside, especially in times like the Ukraine-Russia crisis when equity markets might fall if the war escalates. Gold and fixed income assets tend to perform better in these situations.
There are also a bunch of FAQs you can go through to understand how Dezerv manages your money, withdrawal conditions, the safety of funds, and why they prefer mutual funds over individual stocks.
Once you're done analyzing your Dezerv Personalized Integrated Portfolio, the next step is investing an initial amount of INR 50,000 or more. This makes sense since there are about 9 funds in my portfolio.
I went ahead and invested ₹ 50K with Dezerv.
All investments are made in your name, Dezerv is simply a facilitator/advisor. 
You'll receive an email confirmation from every mutual fund house in your portfolio once Dezerv finishes processing your investment. You can then track these investments using a portfolio tracker as well.
Dezerv currently supports only one payment method – Internet Banking. They will soon come up with UPI payment solutions as well.
Once you make the initial investment, you get access to the Dezerv backend, where you can track your portfolio and manage your account.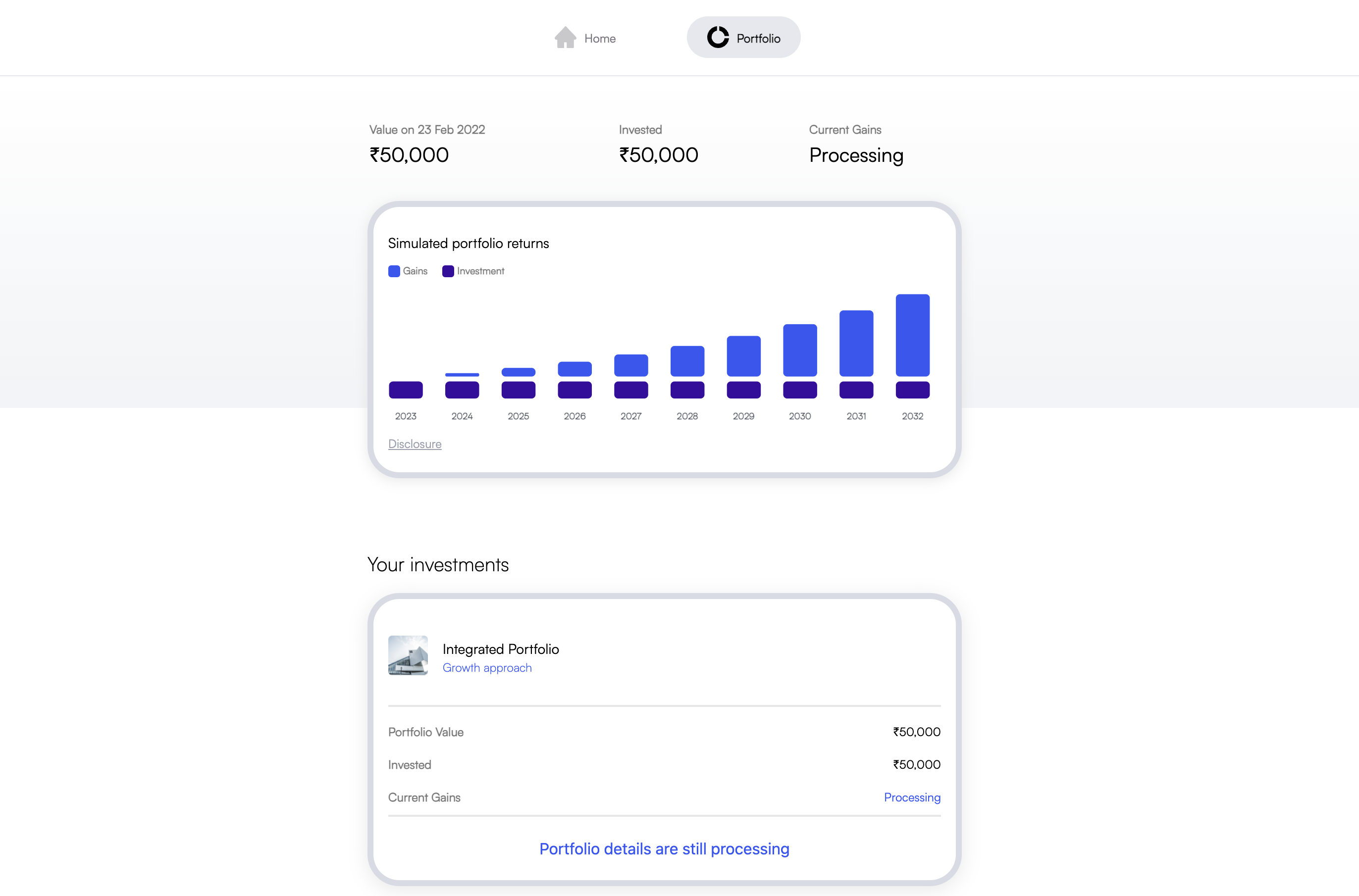 Note – Your portfolio is not static. It will be rebalanced annually with your consent. You have a degree of control over your investments.
You will be able to withdraw funds after 3–5 days of making an initial investment. After that, there are no lock-in periods. But talk to the Dezerv team before you choose to withdraw, you might be able to save tax and lower the exit load.
Here's how the Dezerv dashboard looks:
Notice how I have to blur certain elements in the image above. These are some exclusive investment opportunities for Dezerv members.
Initially, I had plans to write about it as well, but then I read these opportunities are confidential and privileged, not for public disclosure.
Well, these are some Pre-IPO companies where you can buy shares from people who are willing to sell them off-market. Or sometimes these could be Alternative Investment Assets, High-Yield Bonds, or Partnerships with other investment platforms such as GRIP.
You will get access to these exclusive investment opportunities once you become a member as well.
Dezerv team will also help you understand what's going on in the current world economy and how your investments are affected. You will receive explanatory videos and text messages on finance and economic updates every now and then.
If you want to talk to someone to get clarifications and get your queries answered, there's a member partner with whom you can chat over WhatsApp.
Dezerv Charges
Understand that you're paying a fee.
You're not directly paying Dezerv to manage your money, like a subscription.
However, the investments made on your behalf via Dezerv take place in regular mutual fund plans and Not direct plans.
What's the difference between regular and direct mutual fund investment plans?
The regular mutual fund plans are always facilitated via a broker, a middleman. And every broker is paid a commission by the mutual fund house.
These mutual fund houses don't pay these commissions out of their own pocket. They charge you instead.
So, you're technically paying Dezerv a hefty fee to manage your money.
I calculated, and so far as much as I've invested with Dezerv, If I keep it as for the next 10 years, I'll pay about 4,00,000 in commissions.
My aim in educating you with this information is to help you make a sound decision. I hope this helps.
How to get access to Dezerv?
First, you need to ask for an invite.
Then they evaluate your profile based on your answers in the invite application, which they also use to create your investment portfolio. Now, it's not like they will create a new portfolio for you, but you will be given access to one of the three (my raw guess) pre-built portfolios based on your risk appetite.
Finally, once everything is set, you get an invite from Dezerv, valid for about 8 days.
You have to make an investment under 8 days after you get your invite. If you don't, your opportunity to invest via Dezerv expires.
All of this is nothing but a marketing tactic – so don't worry if you don't get the invite soon. They'll eventually open the platform for everyone.
When you click on the link above, you will get priority access to Dezerv, faster than anyone else. Exclusively for my readers.
These were my initial impressions after using Dezerv.
Will I continue investing with Dezerv?
Probably, no. I already have a PMS managing most of my money (70%).
However, I like their overall approach. I'll talk more about it once I get to experience their platform for a few months at least and write a review about it.
I recommend educating yourself and trying to invest in direct mutual funds. You don't have to pay commissions when platforms like Scripbox, INDMoney and Groww facilitate direct MF investing with tons of educational content to help you choose the right fund based on your needs.
I hope you found this article helpful.