I've been exploring non-market linked investment for some time now, and my research has revealed some interesting facts.
Diversification is always the key to maintaining a balanced portfolio with stable returns.
Diversifying into different asset classes ensures your investments are not dependent on the performance of one category of financial instruments. Therefore, when one asset class does not perform well, investments in another asset class can save your capital from depleting.
Here's where I came across Grip (GripInvest), a world of non-market linked investment opportunities that don't rely on the stock market's performance.
Grip encouraged me to see beyond fixed deposits, stocks, and gold investments to achieve a stable diversification of my investment portfolio while earning a good return.
But, before we dive into my review of Grip, let me introduce some basic terms that I will be using throughout the article.
Learn the Basics
Alternative Investment Fund
Alternative Investment Fund (AIF) refers to an investment vehicle that is set up as a private pool of funds made by various high-ticket investors. Sophisticated investors pool their money via these AIFs and invest it in financial instruments other than bonds, stocks or cash.
Typically, hedge funds, venture capital funds or private equity funds are carried out through AIFs. Unlike mutual funds, these investments are non-market linked and usually meant for high net-worth individuals with a significantly large investment amount.
Non-market linked investment opportunities
Market Linked Investments are those financial instruments where the underlying asset is connected to the stock market.
For example, if I invest in mutual funds that pools investments from various people to invest the accumulated amount in the stock market to get returns, it is linked to the market.
On the other hand, if the underlying asset is not associated with the stock market, it is called non-market linked investment opportunities. Here, the investments are made in assets like real estate, unlisted startups, etc.
What is Grip?
Grip is a digital investment platform that uses tech-driven methods to provide a smooth investing experience to investors of all kinds.
Grip's ideology is to keep an investor as its priority while curating risk-adjusted investment opportunities. With diversification at its core, these non-market linked investment opportunities help in wealth creation for investors, regardless of their investment size.
After a stringent due diligence process, Grip has also collaborated with over 70 corporate partners to create these investment opportunities.
How does Grip work?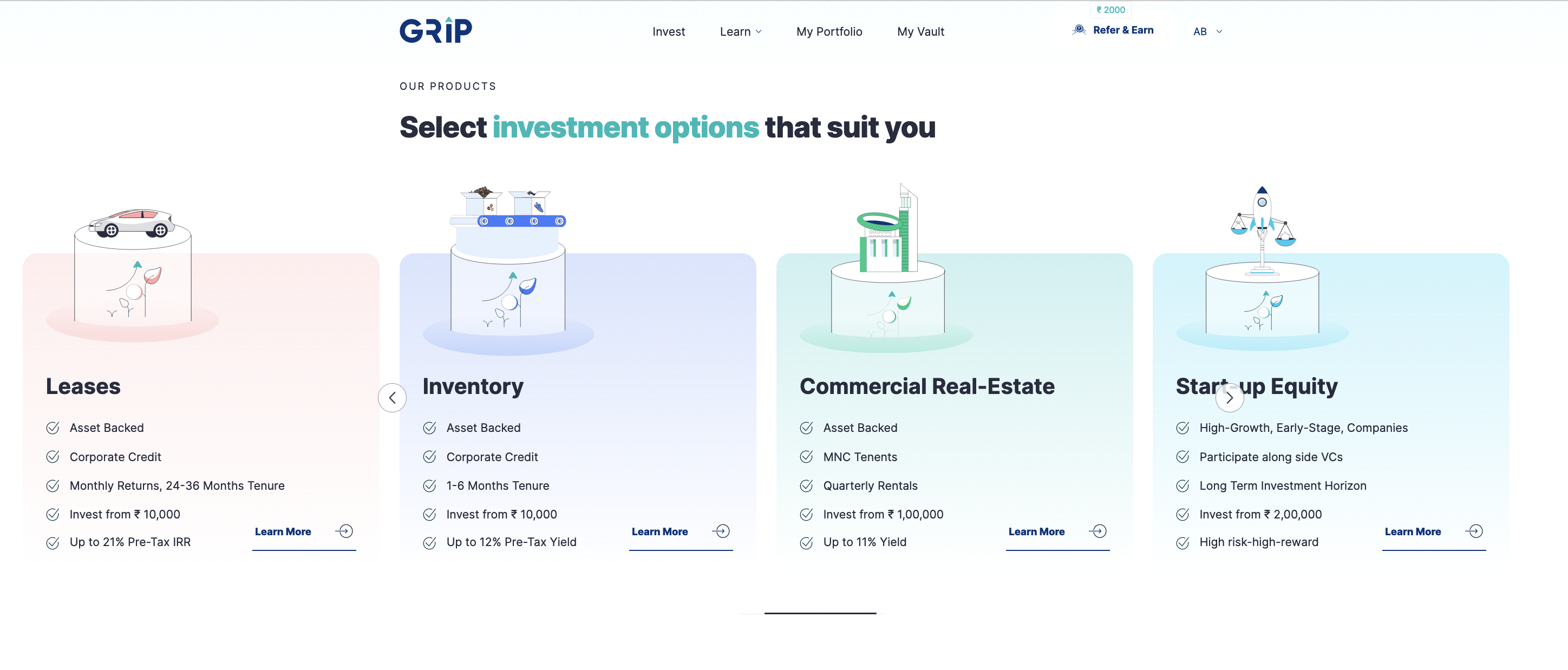 Grip makes non-market linked investment opportunities extremely simple and safe.
Here's how I got started with Grip:
I went through their platform to see the various investment opportunities. This consisted of several non-market linked investment plans like commercial real estate, asset-backed investor investments for returns through corporate credit and much more! What I liked the most about the Grip platform was that I could see the key highlights of the investment, the underlying asset, as well as the tentative returns I could expect. I could choose how much I want to invest and where. Grip made it extremely simple for me to understand the investment opportunities beyond gold and stocks.
I then finished my KYC on the Grip platform through a quick and seamless digital process and generated my e-sign to get started. The payment process was also an extremely smooth and hassle-free experience with multiple options available. Now, I was ready to enjoy the benefits of my diversified portfolio with non-market-linked investment opportunities!
Next, I invested in some fixed income earning instruments available on the Grip platform to receive a regular monthly return. You are free to choose from a wide range of investment options by understanding their risks and the returns. Like clockwork, the pre-determined returns associated with my fixed income earning instruments reached my Grip Vault account. I could also easily and directly receive these returns in my bank account
With Grip's launch in 2020, small ticket investors were given a brand-new avenue to make investments and earn decent returns. Diversification had a new meaning, and Grip's user-friendly platform immediately attracted a lot of eyeballs.
With a vision to democratize non-market linked investment opportunities like asset-backed financial instruments, including leasing vehicles or furniture, tapping into the commercial real estate and investing in early-stage startups.
How does Grip Make Money?
Grip earns revenue by charging a small commission on the returns. Currently, it charges about a 2% commission on the monthly returns disbursed to the investors. Therefore, Grip only gets paid when the investors get paid. They also have a 1% processing fee that they charge to their leasing partners. This transparent model helps Grip earn the trust of investors and choose the best, most growth-driven partners.
Grip follows a meticulous due diligence process before partnering with a corporate to ensure the utmost safety of the investments. Another thing that I loved about the Grip platform was its focus on maintaining transparency with investors.
They provided in-depth information for every investment opportunity that they created. This helps investors understand the product before they invest in it, rather than only looking at the returns.
Each partner that they collaborate with also has a profile, and the risks, commercial terms, etc., are highlighted to the investors before they choose to invest.
Non-market linked investment opportunities are fairly new, and this method of maintaining complete transparency goes a long way in establishing trust with investors.
How is Grip different from AIF?
Alternative Investment Funds (AIFs) are regulated by SEBI and divided into three categories, each having a specific set of regulations to adhere to.
The minimum investment required to invest in an AIF is Rs. 1 crore, which limits the access of small ticket investors to this high-risk instrument.
Grip entered as an alternate investment platform, offering unique investment opportunities. Its objective was to ensure accessibility for all types of investors.
Grip partners with SEBI registered AIFs to help lucrative startups raise capital. Mukunda Foods, a food robotics company that raised capital from Zomato, was one of the first opportunities available through the Grip platform.
Said to have an investor pool of 2.5 lakh investors, Grip puts small ticket investors participate in the growing startup ecosystem with sophisticated investors, something that AIFs couldn't independently do.
Risks and Rewards of Grip (Pros and Cons)

Risks
Every platform carries its own set of risks. The biggest risk with non-market linked investment opportunities could probably be the lack of regulations and the apparent lack of information about this space.
The other risks involve the risks related to individual products. Let's take leasing, for example. If I invest in a lease through Grip, my funds are pooled with other investors to invest in an asset like furniture, vehicles, or equipment, which is then leased to companies.
The risk here could be that the company fails to make the lease payments on time or that the asset cannot be recovered and sold to generate leftover value.
With startup investments, there is high-risk and high reward, which depends on the performance of the startup. Since the non-market linked investment opportunities rely on the performance of the underlying asset for returns, the risk is high and unregulated.
Moreover, when you agree to invest in startup equity via Grip, you also agree to invest a total of INR 25,00,000 over a tenure of 5 years beginning from the date you make the first investment.
I highly recommend reading every term and condition Grip has before making any investment.
Rewards
With over 26 crores invested by users, Grip's track record does not have a single default to date. They meticulously choose companies after a stringent due diligence process to ensure fewer chances of a default.
Further, they strategize their investments such that 7.5%-15% of the lease is taken as a security deposit.
Tapping into the non-market linked investment opportunities and providing access to investors of all types is one of the biggest perks of Grip.
The summary of the various benefits of investing with Grip include:
They carefully examine assets before taking investments from us.
They disclose the risks and rewards completely and help impart knowledge of how the investment will work.
They tie up with credible companies to offer safe and stable returns – and they disclose company profile's to the investors.
The investments I make are considered as a separate entity without pooling in any other money. This helps me control where my investment is flowing.
Their extremely user-friendly platform makes for a smooth investing journey.
They commit to keeping data like PAN and Aadhaar (which are needed for KYC) completely safe.
Grip is particularly useful for new investors who are looking for passive income-earning opportunities. Their easy-to-navigate platform wins all the brownie points for a satisfactory customer experience, which goes a long way in establishing loyalty and trust.
Who should invest with Grip?
The minimum investment for leasing or inventory-based products is Rs. 10,000 on Grip. Leases come with a 2 to 3-year tenure, and inventory comes with a 6-month tenure. Commercial Real Estate gives quarterly returns but requires a minimum investment of Rs. 1,00,000.
It is integral for investors to make informed decisions only after understanding the risks involved and what the returns truly entail. Opting for non-market linked investment opportunities requires proper research on whom the companies are and where your investments will be routed to.
Grip is meant to cater to small-ticket investors but it goes above and beyond by educating investors about new forms of investment.
Diversification is one of the core objectives of any investor, and having many new financial instruments to choose from makes it easy to have a diversified portfolio.
However, carefully choosing each investment in your portfolio will help in wealth maximization in a more efficient manner.