Since the dawn of technology, investing has become more and more convenient.
Thanks to the mobile app revolution, you can now make all types of trading transactions with just the tap of a finger on your smartphone.
There are numerous apps available now that make investing simpler, but which one is best for you? In this post, I will share the 12 best mutual fund apps in India that let you invest online.
The listed apps have a great user experience as well as a clean, user-friendly interface to help you invest or manage your mutual funds directly from your smartphone or tablet.
1. Coin by Zerodha
The Coin is a new App from Zerodha that helps you invest in mutual funds online.
It's young, it's fun, it's easy, and most importantly, it makes investing a part of your everyday routine. It has amassed a sizable customer base, making this App popular among investors.
Coin App makes it easy to keep track of your investments in a very simple way. The interface is clutter-free, and everything is laid out in front of you, so you don't have to search for anything.
You can see clearly how much money you have invested, how much money you have made, how much money you've lost or gained, and how much money you have left to invest.
This makes it easy to decide on your next move—whether it's time to invest more or time to pull out some money and save it elsewhere.
Let us look at the best features of the Coin App by Zerodha:
The best part about Coin is that it takes out all the guesswork when you're researching Mutual Funds. You can simply go through the different categories on Coin (like Balanced, Equity, Tax Saving, etc.) and choose the category that suits your needs best.
You can watch short videos featuring fund managers explaining their fund management philosophy to help your fund selection process.
You can fund your purchase orders instantly through UPI payments.
You can log in to Zerodha Coin App with your fingerprints.
The coin app allows you to pledge mutual funds in dematerialized form as collateral for loans against securities and margin for trading in derivatives and stocks.
Here is the link to download Android App and iOS App.
2. Groww
Groww, the mobile investment app, is a great way to manage your mutual funds online.
It offers you a real-time update on your mutual fund balance, the latest news related to stock markets and schemes, and other useful information that can help you make informed decisions.
The app allows you to transfer money with just one tap, which is extremely convenient. It also lets you create reminders so that you don't miss any important deadlines throughout the course of your investment.
Groww App has the following features:
Groww helps you manage all your mutual fund investments by tracking the value of each fund, updating you on the latest market news and trends, and giving you recommendations for more funds to invest in.
Groww uses 128-bit encryption for all its transactions. This means that the account is as safe as a bank account.
Groww allows you to connect with other users who have similar interests in finance and investing so that you can learn from one another and share ideas on how to grow your money.
Groww App can be used as a personal finance tool and budget planner.
The app also gives you some recommendations based on my risk profile and age.
Groww also offers excellent customer support. From their website, you can submit a query to an FAQ section that features dozens of articles or talk directly with a representative via instant messaging.
I was initially apprehensive about investing in mutual funds because I thought it would be complicated but it was easier than buying stocks online! Groww has made it very simple for its users.
I would highly recommend the Groww app to anyone who wants to make their Mutual Fund investments a lot easier.
Here is the link to download Android App and iOS App.
3. myCAMS
The myCAMS App is the best way to get your mutual funds on the go and track them. The app is easy to use, and it makes it incredibly easy for you to stay up-to-date with your investments.
When you get started with the myCAMS app, you'll have an opportunity to enter your investment information in one place and then sync it across multiple devices, so you can track your investments from any location.
With the myCAMS app, you can also streamline your buying process, so you don't have to worry about missing out on any investment opportunities.
You'll get real-time notifications when any new funds are available for purchase. The app lets you make instant decisions on how to invest your money. You'll then receive a confirmation email immediately after completing a transaction—no waiting around!
Here are the best features of the myCAMS App:
It enables you to perform eKYC using Aadhaar.
There is an option to create a watchlist where you can track the schemes and funds in which you want to invest in the near future.
You will not be charged any brokerage fees for purchasing and redeeming your mutual funds.
myCAMS allows you to pause and restart your SIPs conveniently.
myCAMS is trustworthy, and it does not store your account or personal information.
Say goodbye to spreadsheets and complicated financial documents; say hello to an easy-to-use platform that simplifies investing. Using the myCAMS app is one thing I recommend every investor do because it makes tracking your investments a breeze.
Here is the link to download Android App and iOS App.
4. FundsIndia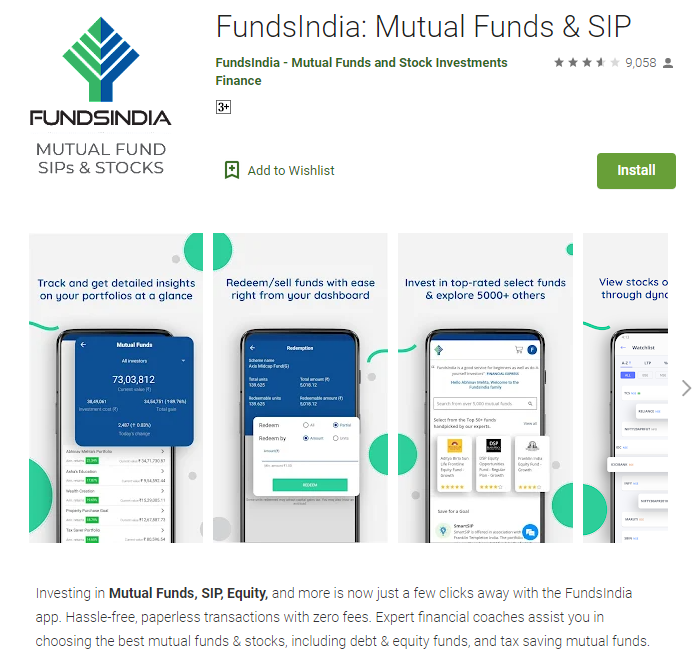 FundsIndia is a mutual fund investing app that makes it easier than ever to invest in mutual funds. We like this app because it is straightforward, well-designed, and easy to use.
It's available on both Apple and Android phones. Each of the features on this app is very user-friendly and works seamlessly together to provide users with a holistic view of their portfolio.
FundsIndia has an easy setup process that allows you to quickly get started investing online. Once you're approved for the app, you have access to its great features.
The first thing you will notice when you open the app is the "My Portfolio" page. It allows you to see your entire portfolio at once, which makes it easy for you to track your investments.
Described below are some of the best features of FundsIndia:
You can find a dedicated Mutual Fund investment coach who will assist you in portfolio building, financial planning, reviews, and rebalancing your investments.
FundsIndia App has bank-level security and encryption to ensure safety and security.
In addition to Mutual Funds, you can also invest in stocks using the FundsIndia App
Signing up for the FundsIndia App requires only your Aadhar number.
There are also three graphs displayed on this page that help you visualize how your investments are performing.
Here is the link to download Android App and iOS App.
5. ET Money
ET Money is a great app for investing in Mutual Funds. It is designed very nicely, with an extremely easy user interface that helps you invest hassle-free.
With the help of this app, I was able to set up my investments in a very short time, without giving any second thought to the intricacies of Mutual Fund investment.
ET Money allows you to easily switch your existing Lump Sum or SIP mutual funds from other apps like Paytm Money, Groww, Scripbox, myCAMS, Zerodha Coin, etc.
Some of the key features of ET Money are:
The app's most exciting feature is its financial calculator, which allows you to simply enter a goal and the app will automatically suggest various mutual fund investment plans.
You will have access to research reports of various mutual funds. The report will help you in deciding which funds are best suited for your needs and goals.
The app also offers personal finance news and tips on how you can save money by making smart investments.
It also has a simple app integration method with various payment apps such as GPay, PhonePe, Paytm, etc.
It is one of the highest-rated Apps for mutual funds.
You will get investment health reports as well as ideas to improve returns & reduce risks.
Here is the link to download Android App and iOS App.
6. Kuvera
Kuvera is a free financial planning platform that includes daily recommended portfolios and access to a huge collection of stock, ETF and mutual fund research.
And there's no catch – no hidden commissions, no AUM-based fees, and no monthly subscription charges. It's important to have a holistic approach to investing in the stock market, but that doesn't mean you can't consider your options on a more granular level.
Mutual funds, for example, offer great diversification opportunities to their investors, which is one of their most appealing features. The Kuvera App allows you to invest in mutual funds online and offers many great features.
Kuvera App's best features include:
The Kuvera App allows you to compare stocks with peers through intuitive charts.
You can park your money in Liquid Mutual funds managed by India's most reputable fund houses. You can also withdraw up to ₹2 lakhs within 30 minutes.
It allows you to invest in multiple mutual funds at once, giving you the ability to diversify your portfolio—and making it easier for you to manage your money effectively.
The Kuvera App lets you track the performance of your investments and view your portfolio's value over time, helping you make smart money decisions for the future.
The amount you deposit automatically grows with time as per your pre-defined smart plan that suits your requirements.
Here is the link to download Android App and iOS App.
7. Paytm Money
With Paytm Money, you can check the fund performance in real-time, buy and sell mutual funds instantly and make the most of the investment returns.
The app helps you invest wisely in more than 500+ mutual fund schemes with more than 150 fund houses. Paytm Money is an all-in-one wealth management and investment app.
Here are the best features of the Paytm Money App:
You can invest in stocks, futures & options, and check the details or price of any of the 5200 listed companies with just a mic tap using the voice trading feature.
You can start an SIP with as low as ₹100 and invest with more than 45 AMCS using a fully-digital KYC process.
You can view your portfolio in a clear and concise manner to see your assets at a glance.
You can research funds based on category and risk profile.
You can buy and sell Mutual Funds online instantly using your Paytm Wallet.
You can transfer funds from one Mutual Fund to another within 24 hours.
You can access an extensive library of educational resources in the form of Paytm Wealth Academy (PWA) and join its private membership group, Paytm Wealth Community (PWC), for live discussions and strategy analysis.
Here is the link to download Android App and iOS App.
8. goMF
MF Utility is an initiative of mutual fund companies to offer fund transactions that are easy and seamless to benefit all stakeholders. The goMF mobile app allows you to use this service, even if you are on the move, at any time and anywhere.
The best features of the GoMF app for online mutual fund investments are its ease of use, its security, and the fact that it is free. The user interface is simple enough to be used by an investment novice, but the app has enough features to keep the interest of experienced investors.
For example, there are several customization options available to users. You can set up alerts to notify them when prices change in a particular mutual fund scheme or index.
You can create multiple portfolios and access them from one login, and they can view their holdings by date.
Another thing I like about goMF is that it's safe—users can easily add a password lock on their app so that no one else can log in as them. Users also have the option of a Google two-step verification process to ensure maximum security.
The only thing that would make GoMF more secure is if users could use fingerprint ID on their device rather than having to type in a password every time they want to enter the app.
Finally, the best feature of this app is that it's free! There are so many apps out there that charge you a fee just to download them—GoMF should be recommended for providing this service at no cost.
Here is the link to download Android App and iOS App.
9. Karvy Nivesh
Mutual funds can be quite intimidating for beginners. They are complex, have a variety of options and schemes, and often have overlapping terms. It's not uncommon for people to get confused by the jargon that is thrown around in the market.
The Karvy Nivesh App aims to simplify mutual fund investing by making it more accessible to everyone.
The features of the Karvy Nivesh App include:
A simplified user interface that makes it easy to understand even for beginners.
Fund education and guidance that helps investors make informed decisions.
Regular market updates, features on new funds and events, and videos related to market trends.
Availability of all major mutual fund companies in India including ICICI Prudential Mutual Fund, HDFC Mutual Fund, Reliance Mutual Fund, Franklin Templeton Mutual Fund, Birla Sun Life Mutual Fund among others.
Karvy Nivesh's customer base of more than 70 million is a testament to the trust they place in it.
Here is the link to download Android App and iOS App.
10. KFinKart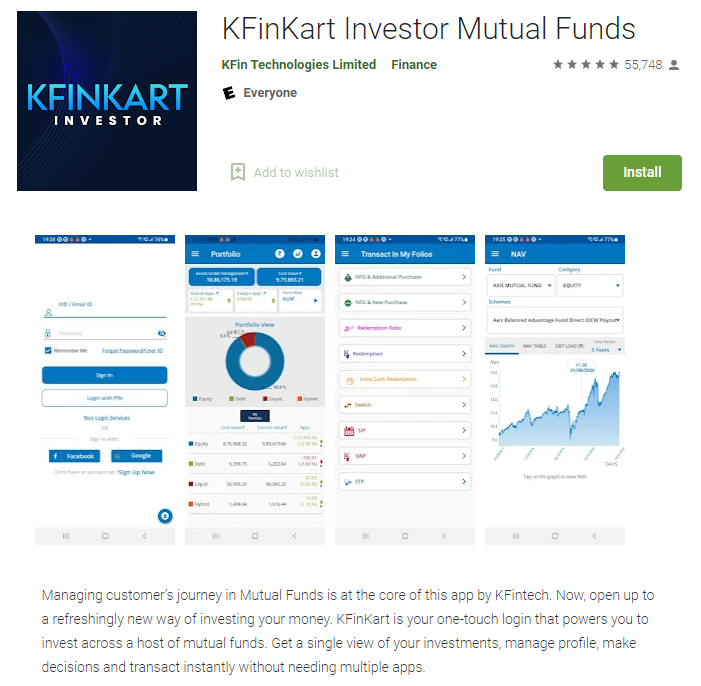 KFinKart is an app that allows you to monitor your mutual funds and take control of your investment portfolio right from your smartphone using a simple interface.
As a customer, all you need to do is open an account, link your bank account and invest in the mutual funds of your choice. Once you link your bank account, the KFinKart app automatically transfers money from that account into your investment portfolio.
Key features of the KFinkart App are:
You will get access to rich and insightful graphics-based information.
You can log in through your Facebook or Google account.
You can link the folios of your family members in KFinKart.
You can access your account with one-touch login and intuitive screens to glide through transactions.
You will get personalized portfolio insights based on your investment preferences, risk appetite, income tax bracket, etc.
Here is the link to download Android App and iOS App.
11. Scripbox
Scripbox brings world-class wealth management to its clients by leveraging both the latest scientific knowledge and human expertise. Scripbox helps you invest in mutual funds, SIPs, and buy US stocks from India.
Its wealth management software further assists you to track your financial portfolio by consolidating all your investments from various platforms.
Scripbox App's best features include:
You can open an account with a 100% paperless KYC process.
At least 3 times a year, Scripbox's Portfolio Planner will identify underperforming funds and propose portfolio management & rebalancing through fund recommendations. This ensures that your portfolio is invested in the right funds.
Scripbox Smart Withdraw™ helps you in case of capital gains by proposing a tax-optimized exit plan.
With Scripbox, you create your own customized portfolio based on your goals. An algorithm uses science and the experience of the team to help you make the best choices.
Scripbox Jai Hind is a wealth management scheme specially curated for Armed Forces Personnel. The plans under Scripbox Jai Hind Scheme are tailored for the Armed Forces and suit your life needs.
Here is the link to download Android App and iOS App.
12. CashRich
CashRich is the only Mutual Fund App in India with a Dynamic SIP option for higher returns compared to normal SIPs.
The advantage of using a dynamic SIP over a regular SIP is that you can invest more when the markets are favourable and less when they're not, thus reducing your risk and increasing your returns.
The best part is that you won't have to pay any additional charges for this benefit.
Let us look at the best features of the CashRich App:
Dynamic SIP offers you greater flexibility and better returns.
The app is integrated with the Facial Recognition feature for high security.
You will get an option to get support in the Hindi Language also.
Not only does CashRich help to perform fund transactions, but it also helps investors decide the time and location of investments.
I would recommend Cash Rich because you won't find the Dynamic SIP option in any other similar apps such as myCAMS, Karvy KFinKart, Paytm Money, ET Money, Groww, etc.
Here is the link to download Android App and iOS App.
Final Words
You now know about some of the best apps to invest in mutual funds seamlessly and with ease. Since each app is different, you need to evaluate them on specific parameters that matter the most to you.
Verify the background of the app and know it better before putting your investments at stake.
One app may not be the perfect choice for all investors as there are some demerits associated with them as well.
Nonetheless, if you have a brokerage account and a mutual fund investment account, then such applications are more than enough to manage your investment portfolio.
For any queries, don't hesitate to comment.