Investing in the stock market has been more accessible to the general public as the globe has gotten more digitized.
Investors can now effortlessly monitor their assets, trade stocks and commodities, and develop a diversified portfolio from their smartphones, thanks to the advent of online brokers and investing platforms.
Two such online brokers that have gained massive popularity in India are Zerodha and INDmoney. While both of these platforms offer similar services, they have their unique features and target different types of investors.
Zerodha is India's largest and most trusted online broker, offering a low-cost trading platform with advanced tools and features. On the other hand, INDmoney is a comprehensive wealth management platform that provides personalized investment advice and manages your entire financial life.
In this article, we will compare the demat account services offered by Zerodha and INDmoney, and help you decide which platform is the best fit for you. So, let's dive in!
I. Brief overview of Zerodha and INDmoney
(i)Zerodha
Zerodha, India's largest online discount broking company, has revolutionized the way people invest in the stock market.
Founded in 2010 by the dynamic duo of Nithin Kamath and Nikhil Kamath, Zerodha boasts of having over 1 crore clients and contributing to over 15% of all retail order volumes in India on a daily basis.
The organization, which has its headquarters in Bengaluru, has revolutionized the stock brokerage sector.
The goal of Zerodha is to eliminate all middlemen so that everyone may obtain affordable, high-quality financial services.
With its user-friendly platform and cutting-edge technology, Zerodha has made stock trading accessible to the masses, thereby democratizing the Indian stock market.
(ii)INDmoney
INDmoney is a relatively new entrant in the world of investing and wealth management in India.
It was launched in 2019 and has already amassed over 7 million users and is quickly gaining popularity. Unlike other investment apps, INDmoney is more than just an investing app; it is a family wealth planning app that helps users plan their finances and invest their money wisely.
With access to more than 5000 stocks and 6000 mutual funds, INDmoney offers a wide range of investment options to its users. Founded by Ashish Kashyap, the business is headquartered in Gurgaon, Haryana.
INDmoney aims to standardize wealth management and make it accessible to all, regardless of their financial literacy or experience.
II. Fees and Charges
(i)Zerodha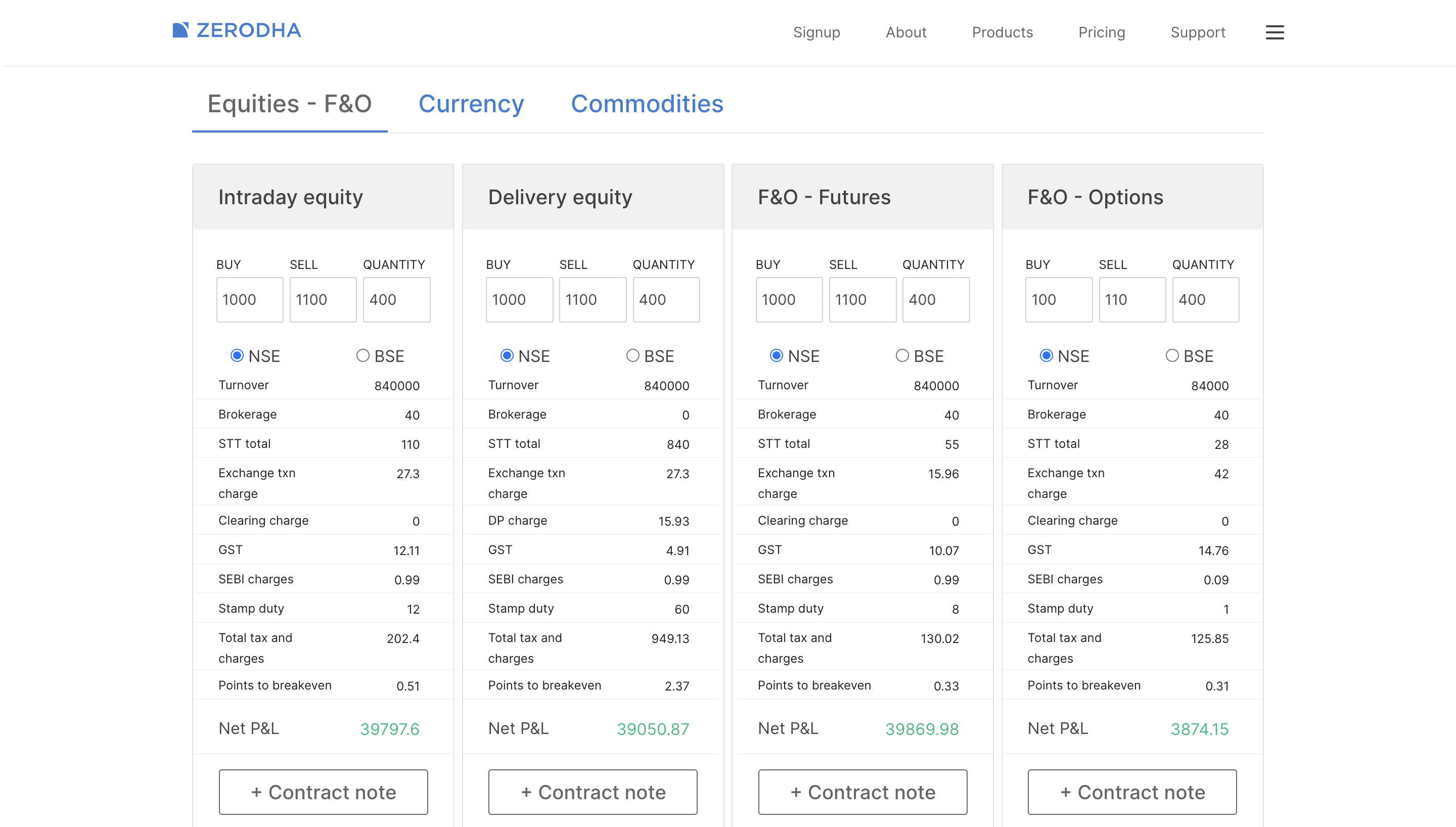 Account opening charges:- When it comes to fees and charges, Zerodha offers competitive pricing in the Indian stock brokerage industry. The online account opening fees for equity, F&O, and currency are 200 INR, and it is 300 INR for commodity trades. The offline charges are 400 INR and 600 INR respectively.
Annual maintenance charges:-The account maintenance charges or AMC are 300INR + 18% GST per annum, which is charged quarterly i.e. 75INR+ GST every 90 days which is automatically deducted from your account.
Brokerage charges:- The brokerage doesn't charge any fees for equity delivery trades, and for intraday and future trades, it charges 0.03% or 20/order, whichever is lower. A flat fee of 20 INR is charged per trade for options.
Other charges:- Additionally, the company levies STT or CTT charges, transaction charges, GST charges of 18% (charged only on brokerage, SEBI, and transaction), SEBI charges of 10 INR per crore value transaction, and stamp charges. DP charges of 13.5 INR per scrip are charged at the end of the day irrespective of the quantity of shares sold.
Zerodha provides a calculator that helps customers calculate their total fees and charges by entering their transactional value and type of trade.
(ii)INDmoney
Account opening and AMC:- INDmoney has a simple and transparent pricing model for their demat account services. They do not charge any account opening fee or AMC charges which might be a very good option for beginners to save some valuable bucks.
Brokerage charges:- INDmoneycharges a simple brokerage of 0.05% on the total transactional value, up to a maximum of 20 INR, regardless of the type of trade.
Other charges:- Additionally, they charge transaction charges by the NSE and the BSE, STT charges, stamp duty charges, and SEBI turnover charges of 0.0001% on both equity and intraday trades.
For delivery sales, DP charges of 13.5 INR/scrip will be charged. Moreover, investors have the option to convert their physical shares into dematerialized form at 250 INR/certificate, and GST will be applicable on these charges respectively.
Overall, INDmoney's pricing model is quite attractive and is a cost-effective alternative to other pricy competitors in the market.
III. UI Experience
(i)Zerodha

Both novice and expert traders may easily trade and invest in Zerodha due to its user-friendly design. The dashboard is well-organized and gathers all the necessary data in one location.
Without having to browse through confusing sections, you may set up several watchlists, and check your orders, positions, and fund balance on the site. More than 70% of transactions are completed using the mobile app, which is equally as capable as the desktop version.
The software may be tailored to your tastes, including switching between dark and bright modes. You may also analyze many stocks at once by simultaneously opening up to four distinct charts on the screen.
You may trade easily and concentrate on your money thanks to the straightforward yet effective interface.
(ii)INDmoney

When it comes to the interface and user experience of INDmoney, it's important to note that it differs from Zerodha as it's not just a trading app.
It's more of a wealth management app that offers a wide range of investment options like stocks, mutual funds, insurance, credit section, and more.
However, if you are using the app only for trading or investing purposes, you may need to spend some time getting used to the interface, which can be a bit cluttered due to the various sections.
The app is divided into different subsections like Indstocks, US stocks, Mutual funds, Super Saver, and more. To view your positions and transactions, you need to navigate through these individual sections.
The mobile app is almost identical to the desktop platform and offers a comprehensive interface. You can also access educational videos on the dashboard to learn about different investment options.
However, if you are just looking for trading needs, you will spend most of the time within one or two subsections within the app. Despite the interface being slightly cluttered, it offers a wide range of investment options, making it an attractive option for those looking for wealth management solutions.
IV. Investment Options
(i)Zerodha
(a) Stocks and ETFs

Zerodha is primarily a stockbroking company that offers a variety of investment options to its clients. Its flagship product, KITE, provides an intuitive platform for trading and investing in equity stocks on both the NSE and the BSE.
Through its cutting-edge trading tools and easy-to-use interface, Zerodha has enabled investors to purchase and sell stocks without any fuss.
The ability to invest in stocks for both long- and short-term trading goals is one of the main benefits of Zerodha's stock investing option.
While intraday trading enables investors to purchase and sell stocks on the same day, delivery-based trading allows investors to hold onto equities for longer periods of time. Dealing with ETFs of different indices is also possible on the KITE app.
(b) Mutual Funds

Mutual fund investing is a well-liked and simple strategy to diversify your portfolio and maybe make profits. When compared to traditional mutual funds, Zerodha's COIN app offers a great platform for investing directly in over 2000 direct mutual funds, saving up to 1.5% annually in fees.
Based on your objectives and level of risk tolerance, COIN provides a wide selection of mutual fund solutions.  From large-cap, small-cap, tax-saving, global, or fixed-income funds, COIN has it all.
The availability of several tools and information that assist you in researching and selecting the finest mutual fund for your investing needs is what distinguishes COIN from other mutual fund platforms. You can keep track of your assets and make wise selections by using simple tools like a fund screener and a portfolio tracker.
(c) F&O and Commodities

Futures and Options (F&O) and Commodities trading can be a bit intimidating for beginners, but with Zerodha's user-friendly platform, it becomes easy and accessible for everyone.
Through Kite, Sensibull, and Streak, Zerodha provides seamless trading of various commodities such as metals, oil, and agro commodities on MCX, and futures and options of the index on the NSE.
The appeal of F&O trading is that you may benefit from it both when the market is rising and falling.
As a result, there is more freedom and a larger variety of trading options. Commodity trading offers a means to diversify your holdings and maybe expose you to a range of businesses.
(d) IPOs
Initial Public Offerings, or IPOs, are a fantastic method for businesses to raise money by introducing their stock to the general public. You can catch early opportunities in baby companies before they make it big in the market.
Zerodha allows you to invest in upcoming IPOs through its Kite app, which makes it easy to place your orders between 10 AM on the opening day and 4:30 PM on the closing day of the issue. You can put up to 3 bids in the IPO application, giving you the flexibility to invest according to your preferences.
So if you're looking to invest in exciting new companies and potentially earn substantial returns, IPO investing with Zerodha might be just what you need.
(e) Fixed Income Instruments
For individuals seeking safer investment choices, investing in fixed-income securities might be a wise move. Through its COIN app, Zerodha provides a variety of fixed-income products, such as gold bonds and government securities.
For investors who seek a higher rate of return than a standard fixed deposit and the added security of investing in government-backed assets, government securities are a fantastic alternative. You can invest in a variety of government bonds, such as GOI-dated bonds and treasury bonds, whenever bidding opens.
Another popular investment option is Sovereign Gold Bonds (SGBs). These bonds provide both capital gains and 2.5% interest per year on your investment in digital gold form. You can also invest in Gold ETFs, which may have around a 1% expense charge.
(ii)INDmoney
(a) Indian Stocks and ETFs

Investing in Indian stocks and ETFs has never been easier with INDmoney! The app offers a demat account that allows you to invest in stocks and ETFs listed on both the NSE and BSE. What's really impressive about Indmoney is the way it categorizes Indian stocks – there are options for retail investors based on theme, technical strength, dividends, and industry-specific stocks.
The app also offers various screeners to help you filter through the vast options available, making it easier for you to find the right investment that matches your goals and risk appetite. INDmoney also offers ETFs of all major indices of the country, providing you with the opportunity to diversify your portfolio and mitigate risk.
(b) Mutual Funds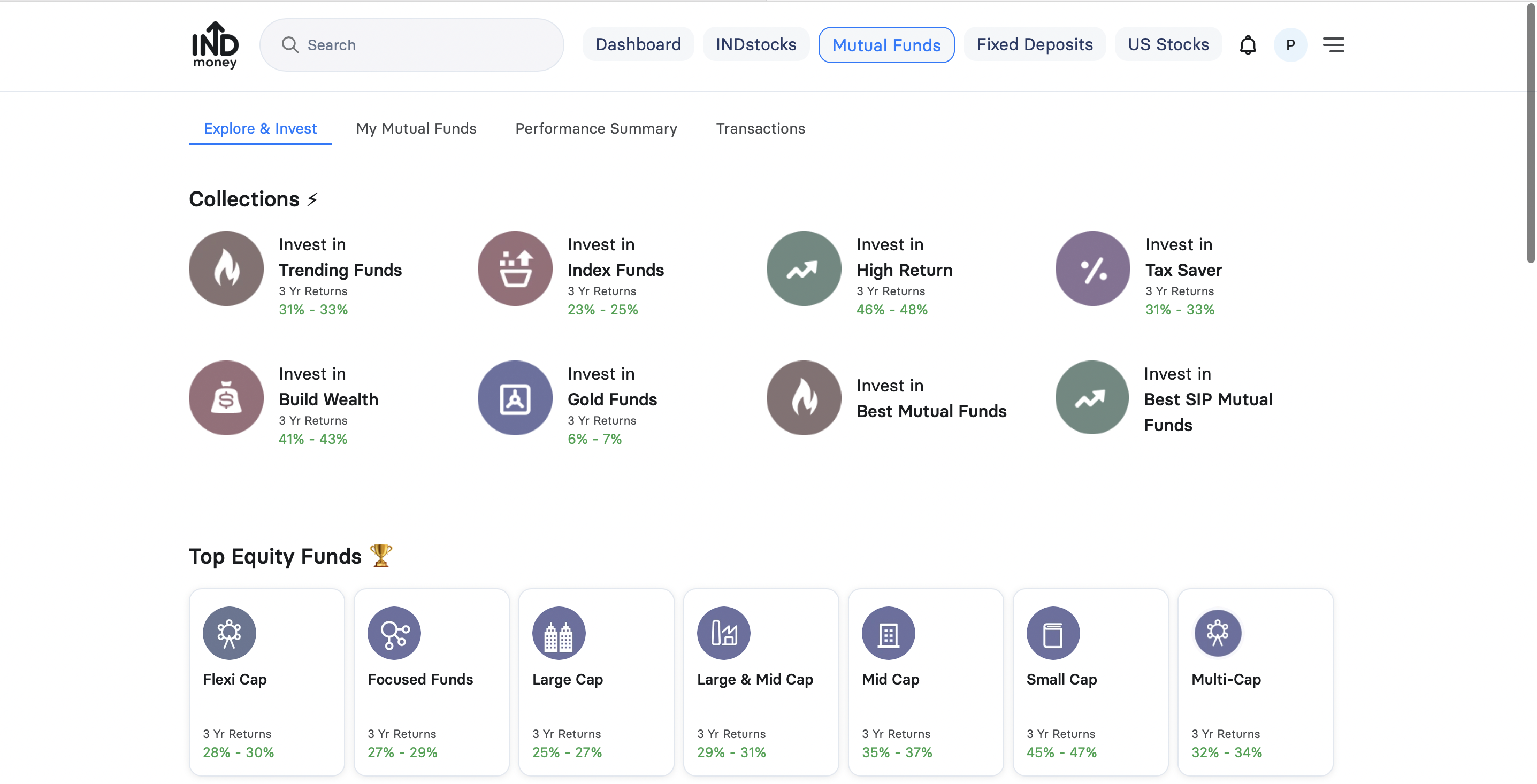 The complete platform offered by INDmoney makes it simple for investors to purchase, track, and manage their portfolios. Users may also get a performance report, real-time analysis of their performance, and advisory services based on that information.
Trading funds, top equity funds, debt funds, hybrid funds, gold funds, and liquid funds are just a few of the mutual fund alternatives that INDmoney provides. Any of these funds is a versatile and practical option for people looking to invest in mutual funds because investors can begin systematic investment plans (SIPs) in any of them.
(c) Fixed Deposit

Investing in Fixed Deposits can be a safe and convenient way to earn fixed returns on your investments, and INDmoney makes it easier than ever. With a dedicated fixed deposit dashboard, managing your FDs has never been simpler.
You can track your entire fixed deposit portfolio and get an average return percentage on your investments, all in one place.
Plus, with the INDprotect feature, you can rest assured that your investments are certified and safe. INDmoney also provides detailed information about the best fixed-deposit schemes offered by different banks, including tenures, interest rates, and minimum investment amounts.
(d) US Stocks

INDmoney's US Stocks investment option is one of the key features that sets it apart from other demat accounts in India. With INDmoney, investors can access individual US stocks, as well as US funds and ETFs, and even participate in the US Stock Rewards program that allows fractional investing in global shares.
This feature is made possible through Finzoomers Services Private Limited and provides access to major US stock exchanges such as NASDAQ and NYSE. Investors have the opportunity to diversify their portfolio internationally and maybe get exposure to some of the top corporations by choosing this investment choice.
V. Features and benefits
(i)Zerodha
Flexible charting window that can be moved across the desktop.
Multiple charts on the same screen with more than 100 indicators.
Real-time price fluctuations.
Multiple order types, including bracket orders, after-market orders, etc.
Place orders through the chart without having to close the screen.
Access to best charts – TradingView and ChartIQ.
Holding and profit-loss reports for taxation and analysis purposes.
Fundamental and technical analysis of stocks for due diligence before investing.
Alerts and reminders to notify you when the price crosses your predetermined buy/sell levels.
(ii)INDmoney
AI-powered stock analysis for deeper insights into earnings, profitability, and valuation.
Customizable filters and sorting options to find stocks based on specific criteria.
Unbiased and objective buying and selling recommendations based on AI calculations.
Automatic rebalancing of mutual fund portfolio through the STP feature.
Analyst forecasts and ratings from industry experts for more informed investment decisions.
Detailed company insights including critical parameters.
Intraday trading is available for quick profits.
After-market orders are available at a fee of 10Rs. per order.
Conclusion
After comparing INDmoney and Zerodha in various aspects, it is clear that both platforms have their own strengths and weaknesses. INDmoney is a great platform for money management and investing in US stocks, but when it comes to demat accounts and trading, Zerodha is a better choice.
Zerodha has a more established reputation in the demat world and their platform is geared towards active traders. Although their charges may be a bit expensive, the features and benefits they provide are well worth it.
Their customer support is excellent, and they have a user-friendly interface that allows for easy trading and investing.
On the other hand, INDmoney's interface may be a bit complex, but they offer a plethora of features like AI-powered stock analysis, automatic portfolio rebalancing, analyst forecasts and ratings, and much more.