I have been inundated by requests for more interesting projects being built on the Algorand blockchain after my review of Lofty was published.
Yielding to your requests, here, I review 5 interesting projects building on Algorand for your consumption.
But first. Let's talk about Algorand
Algorand is a public blockchain that prides itself as the most scalable, decentralized & secure chain out there.
Additionally, it is maintained that the overall carbon footprint of the Algorand blockchain is the lowest. Various metrics are put forward in support of this claim but all of that is not relevant to our purposes.
During the course of my research, I have found that many projects with a focus on sustainability are indeed being built on Algorand.
This leads us to believe that their claims do have traction.
Let's review some of these interesting projects below:
1. Carbon Credit Token on Algorand
The Carbon Credit Token (CC) is a Cryptocurrency linked with the price of European Union Allowances (EUA) Carbon Credits that trade on the European Union Emissions Trading System.
The EU, in an effort to monetize the impact of environmental responsibility, has put in place a system of allowable carbon emissions per year by industrial units & utility providers.
Those who stay within the allowable cap can trade the carbon credit on the emissions trading system with those units that aren't in compliance & must purchase the right to emit carbon beyond the allowable cap. Otherwise, there are severe penalties.
The project aims to provide access to the EU carbon futures market to small & medium enterprises as well as retail investors by linking the price of the CC Token to the EUA futures as the underlying asset.
At the moment, the market has high barriers to entry, given domination by large firms.
2. QauntmRe on Algorand
QauntmRe is a protocol that allows you to monetize your home equity. This isn't groundbreaking, except that they do so without the burden of any additional debt or interest payments.
Traditional finance systems do not treat your hone equitization as a permanent sale of part ownership. Instead, they view it as a loan that adds to your debt burden. It is understandable that the issue with traditional finance systems is that the prevailing legal structure is not in sync with part ownership.
Blockchain technology changes that and QauntmRe, after tokenizing your home equity, invites interest from investors looking to take part in equity ownership in housing real estate.
As this is equity, there are no guaranteed repayments of the investment. Instead, the Home Equity Agreement allows the seller to settle the agreement by selling the house or refinancing/renewing the agreement for up to another 30 years.
From an investment point of view, home equity agreements by QauntmRe provide nonstock, bond, and crypto-linked returns from the housing market.
Also, they allow building a diversified property portfolio and avoiding risks inherent with a single property purchase.
3. Soundmart on Algorand
For most artists, the problem is that their income is subject to high variation. This makes them unbankable for traditional finance systems resulting in limited access to capital.
Soundmart aims to solve that by providing African content creators a platform to tokenize their content, as an NFT, and sell equity in their new creations to investors on their marketplace.
Once the content is released, the investors & creators share in future royalty receipts. The model works for both existing & new content with various options.
For example, as a creator, I can decide to only sell royalties from online streaming & keep the rest for myself.
The platform does all the vetting and documentation, including a review of existing agreements with publishers paying out royalties before tokenization and sale take place.
This protects investors in the marketplace who may independently review all documentation before investing.
4. Oystro on Algorand
Oystro is designated to be a token that shall mimic the performance of the US Stock market. Effectively, Non-US Investors will have the opportunity to hold Oystro and have exposure to the US equity market from anywhere in the world.
How exactly this will be achieved is unclear as the project is still under development. However, from the project literature, it seems that a mixture of active and passive strategies may be followed. Stay tuned for more.
5. Planetwatch on Algorand
This is my favorite so far and has intrigued me to get in on the act as well. Planetwatch aims to build a decentralized community-driven global network to track air quality data.
However, this is unlike most sustainability projects that rely on benevolence, charity, or some higher ideal. Instead, Planetwatch is a complete economic model to invest, earn and save the planet.
To participate, you will need to buy a preapproved air quality sensor and install it in your city of residence (could be your rooftop). Once done, you shall have to apply and purchase a license from Planetwatch to act as a data contributor.
That's it, you're all set.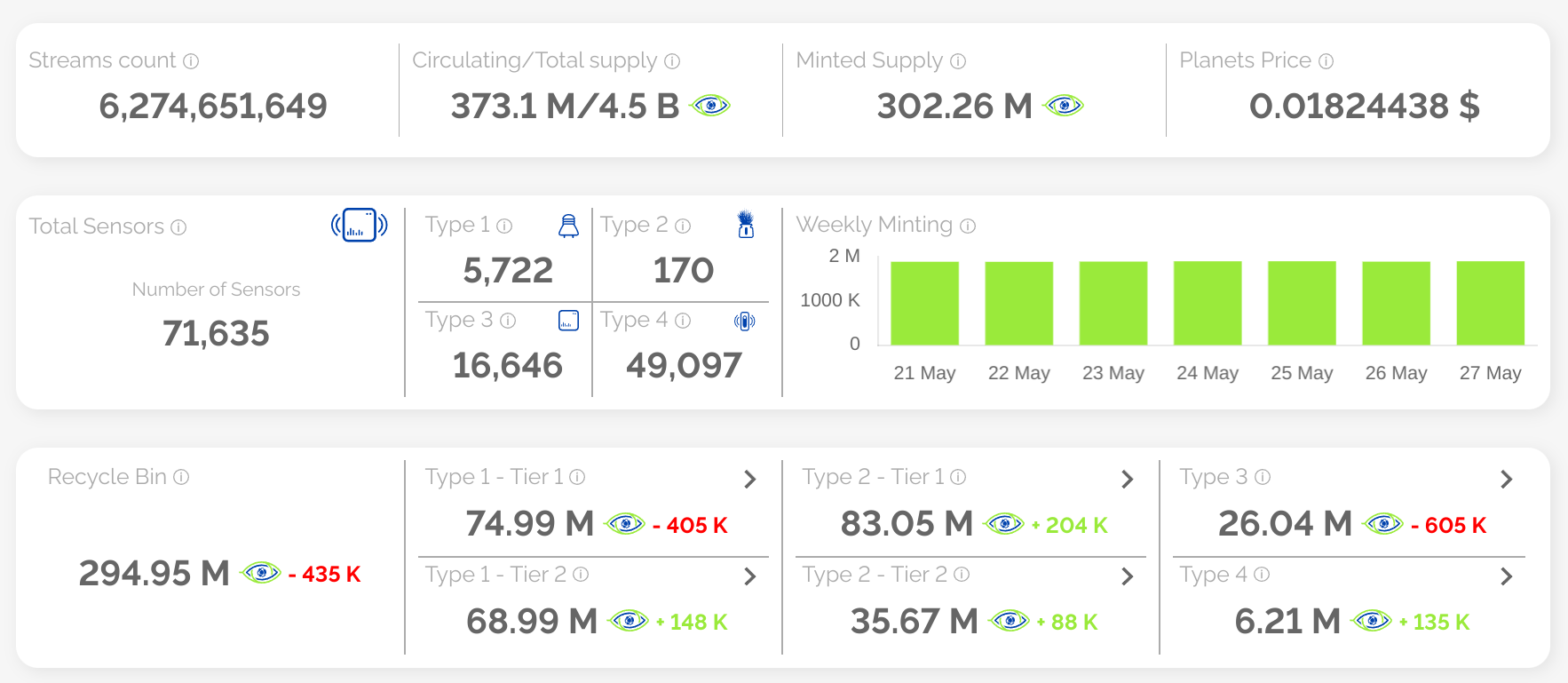 Every time valid data is sent by your air quality sensor to the Planetwatch database, the blockchain records the transaction & rewards you with planet tokens.
You may exchange your rewards immediately for stablecoins or stake them to earn PW: Forest tokens. Consequently, you may exchange your PW: Forest tokens for fiat or, better yet, donate for planting trees.
Concluding Note
The Algorand chain, in my humbly limited experience, is indeed an interesting one. Of the 5 projects that I have reviewed:
2 deal with the environment.
4 deal with ease of access to financial products.
1 has created a whole passive income model around the environment.
There are hundreds of other such projects that are building on Algorand and the one central theme around them all is sustainability.
Indeed, the blockchain infrastructure is designed to be environmentally friendly & it is interesting to note that a large part of the sustainability movement has chosen Algorand as the network of choice.