India is one of the biggest crypto-enthusiast countries. Indian citizens invested over $40 billion in cryptocurrencies just last year.
What are the best crypto exchanges in India?
There are tons of exchanges globally. And you have to be very careful while choosing one to buy or sell your cryptocurrencies.
Because many exchanges are nothing but a bunch of shell companies waiting to bail out in the next bull run with your money.
So it's important that you transact via a safe crypto exchange that has global trust and a solid reputation.
We are going to look at the top 4 crypto exchanges for Indian crypto investors.
Let's begin.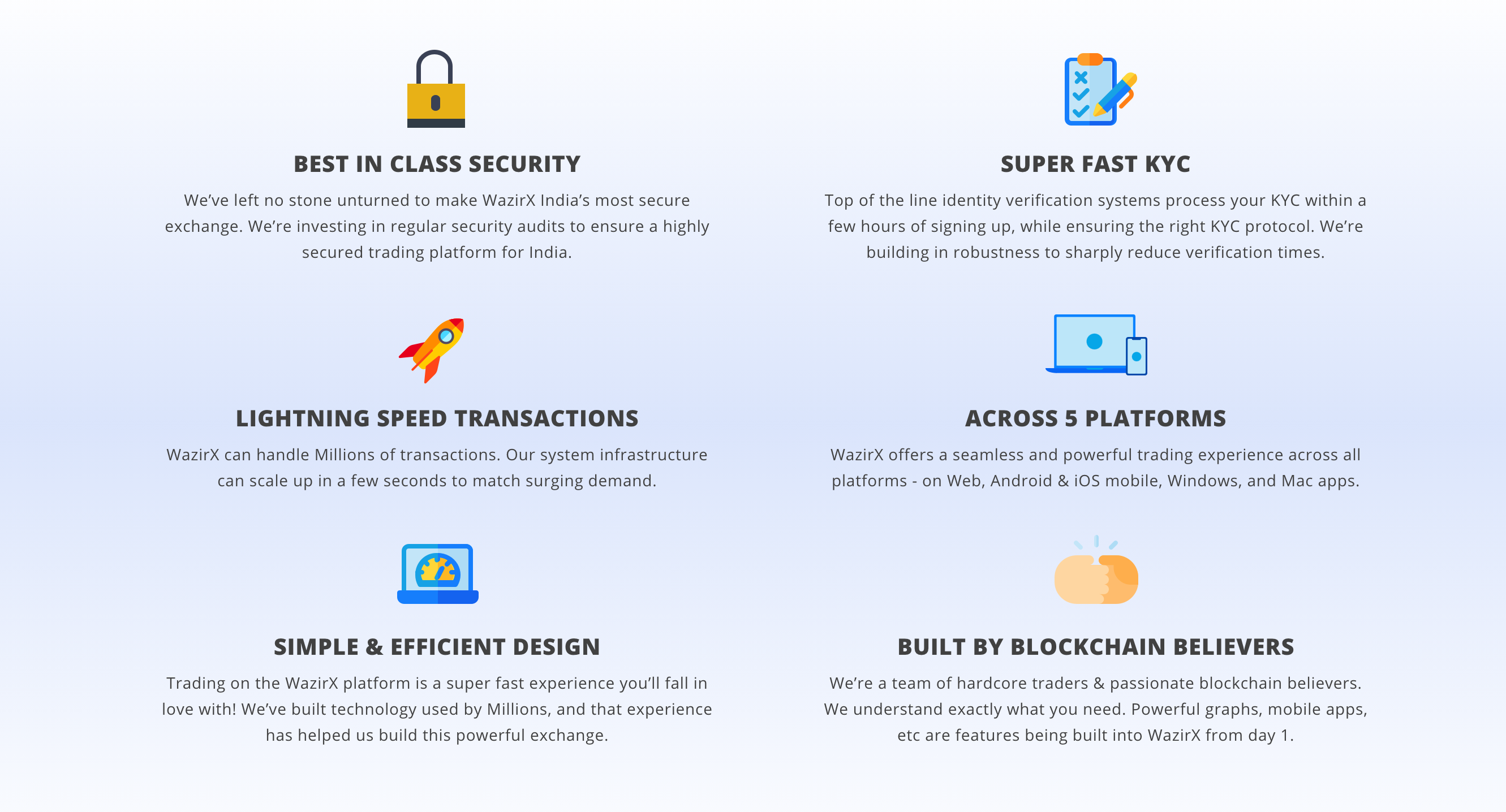 WazirX is the biggest crypto exchange in India.
It has contributed significantly to getting more and more Indian crypto investors onboard. WazirX was founded by Sameer Mhatre, Nischal Shetty, and Siddharth Menon. This team previously worked at Crowdfire, a social media automation tool.
Binance acquired WazirX in 2019. You can connect your Binance account with your WazirX account and transfer coins without paying any extra fees.
Coins like DOGE, which are listed on WazirX under the rapid listing initiative, are not withdrawable via WazirX itself. However, the Binance integration allows you to transfer it to your own wallet. Currently, no other crypto exchange in India lets you do that, apart from WazirX.
Apart from allowing you to trade BTC, ETH, and other dominant cryptocurrencies, WazirX constantly lists new tokens and coins under their Rapid Listing Initiative.  You can also deposit and trade with BTC, ETH, and WRX tokens.
What's so good about WazirX:
Reliability – They are backed by Binance, fought for crypto rights in India, and constantly improve their platforms. They make up for their mistakes too.
Platform – WazirX was the first crypto exchange in India that introduce P2P trading. And they are still the best. WazirX's smartphone app, as well as their web app, work smoothly. Even if you're a complete beginner, you can start buying cryptocurrencies in under 15 minutes with WazirX.
Fiat Deposit and Withdrawl – WazirX supports UPI, which means you can easily deposit and withdraw your fiat currency without any charges.
Easy onboarding – With video KYC and a quick signup process, you don't have to wait for days to create an account and start trading. It takes about 10 minutes to get everything done.
What's not so good about WazirX:
Trading features – If you're an active trader, you might want to try CoinDCX since it has extra features compared to WazirX's simple platform.
Rapid listing initiative – Although I've demonstrated a way to withdraw coins listed under Rapid Listing Initiative, WazirX still needs to fix this for certain popular coins like ADA and DOGE.
Verdict
WazirX is, so far, the best crypto exchange in India. Especially for beginners. Note that WazirX claims to store your cryptocurrencies in cold storage. This means even if the exchange is attacked and gets compromised somehow, your funds should be safe.
CoinDCX is another crypto exchange that makes everything easy. Their web app and mobile application are the best in business, possibly better than WazirX in terms of UI and navigation.
CoinDCX was founded by Sumit Gupta and Neeraj Khandelwal. Various investors, including Coinbase ventures, back them.
If you're looking for an exchange to do active trading, CoinDCX beats everyone. The CoinDCX Pro app is built for active traders and comes with the following features:
Margin – Upto 10X leverage.
Future – You get up to 20x leverage, but be careful not to overextend.
Spot – INR to Crypto and Crypto to Crypto spot trading, faster settlements.
Stake – CoinDCX allows you to stake ETH and other Proof of Stake coins, something WazirX doesn't do.
Lend – You can lend your coins and get a return of up to 20% annually. Lending your coin means you're giving it away to someone else. It's not staking.
CoinDCX emphasizes a lot on the security of its platform and infrastructure. BitGo also secures the funds you hold on your CoinDCX wallet.
Opening an account with CoinDCX is faster than WazirX. Your KYC gets cleared within minutes.
What's so good about CoinDCX:
Zero deposit or withdrawal fee across all cryptocurrencies
Bunch of features for seasoned traders, including leverage.
Easy to use for beginners
What's not so good about:
CoinDCX's support is slow.
Verdict
If you're a complete beginner, CoinDCX might be the easiest way to get started with crypto trading. It's much more like WazirX in case you simply use it to buy and store crypto. But in terms of active trading, it's, so far, the best.
ZebPay is the oldest crypto exchange in India. I'm listing ZebPay at 3 because of their attitude when crypto was banned in 2019.
They shut down completely, without a fight. While exchanges like WazirX were fighting.
However, ZebPay has since become one of the very best crypto exchanges in India. ZebPay is a global exchange with over 3 million users on board.
The UI and UX of ZebPay are great for beginners. It's easy to navigate and looks neat.
Their KYC process is similar to WazirX and CoinDCX, you have to signup, and within a few minutes, you're able to deposit and withdraw both INR and cryptocurrencies.
You can deposit INR using internet banking as well as UPI. There is a small withdrawal fee, but you don't have to pay any fee when depositing INR.
What's so good about ZebPay:
Easy to use
Solid reputation
Decent for beginner traders
NFT market place
Low withdrawal fees for Crypto compared to other exchanges
What's not so good about ZebPay:
Membership fee – You have to pay ~0.0001 BTC every month to keep your trading account active.
Verdict
ZebPay is a robust crypto exchange. But it's not as feature-rich as CoinDCX, so traders might find it pretty obsolete. If you're a beginner and looking for the simplest exchange possible, ZebPay is your go-to.
Special Mention – Binance
Well, this should be a surprise. Binance is the biggest crypto exchange with the largest transaction cap. BNB, Binance's own cryptocurrency, is one of the top 4 cryptocurrencies solely because of Binance's own popularity.
As an Indian, you can buy cryptocurrencies directly from Binance at the best price. Indian exchanges are inflated most of the time.
The reason for listing Binance at 4 is its complexity. You face a lot of issues and errors when you try using Binance from India.
Apart from that, there isn't any reason why you shouldn't use Binance. But you won't be able to sell and convert crypto to fiat INR. You also won't be able to deposit INR from your bank account.
In terms of mining and future trading, Binance is worth checking out. I would recommend connecting your Binance account with WazirX for easy transfers. This way, you will be able to transact in INR using WazirX as a bridge.
Important Note: Always keep your crypto coins & tokens in your own wallet, where you own your private keys. Here are some of the best crypto wallets for beginners. If you hold a significant value, consider using the Ledger Nano hardware wallet.
That's it – You have got a list of crypto exchanges in India that are reliable, built for traders, and simple to use.
Which one of these exchanges are you using?
Let me know in the comments.