Are you sick of feeling uneasy when carrying large amounts of cash?
It's now simpler than ever to keep your money safe and secure while also earning some valuable rewards thanks to the growth of digital wallets in India.
To help you maximize your funds, we'll look at the top 9 cashback-offering digital wallets in India in this post. From Paytm to PhonePe, we've got you covered.
Digital wallets give rewards and discounts on purchases, like shopping and bills, in addition to making payments and transferring money. Therefore, these digital wallets will enable you to save money and streamline your life whether you're a student, businessperson, or homemaker. What are you still holding out for?
Let's get started and discover the ideal digital wallet for you.
PhonePe is a digital payments company that has risen to prominence in India due to its commitment to excellence and innovative technology. Founded in December 2015 and headquartered in Singapore, PhonePe has processed over 2 billion transactions and has been awarded the 'Excellence in Insurance' award.
It has become a market leader in India's digital payments space and is known for its user-friendly interface and wide range of features. Whether it's for money transfers or insurance services, PhonePe is a popular choice among Indian customers for its reliability and security.
Reward Program
PhonePe rewards its users in three ways

Cashback:- Get cashback through scratch cards when you make payments on the PhonePe app, which can be used to offset future payments on the app.
Offers:- Receive personalized offers based on your usage and activity, which can be activated in the rewards section and automatically applied to your payments.
Coupons:- Reap the benefits of exclusive coupon codes when using PhonePe's Switch app, or merchant app/website, redeemable for future payments
Paytm, founded by Vijay Shekhar Sharma, is a pioneer in the Indian digital payments space, having started the digital revolution in India. With its headquarters located in Noida, the company has grown to become one of the most widely used digital wallets in India.
The Paytm app does everything of digital transactions, like paying bills, recharging, sending money, and booking movies and tickets. Its wide-ranging services have made it a go-to choice for more than 300 million Indians who use it to pay at their local stores. Paytm has also powered more than 20 million merchants and businesses, making it one of the most influential players in the industry.
Reward Program
Earn cashback points for making bill payments on the Paytm app
Redeem your points for gift vouchers and e-gift cards from popular retailers like Myntra and Flipkart
Take advantage of exclusive deals and discounts on subscriptions for services like Zomato Pro and Sony Liv
Benefit from limited-time offers on heavily discounted products through Paytm's Hot Deals
Enjoy exclusive deals for Paytm's Business Categories, such as DTH Recharge, Bus/Flight Booking, and FASTag
Play games on Paytm First Games and win exciting rewards.
You can also convert these points into real cash, which will be credited to your Paytm wallet.
AmazonPay's success in India is due to its simplicity, security, and convenience. Amazon's debut in India means users can use their Amazon account to make purchases across businesses and platforms. The solution streamlines the checkout process by removing the need for clients to frequently enter personal or financial information.
AmazonPay makes it easy and secure for consumers to use digital payments, which has made it a strong participant in India's market. Furthermore, the firm has collaborated with many retailers and platforms to provide its members with rewards and discounts.
Reward Program
Get a chance to win scratch cards every time you pay or shop
Win even more rewards by sending money to your friends and family
Receive personalized and featured offers and cashback on various items including accessories, electronics, books, games, and jewelry.
Take advantage of super offers. There are 3 types of offers:

 travel on platforms like Ola, Uber, Rapido, etc
 home essential offers on Pharmeasy, Zepto, Urban company, etc
 fashion offers on shopping from Levi's, Louis Philippe, Hidesign, etc.
With the help of the convenient e-wallet Pockets by ICICI Bank, clients of any bank can manage their money and make payments on the move with ease. The firm wants to make financial transactions simpler, and with its VISA-powered e-wallet, which includes a number of features that make it a safe and practical option for handling your money, it has succeeded.
You may purchase online or in-store, recharge your phone, transfer money to loved ones, and more with Pockets. The tangible shopping card that Pockets offers, which can be used to make purchases on any internet or physical store, sets it apart from the competition. Pockets by ICICI Bank is the solution if you're searching for a one-stop shop for all your financial requirements.
Reward Program
Customers can earn rewards points on every transaction made using Pockets e-wallet.
These points can be redeemed for a variety of offers and discounts on shopping, travel, and more.
Pockets also have a referral program where customers can earn points for referring friends and family to sign up for the e-wallet.
Pockets also have exclusive deals and offer for its customers, such as cashback on bill payments and recharge.
Customers can also participate in Pockets quizzes and contests to win rewards and prizes.
Some of the active offers include

Save 30% when you pay with an ICICI Bank credit card
Enjoy a 12% discount of up to Rs.1800 on domestic flights with Yatra
Get a 12% discount on Club Mahindra Holiday GoZest Membership and more!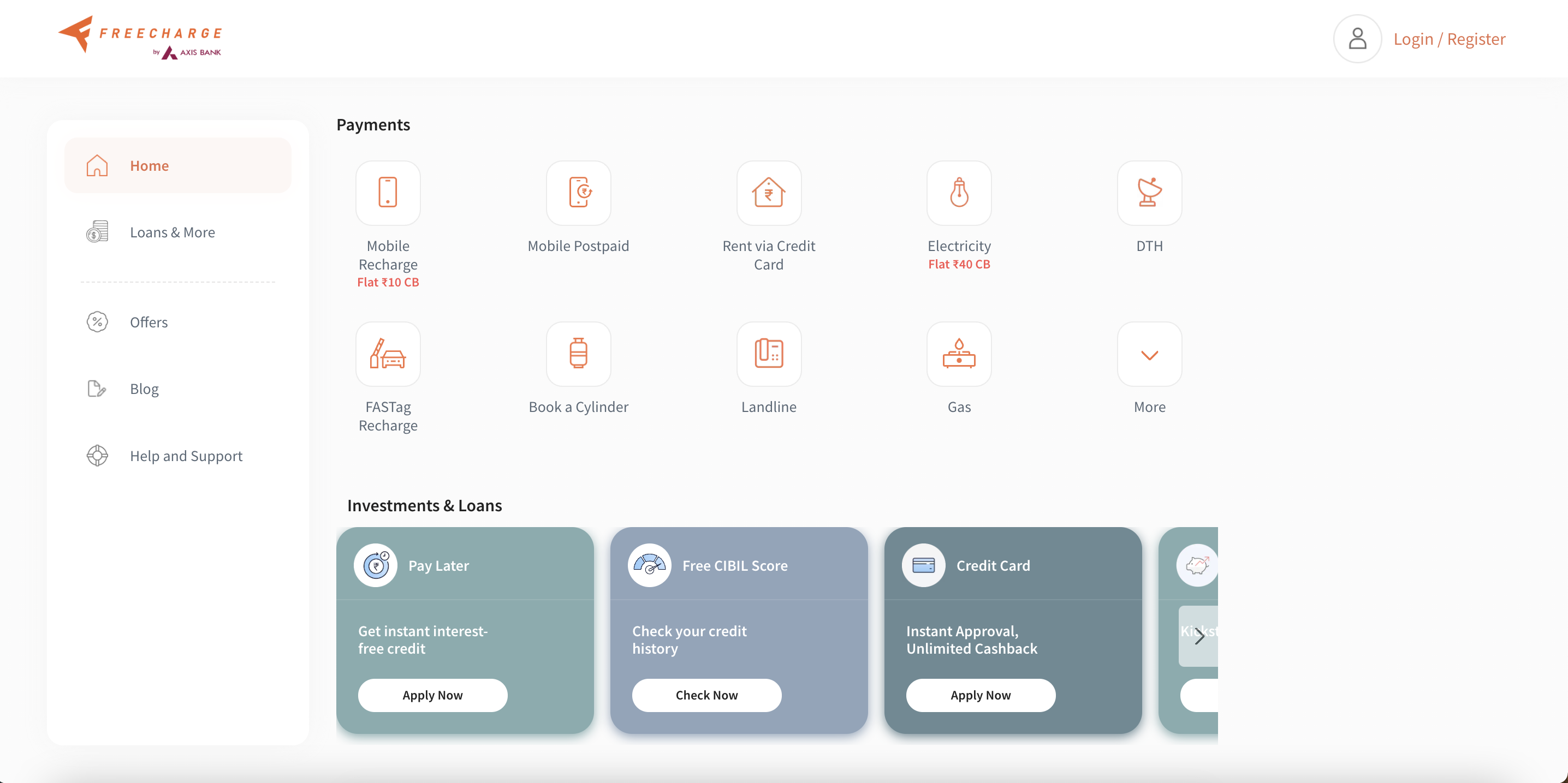 Axis Bank Limited, one of India's leading private sector banks, established Freecharge in September 2015 as a wholly-owned subsidiary.
The organization wants to increase consumer convenience and accessibility for digital payments. Freecharge's digital wallet lets customers pay for goods and services at all physical retailers and online stores, like Cinepolis, HomeStop Hypercity, E-Rickshaws, Shoppers Stop, McDonald's, and Crossword.
Indian clients love the company's user-friendly design and emphasis on security. Freecharge's connection with Axis Bank Limited, one of the biggest private sector banks in India has introduced an additional degree of protection for the customer. The wallet may be used to conduct a variety of transactions, including mobile and DTH recharge, payments, and many more.
Reward Program
Freecharge offers a rewards program called "Freecharge Go" for its users
Users can earn cashback on transactions made through the Freecharge app, such as mobile recharges, bill payments, and DTH recharges
Cashback earned can

be used

for future transactions on the Freecharge platform
Exclusive deals and discounts on products and services are also offered through the program
Referral system allows users to invite friends and earn cashback rewards when they make their first transaction
The rewards program is a good way for users to save money and get discounts on their everyday transactions.
Some of the active offers include:

Upto Rs. 30 Cashback on postpaid bill payments
100% Cashback on the first bill payment
Rs. 30 Cashback on Jio recharges (for new users)
10% Cashback on DTH recharges
Mobikwik is a billion-dollar firm created in 2009 by Bipin Preet Singh and Upasana Taku in Gurgaon, India. The company's goal is to open up digital payments to all people. Users of Mobikwik's digital wallet may recharge their mobile phones and pay for goods and services at both online and offline retailers. Indian clients favor the brand because of its user-friendly design, security, and emphasis on customer convenience.
Mobikwik is one of the top participants in the Indian digital payments market with more than 100 million customers. The company gets help from India's strong financial and technology resources. This is because the company is headquartered in Gurgaon, which allows the company to keep innovating and improving its services.
Reward Program
MobiKwik PAYBACK is India's largest multi-brand loyalty program with 100+ online and offline partners.
You get PAYBACK Points for things like buying clothes and groceries; driving, booking flights and hotels and shopping online.
Redeem your PAYBACK points on MobiKwik to earn your wallet balance and use it to recharge your mobile, pay your bills, and much more. Each point is worth Re. 1.
Active offers include:

Flat Rs. 15 Cashback on Electricity Bill payments
Flat Rs.15 Cashback on your first-ever

LPG

Booking on MobiKwik App.
Flat Rs.25 cashback on first DTH recharge on MobiKwik
Flat Rs.500 Instant Discount on MakeMyTrip

Get up to Rs 750 cashback at Jio Store
On May 26, 2011, Sujith Narayanan and Sumit Gwalani launched GooglePay, a digital wallet service. The firm, which has its corporate offices there, wants to make money transfers for its consumers quick and straightforward. The company's mission is nicely summed up in the motto "Money made simple." When paying bills, sending money to friends and family, or making online and offline purchases, GooglePay enables smooth transactions.
Millions of users use the app worldwide and it is accessible in many nations. Users favor it because of its simplicity, security, and compatibility with other Google services. Additionally, GooglePay provides its consumers with a range of deals and rebates.
Reward Program
Users of Google Pay receive incentives for doing transactions and recommending the program to friends and family.
By using the app to make purchases, users may earn scratch cards with cashback prizes.
Users who recommend Google Pay get prizes, and the person they recommend gets a prize too.
A bill can

be paid or

a set amount of transactions can

be made

, for example, users can receive prizes for accomplishing these activities within the app.
Additionally, Google Pay rewards users for using the app to make purchases at specific stores and online businesses.
Reward points may

be exchanged

for cashback on purchases or credit to use on Google services like Google Play or YouTube Premium.
For all of your regular financial needs, Chillar is a fintech solution provider that provides a variety of compliant and user-friendly platforms. Chillar is committed to helping you obtain the technology you need to manage your money with simplicity, from facilitating digital transactions to connecting with banks and third-party suppliers.
Chillar's cutting-edge solutions are intended to simplify your financial journey, whether you're wanting to pay bills, send money, or purchase online. Chillar is gradually becoming a top option for people wishing to simplify their financial life because of an emphasis on scalability and user-friendliness.
Reward Program
Earn Chillar coins points for every transaction made through the Chiller Wallet app
Exclusive offers and discounts at partnered merchants for Chiller Wallet users
Accumulate Chillars and convert them into rupees( 100 Chillar= Rs. 10)
Special bonus rewards for achieving set milestones or referral bonuses
Following are some ongoing reward programs:

Get 1000 Chillar coins by purchasing Kuku FM Subscription
Get 100 Chillar coins by registering on Dream11 and depositing a minimum amount
Register on the TataNeu app and get 120 Chillar coins
PayZapp by HDFC Bank is a one-stop solution for all your digital payment needs. Launched with the aim to simplify digital transactions, this e-wallet offers a plethora of features that cater to the diverse needs of its users. From booking flight tickets and hotels to buying movie tickets and groceries, PayZapp has got you covered.
With SmartBuy, users can avail of great discounts while shopping online. Additionally, the app allows users to send money to anyone in their contact list or directly to their bank account, pay bills and recharge their mobile, DTH, and data card with ease. Experience the convenience of cashless transactions with PayZapp.
Reward Program
Earn cashback on transactions made through the PayZapp app
Exclusive offers and discounts for PayZapp users at partnered merchants
Reward points for using PayZapp for various transactions such as bill payments, mobile recharges, and more
Redeem rewards points for discounts on future transactions or gift vouchers
Some of the active offers include:

Up to Rs 250 CashBack on PayZapp Bill Payments
Receive a cashback of Rs 50 on Amazon when you do mobile recharges or bill payments
Avail a flat 50% off on a 1 year Amazon Prime membership with an Exclusive Youth Offer.
Top 3 Picks
After thorough research and analysis, we have handpicked the top 3 digital wallets from the list of 9 best digital wallets in India for cashback – PhonePe, Paytm, and GooglePay. Let's discuss their pros and cons.
PayTM
Pros
Paytm is simple to use and browse, making it easier for consumers to complete transactions.
Users are more likely to use the app regularly since the scratch card function makes payments more exciting and surprising.
Transactions are accelerated and made more effective with quick UPI payments.
To protect users' financial and personal information, the app uses 128-bit encryption for secure payments.
Cons
It's possible for the app's home screen to seem disorganized and crowded.
Transactions occasionally becoming stuck

have been noted

as a problem by certain users.
Customer service won't be as fast as hoped.
According to several users, the app no longer delivers as many fantastic deals and offers as it once did.
PhonePe
Pros
PhonePe offers a convenient tool for business users to make transactions.
The direct transfer of funds

eliminates

the need for account or card linking.
The app supports multiple languages, making it user-friendly for non-English speakers.
Cons
There may be issues with refunds for canceled tickets.
The dashboard can

be accessed

without proper authentication.
Credit processing can take up to 24 hours in some cases.
GooglePay
Pros
Keeps a record of all transactions for easy reference
Syncs information across multiple devices for convenience
Offers reliable and secure payment options
User-friendly interface
Cons
Mobile app could be improved regarding user experience
Updating credit card information can be difficult
Could benefit from more detailed notifications and explanations of terms of service
May require multiple security checks to complete payment information on a website.
Our Choice
When it comes to the ultimate cashback experience, Paytm takes the cake! With their fun scratch card system, every payment becomes an exciting game of chance to earn even more cashback rewards. Plus, the app's simple layout makes it a breeze to navigate and complete transactions.
But that's not all.
Paytm's 128-bit encryption makes sure that all your payments are secure. Sure, the home screen may be a bit cluttered, and customer support could be better, but with Paytm, you're never stuck. So, what are you waiting for? "Paytm Karo" and start earning those cashback rewards!