With investing and trading becoming a popular domain in India, there has been a massive surge in the tools that are coming out every day, and it is important for you to understand which is the ideal one for you.
That's why I've compiled a list of the 12 best technical analysis tools in the country.
I have also mentioned the USPs of these tools along with their pricing structure. So, grab a cup of coffee and learn about everything regarding these tools in this detailed guide.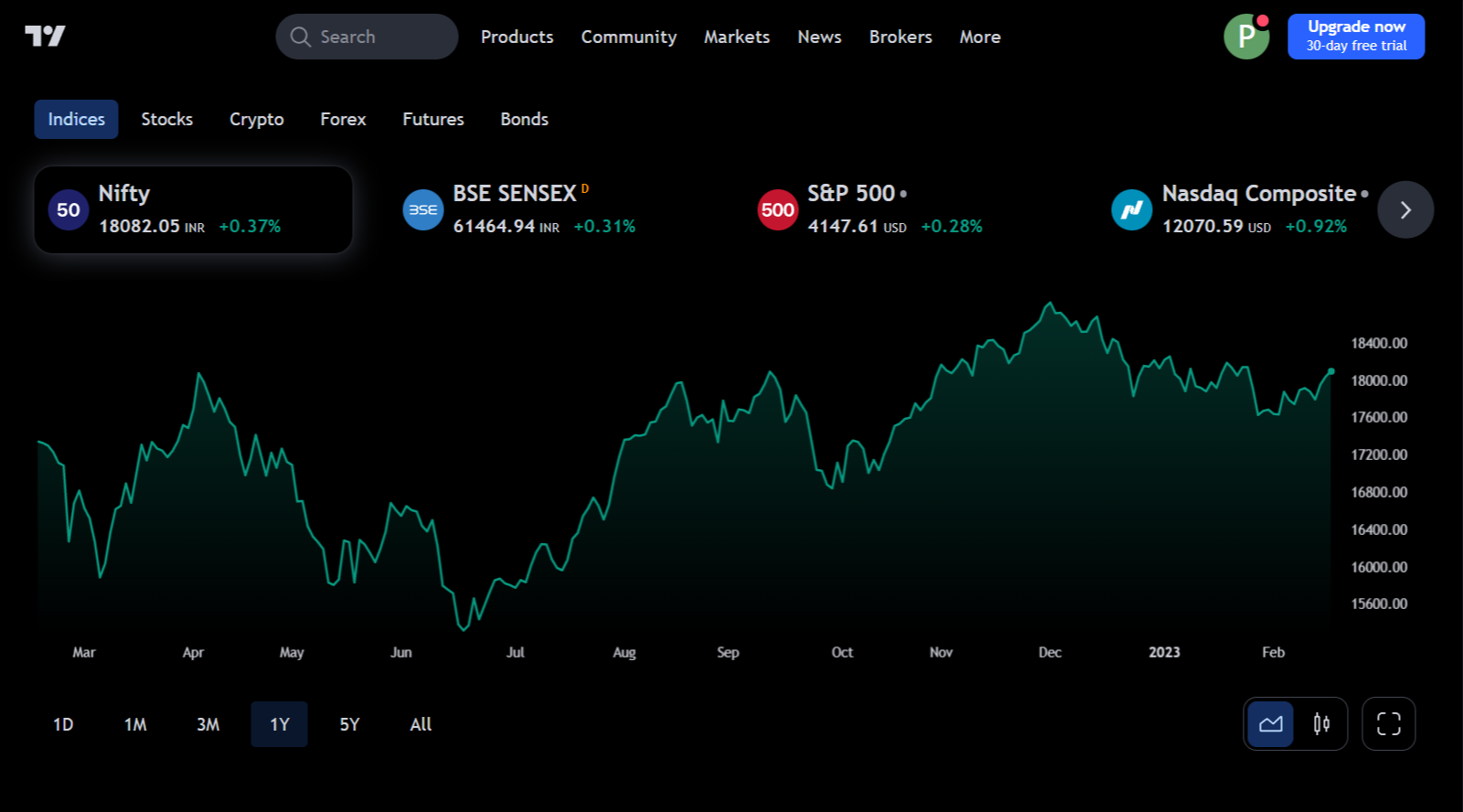 TradingView is hands down the best tool for any kind of technical analysis that you want to practice. From stocks to cryptos, securities, and even Mutual Funds, you can find all the investing instruments on this platform.
TradingView is a charting platform and a social network for traders/ investors, which has more than 30 million active users worldwide.
Not just that, you also get to set price alerts, make your own portfolios, and even compare charts to level up your TA(Technical Analysis). 
Top Features
Plethora of charting tools and indicators

Wide range of charts available

Backtesting feature

Free paper trading

Latest news and updates from the financial markets from across the world
Amibroker is the ideal technical analysis tool if you're a system trader. I say this because it comes with many screeners through which you can scan tons of strategies within seconds. It also has almost all the TA tools that you'll need during your research.
What makes AmiBroker even better is the presence of a batch processor that lets you automate your routine. It does this with the help of a Windows scheduler which means that you can train the tool to perform certain actions even when you are MIA automatically.
On top of this, the software has built-in, robust charts that are simple to use and allow users to drag and drop averages, change parameters in real-time using sliders, and adjust their appearance using a variety of styles and gradients. 
Top Features
AmiBroker Formula Language (AFL)

Fast Array & Matrix Processing 

Robust charts with customizable options

Backtesting And Optimization
If you trade or invest in the forex markets, MetaTrader 4 is hands-down the best tool for you. One of the key features of MetaTrader is its ability to support automated trading. This is done through the use of Expert Advisors (EAs). 
EAs are basically scripts that are written in MQL4 (for MT4) or MQL5 (for MT5) that can perform trades automatically based on specific rules and criteria. This allows traders to automate their strategies and save time by avoiding the need to place trades manually.
In addition, traders can also use trading signals and mobile trading to analyze Forex deals and the financial markets for Indian stocks.
Top Features
There are two execution modes & four order types in the fully-featured free trading software.

Users can purchase trading robots and indicators

Varying Degrees can be analyzed using around thirty built-in indicators

Expert Advisors to assist you
If you're looking for a powerful tool that can fulfill all your needs for studying charts, NinjaTrader has the ability to do it. It offers a wide range of advanced tools and features for traders and is a popular choice among both beginners and seasoned traders and investors. 
What sets NinjaTrader aside from its competition is its advanced charting capabilities. It offers many customizable options and lets you play around with the price charts as you like it. Not just that, you also get to have your hands on tons of technical indicators, screeners, and drawing tools that can instantly improve your skills as a trader. 
Top Features
Suitable for all kinds of traders and investors who study the charts

Affordable plans

Automated trading feature

A lot of educational content to learn about trading
Thinkorswim's Technical analysis tool is a powerful and intuitive software designed to help traders and investors analyze financial markets with a range of advanced technical indicators and tools. With its user-friendly interface and extensive customization options, the tool is a popular choice for traders of all levels.
One of the key features of Thinkorswim's tool is its advanced charting capabilities, which provide traders with a comprehensive range of charting options and technical indicators.  
Top Features 
Supports algorithmic trading.

Built especially for traders

On-time support and assistance
If you've been participating in the stock markets for more than a decade now, you would have definitely heard about Sharekhan. It is one of the first trading platforms in the country, and till now, it has maintained its status of being a great tool for traders. 
With Sharekhan's Trade Tiger, you get to use a wide range of charting tools, indicators, drawing tools, and even overlays. You can also save your chart layouts on the platform very easily.
On top of it, if you think that TradingView has the best screeners, Trade tiger can definitely challenge this belief. It comes with dynamic screeners that are based on various parameters, including price, technical indicators, fundamental data, and volume.
Top Features
More than 90 technical indicators

Automated trading with Sharekhan Script Studio

Real-time news and updates

One of the most trusted and reliable platforms in India
If you're looking for a platform that can literally do all the TA for you, then look no further. With its cutting-edge technology and intuitive design, eSignal is the perfect choice for all types of traders. Whether you're just starting or an experienced pro, eSignal has something to offer everyone. 
It provides real-time quotes and charts with powerful technical analysis tools that allow users to make informed decisions quickly and easily. 
It also offers advanced charting capabilities, including drawing tools like Fibonacci retracements as well as indicators such as MACD, RSI, and Stochastics, which help identify trends in the markets so traders can take advantage of them before they disappear again!  
Top Features
Easy navigation system 

Multiple window trackers facility 

User-friendly interface

24/7 support and assistance are available 
Coming to the Indian stock markets with a bang, Fyers One grabbed a lot of eyes with its super easy user interface and a plethora of tools to assist traders in their TA.
It offers more than 70 technical indicators and also lets the users make their own custom indicators. You can even use third-party indicators on the platforms with ease. 
Fyers also offers historical data that dates back to 1999. So, if you're looking to make long-term investments and want to analyze the history of your portfolio, Fyers is here to fulfill all your demands.
Top Features 
User-friendly trading and investing platform

Affordable plans

Educational content is available for free
By far the biggest and the most popular trading platform in the country, Zerodha seems like making a statement in all the domains of the stock markets. Zerodha's Kite is a dynamic platform that lets the users play around with their price charts and literally do anything they can to decide their favorite investments. 
You get to use all kinds of indicators on the platform, and the best part is that you can link your account and place your trades directly through the charts themselves. 
It comes with an extensive list of screeners, backtesting tools, and indicators that make your job easy on a daily basis. Overall, it is a very good platform if you love spending your days in front of the price charts.
Top Features 
Advanced charting with ten different types of charts, 80 technical indicators, and over 30 drawing tools.

Leverages advanced technologies like AI and neural networks to offer advanced features and tools 

Huge historical data for backtesting 

Integrates with 3rd party platforms like Ninja Trader, Metatrader, and AmiBroker,
AngelBroking is a famous name when it comes to investing in the Indian Stock Markets. But that's not all that you can do on the platform. AngelBroking comes with its own technical analysis platform where you can carry out all your research needs with ease. 
With more than 100 technical indicators, screeners, and a plethora of instruments to study, AngeBroking can very much be a contender for being a great TA tool in the country.
Top Features
Integrated with AngelBroking's trading platform, which lets you place trades directly

Houses many different investing instruments, including stocks, Mutual Funds, Debts, and more.

Real-time accurate data
MotiveWave is a technical analysis software designed for traders and investors. It is a comprehensive tool that offers a wide range of technical analysis features and is used to perform advanced chart analysis, backtesting, and trade simulation.
One of the key features of MotiveWave is its extensive charting capabilities. The software allows traders to create customized charts and includes a wide range of technical indicators and studies to perform advanced technical analysis. Traders can also create and apply custom indicators using Elliott Wave analysis and even perform Gann analysis.
MotiveWave also provides backtesting functionality, which enables traders to test their trading strategies on historical data. This allows traders to assess the performance of their strategies and make informed decisions based on past performance.
Top Features 
Customizable tools

User-friendly interface

Six different editions for different requirements

Works with 30+ Brokers and Data Services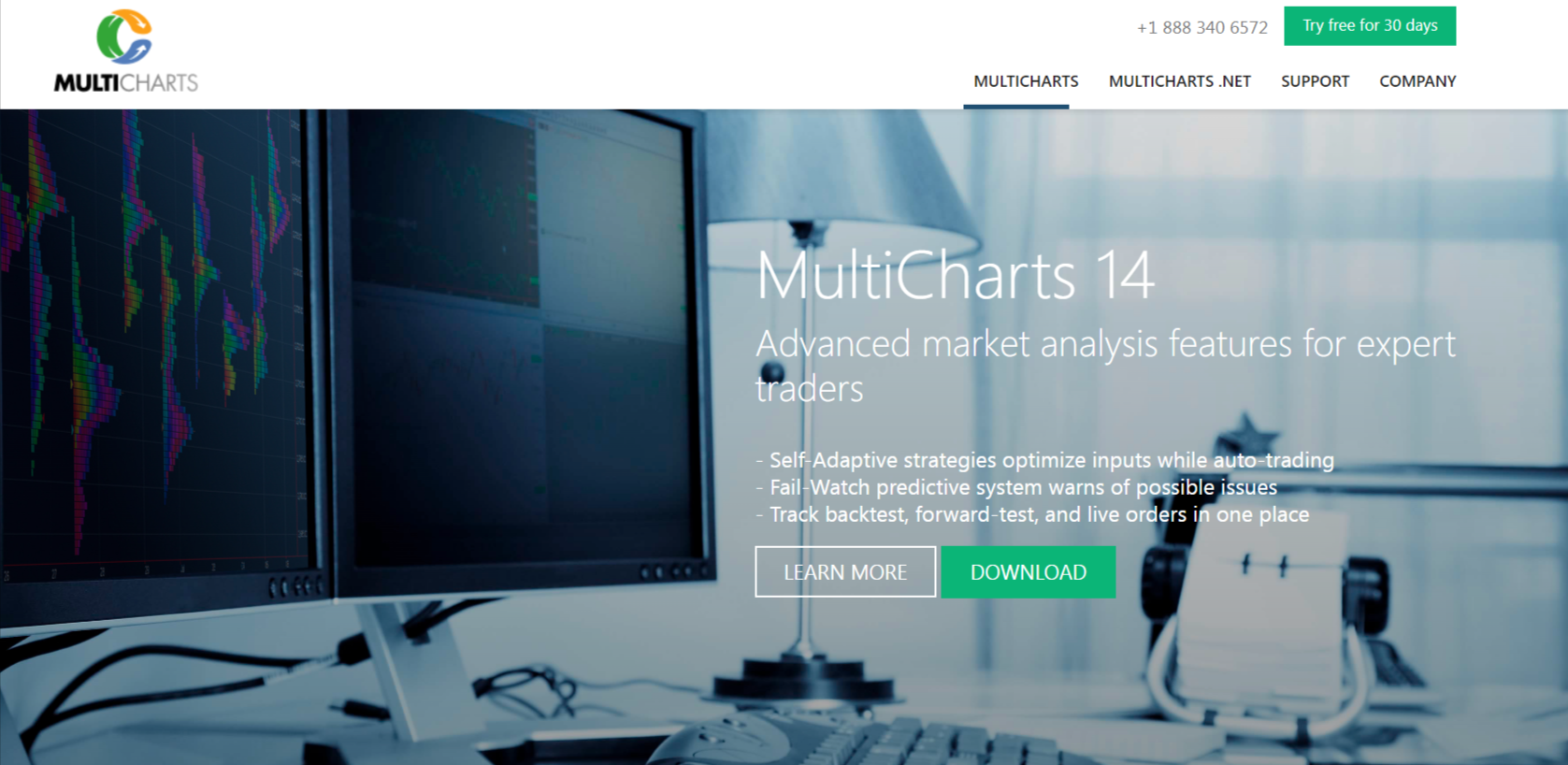 MultiCharts is another technical analysis software that lets you do your research on a ton of stocks and other investment instruments with ease. You can use the platform even if you're a newbie in the field of TA, as it comes with a very easy-to-use interface and lets you take control of the price charts with ease.
Users can even backtest, forward-test, and track live orders easily through the platform. This is a very crucial feature available on the platform, as it lets you multitask.
Top Features
Real-time market scanner

.NET advantages

Strategy trading

Backtesting and symbol mapping
So, with this, we come to an end on the top 12 technical analysis tools in India. You can now analyze all these products in this article and go for the one that suits your needs and can be the ideal choice for you.
We would love to hear your feedback on our work. Drop down a comment and let us know your favorite technical analysis tool at the present time.