Do you regret spending too much money and later blame yourself for it?
Don't worry.
We are in a time when technology is growing every single day and there is a solution for this problem as well. 
What would you do if I tell you that you can actually put a stop to these miscellaneous expenses and keep track on all of your transactions?
Sounds useful right.
This is what the Wallet app by Budget Bakers does.
Stick around to know the A to Z of the app and whether it is a good fit for you or not.
Wallet by Budget Bakers is a budgeting software available on the android, iOS, and Windows platforms. You can simply download the mobile app or the web app to enjoy its services.
It has a ton of features that you can use to manage your finances and get a grip on your expenses. You can easily make records of your expenses categorically in the app. It also lets you set your goals and the limits to your expenses.
Features On The Mobile App
Wallet performs the best on its mobile app. Here are the exclusive features that you will come across after signing up for it.
1. Feature-Packed Dashboard
The dashboard of the app literally gives you access to all the major features you will be using frequently. On the top, you can see the list of accounts and their balances. 
Just below is the expense structure, giving you a summary of your spending habits. You can even analyze the recent transactions in the dashboard of the app itself. 
To make a manual entry, simply click on the "+" tab and enter all the details. They will immediately reflect in your account. 
In the top right corner, you can press the bell icon to see all the notifications received on the app.
2. Budgets & Goals
As you slide left on the dashboard, you can access the Budgets and Goals section. Simply add them as per your needs and let them guide you throughout. 
From adding a goal for buying a new phone to limiting your budget to increase your bank balance, this section can act as a gem for you.
3. Statistics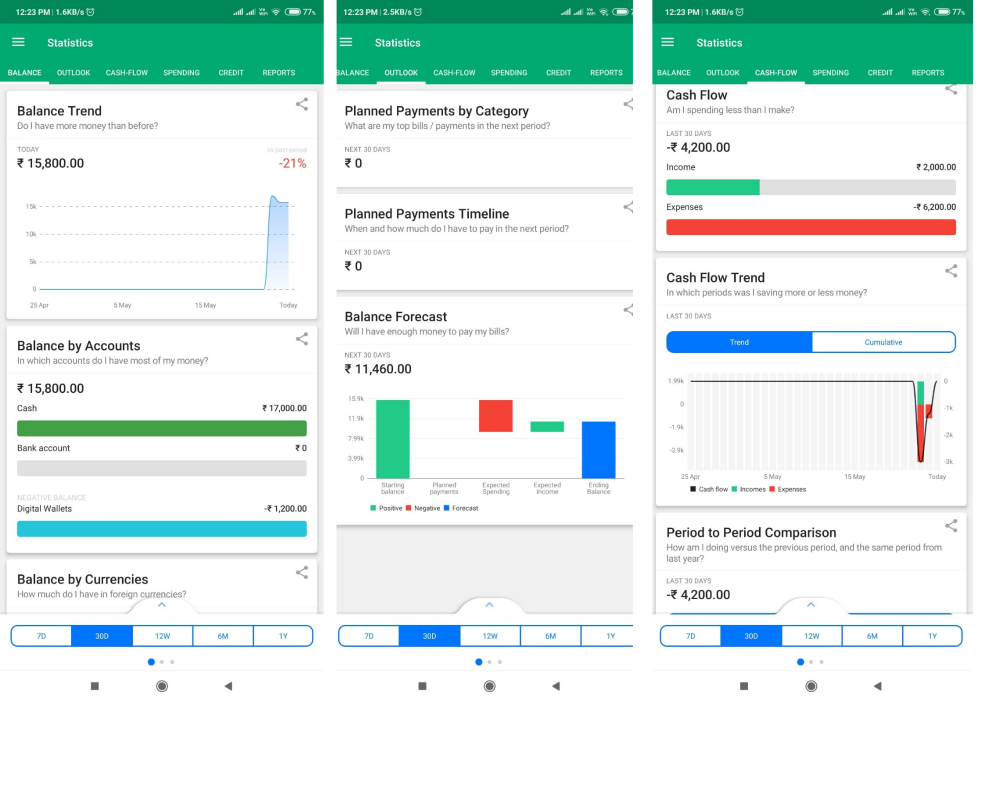 The statistics section of the app can really decode a lot of your spending behaviors. Divided into specific categories, you can easily have a look at the overall activities you did with your money. 
The "Balance" tab shows you the balance of all of your accounts. It also shows you the graph of your account's balance movement.
The "Overlook" feature is to predict whether your finances are going smooth or not. It even shows the upcoming bills and a forecast of your balance accordingly.
As the name suggests, the "CashFlow" section helps you determine the past activities of cash, i.e it clearly shows the inflow and the outflow of your cash within a specified time period.
If you can't save any bits of your income because of your expenses, then this section can be your best friend. The "spending" tab gives a brief outline of your spending and presents a pie chart with your expenses. You can easily find out where did you spend the most money and where do you need to draw a line to maintain your budget.
With so many credit apps and attractive loan features, people have started exploiting them and as they fail to pay their credit bills on time, their credit score suffers. 
Wallet helps you in this concern by providing a "Credit" tab. This section not only tells you your credit limit and your remaining balance but also shows the Debt Income Ratio and your Recurring Debt.
After keeping a ledger and controlling your expenses, you can finally use the "Reports" tab to see the entire records of your spending and incomes. This gives you a brief summary of the entire account in a time frame and compares it with the previous records.
4. Labels
Now, this is a game-changer for wallet users. With the Label feature, you can easily put different labels to define your expenses. Whether it is for your business or your personal expenses, using labels can instantly brief you about them. 
It also helps you in setting up alerts by using various appropriate Labels.
Go to the "Labels" tab and click on the "+" tab to add a new label. 
Then while making a new record, simply add the relevant labels to them. 
However, you can change the appearance of your labels with a premium plan only. 
5. Automatic Rules
This feature helps you assign different categories to your new records automatically. Go to the "Automatic rules" tab in the "Settings" section. Click on the "+" button. 
Name the new rule and select the keywords (It has to match the notes present in the transactions). 
Choose the record type and assign it to a category. 
Create a new label and auto-assign it to new records.
Toggle on it to assign it to the new or the old transactions.
6. Templates
The Wallet app also lets you create different templates through which you can instantly make a manual entry. Simply click on the "+" tab, select the appropriate template and enter the amount.
This helps in saving a lot of time as you don't have to enter the same details every day.
7. Other Useful Features
Wallet app can also track your debts, shopping lists, warranties, and loyalty cards. All you need to do is enter the details and it will give you timely reminders. You can simply toggle the home page and find out all of these features.
You also get to know the currency rates of various countries with the app. The Location feature in the app is also a part of its USP, as it presents a heat map of your financial activities at specified places.
Check out the "Wallet life" to know insights on various financial topics and how you can be better at handling money.
Features On The Web App
Here are the key features of Wallet's web app that makes it stand out among its other competitors
1. Dashboard
As you sign up for the Wallet web app, you will come across the Dashboard page. You can easily manage most of your budgeting needs on this page only. 
As it is indicated in the image, you can watch the balance of your multiple accounts on the page. However, you will have to subscribe to its premium plan to keep a track of multiple accounts. The free version only allows a single account.
The "Record" tab lets you make entries of your expenses and income in the desired account. 
And, finally, the rest of the tab contains a summary of your entire spending and earning behavior. It shows you the recent activities, current balance, trends indicated through a graph, and an expense structure presenting your behavior of spending on different categories.
2. Accounts
Just beside the Dashboard tab, you will find this Accounts tab where you can add, edit, or just analyze your different accounts. 
You can even click on these accounts and see the entire history of the transactions being done in them. 
3. Records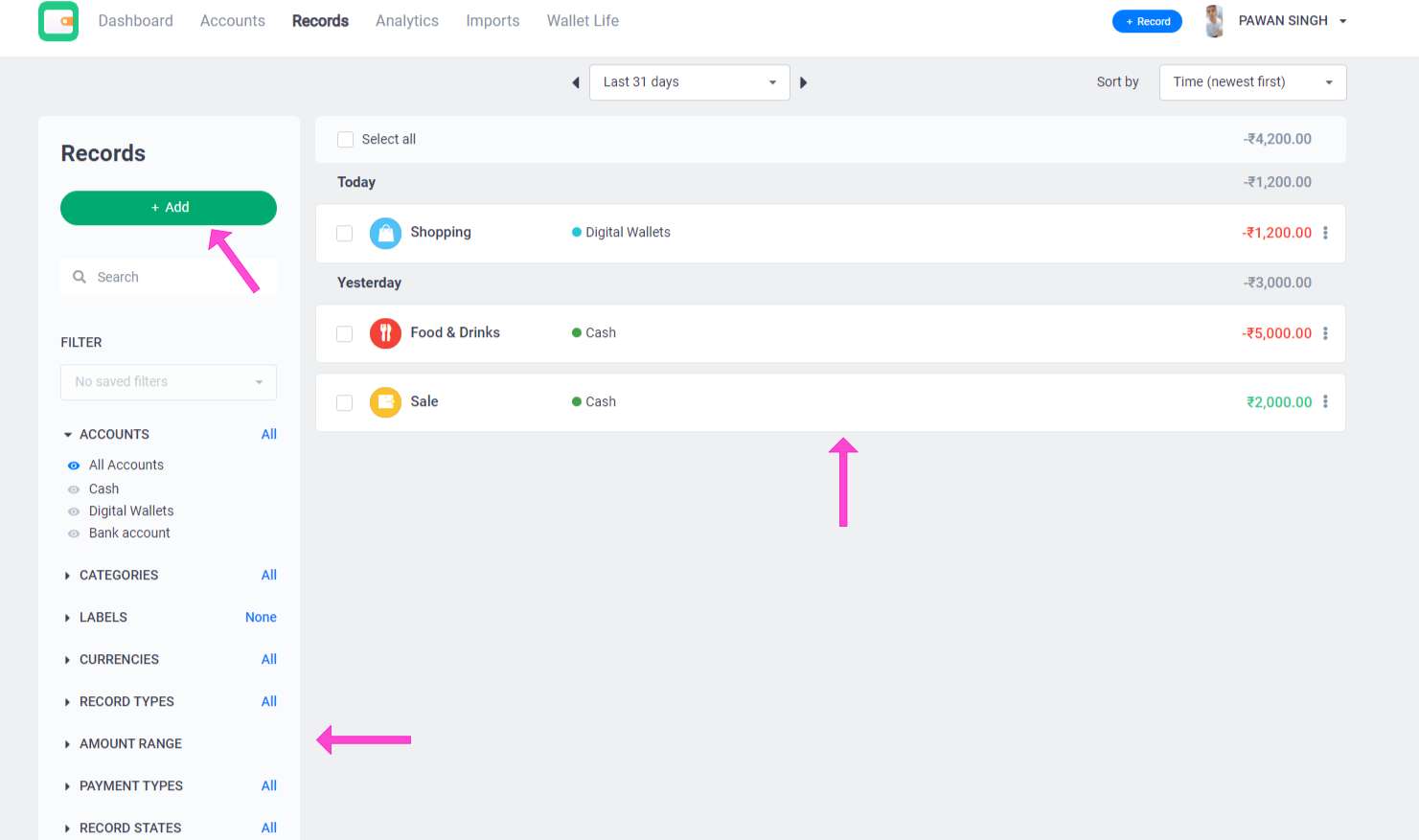 The most important section of the app, the Record tab lets you keep the track of all the transactions done by you. You can manually enter them by clicking on "Add" and it will instantly come up in the table. 
There are even filters through which you can specify your transaction that helps in maintaining a ledger even after a long time. 
4. Analytics
If you can't recall where did you spend your money last week then this is the place where you can get your answers. All of the entries are under the Income & Expense Report. You can even set filters to see how much you spend on a particular category. 
For example, you can see how much you spend on Food, taxis, partying, or even buying subscriptions. 
The Wallet app also lets you scan your reports for a month, quarter, or even a year. Simply toggle it from the above-highlighted tab.
5. Imports
If you are not a tech-savvy person, who still likes to follow the old trends then you will love this feature. 
The "Imports" tab is meant to paste your Excel sheets if you maintain your ledgers there. Simply drag and drop the XLS or CSV file and let the magic happen. 
6. Wallet Life
If you want to know how people expertly manage their finances and how you can overcome your over-spending habits, then this is a very useful section for you. 
It has numerous blogs where you can learn and implement the right practices or you can just use it to grab some knowledge.
Pros & Cons Of Wallet
No matter how good or how bad you feel for this app, the following are the best and the worst part of Wallet on paper.
Pros
It has a very simple and user-friendly interface
Lets you create various categories to maintain a record of every transaction
Comes on Android, iOS, and Windows, a feature that is not available with its other competitors
The premium version lets you sync your bank account after which all of the transactions are automatically loaded
Useful charts and reports to get a grip on your budget
Cons
The iOS and Windows versions still lack some features
If you are using a free version then you have to enter your records manually, which is time-consuming
You can't add multiple accounts without the premium plan
There are no options to make any payments through the app and you must do it with your banking app only.
Its premium plan is quite expensive for a budgeting app
Pricing
Wallet by Budget Bakers comes with three different premium plans where you can subscribe for $3.79 per month, $22.99 for a year, and the same amount for a lifetime. 
Looking at the value of money it provides, if you are confident enough for the app then you can go for the lifetime plan but it is never bad to try something first and then trust it completely. 
The premium plan lets you have unlimited accounts, more charts and reports, excess tools, and even a collaboration with others to maintain your accounts together. 
Even after the $3.79 for a month, it seems like an expensive app when compared with its competitors. 
My Verdict
After using the app myself, I feel that if you are a tech-savvy person like me, then Wallet might not be the first choice for you as the free version does not allow you to sync your bank accounts.
However, the Label feature and the Automatic Rule feature do add to Wallet's value as you get to save a lot of time. But, then again you need to have a premium plan to use both of these features together.
The manual entries after every activity are a time-taking process and it's hard to get used to it. There are other apps in the market that are offering automatic entries through bank sync for free such as Emma . 
However, if you are comfortable buying a premium plan of the app, then it can be a good app for you with its clean interface and automated entries directly from the bank.
Do let me your thoughts on the app and mention your personal favorite budgeting app in the comments down below.